Lowe's Or Home Depot: Which Store Has The Better Major Appliance Return Policy?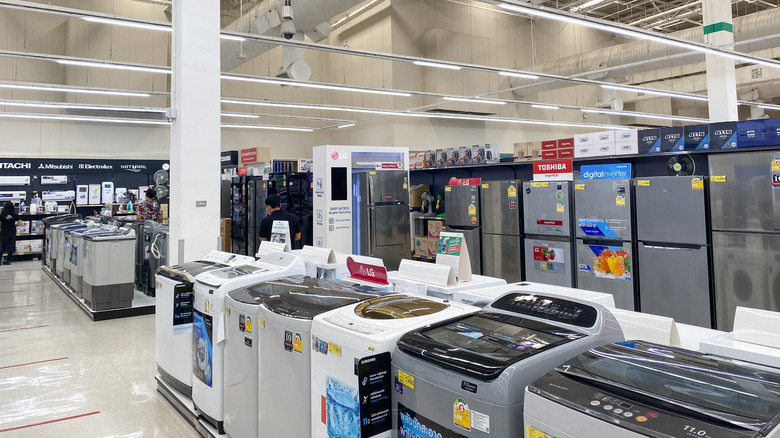 89stocker/Shutterstock
There are a host of appliances we rely on and use daily, from our washers and dryers, refrigerators and freezers, dishwashers, and more. Moreover, these pieces of household equipment are designed to last quite a while — as long as ten years or more, depending on the appliance at hand, how frequently it's used, how it's taken care of, the build quality, and more (via Rocket Homes).
However, you'll have to replace these appliances as they begin to break down, and you may not always get it right on the first try. Therefore, before investing in a new dryer or electric stovetop, you should make sure the retailer's return policy is suitable for your needs. If you order a large appliance and find it doesn't suit your home, you'll want to have a forgiving return or exchange policy to rely on. However, all this begs the question: Between two of the most popular home improvement stores, Lowe's and Home Depot, which one has the better return policy for major appliances?
Lowe's major appliance return policy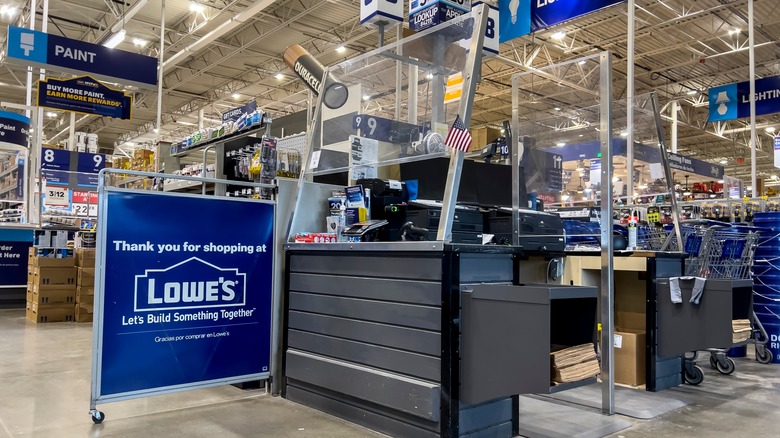 Colleen Michaels/Shutterstock
Generally speaking, Lowe's offers a 90-day return policy for most of their products. However, major appliances are in their own unique category. Per the Lowe's website, you have 48 hours to begin the return process for major appliances. If your purchase was delivered, this 48 hours starts at the time of delivery or when you pick up the item in-store.
Lowe's categorizes washers and dryers, washer and dryer pedestals, refrigerators, freezers, dishwashers, ranges, range hoods, cooktops and wall ovens, and over-range microwaves as major appliances. Whichever item you're returning must also be unopened and undamaged, still in its factory sealing. That is unless you have a Lowe's Commercial Account, Lowe's Business Advantage, Lowe's Advantage Card, Lowe's Business Rewards, Lowe's PreLoad Card, or Lowe's Lease to Own, in which case you also have an extended time frame of 30 days to complete the return. Delivery charges are non-refundable. However, water heaters, air conditioners, trailers, and outdoor power equipment fall under the store's 30-day return policy. If your appliance is damaged, you have three days to report it.
Home Depot's major appliance return policy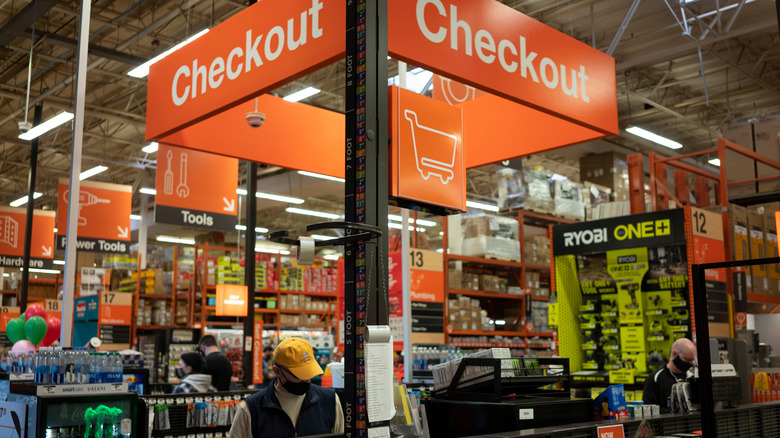 Tada Images/Shutterstock
Home Depot also has a 90-day return policy with exceptions for major appliances. Per Home Depot's website, they also offer a 48-hour return policy on major appliances, but only for damaged and defective products. More specifically, they state that the customer is expected to check the product for damage upon delivery or pickup.
If you find any damages on your appliance after delivery or pickup, you have 48 hours to initiate the return. Home Depot includes washers, dryers, refrigerators and freezers, dishwashers, and installed microwaves as major appliances. Delivery costs are also non-refundable at Home Depot.
Lowe's and Home Depot have remarkably similar return policies, especially for major appliances, but there are slight differences. Lowe's requires the product to be in its original packaging and factory seal for return, but you can return it for any reason. In contrast, Home Depot allows and even encourages the item to be opened and inspected but will only accept returns for damaged items. The time frames and products included for major appliances are the same. That being said, Lowe's offers a three-day window to report damages once opened and a longer return window for those with various specialized accounts, giving Lowe's a slight edge over Home Depot.