Target Or Walmart: Which Has The Better Deal On Fans?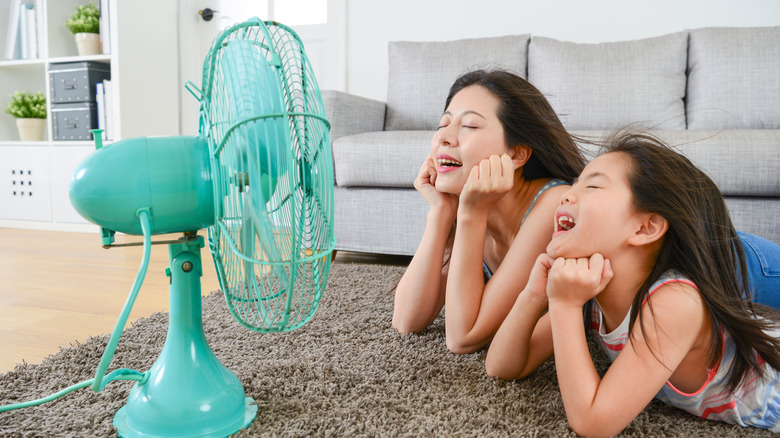 PR Image Factory/Shutterstock
We may receive a commission on purchases made from links.
Whether it's the dead of winter or you're suffering through a heat wave, it's always a good idea to have a fan on hand at your house. Think — improved air circulation, white noise, and who doesn't like to sleep in a cold bedroom?
Before you make a selection, you should know what to look for so you can take home the best product at the best price. Not all fans are made equal. From oscillating floor fans to mountable miniature fans, there are countless models available. According to Sylvane, other important considerations include the fan's operational noise, maintenance level, and special features.
There is a huge selection on both Walmart's and Target's websites. So, which retailer has the better deal? We decided to investigate. The decision was based on features, customer reviews, and price (all prices listed reflect the time of publication). Check out who came out on top.
Walmart's deals on fans
Normally priced at $129.99, one of Walmart's best options is the CURECURE 90-degree oscillating tower fan. At the moment, it's on sale for $47.99, saving buyers $82. The fan, which has three modes and three speeds, includes a remote control so you can easily change the speed, set a timer, or turn it off from your bed or couch. The timer can be set for up to 15 hours in 1-hour increments. As noted by the reviews on Walmart's website, this feature is among the best qualities of the fan. Though this tower appears to have minimal issues, a two-year warranty plan is still available for just $5. The product has a 4.5-star rating with 83 reviews.
An honorable mention for Walmart is their Dreo 42-inch tower fan which also includes a remote, 90-degree oscillating capability, six speeds, three modes, and a 12-hour timer. It was originally priced at $119.99. It's now on sale for $89.99. One review on Walmart's site says, "We like the remote control because we can click all the buttons without having to get up...The bottom screws in which [makes it] a lot sturdier than other cheap plastic fans. Highly recommend this product!" Plenty of people must agree because this model has a 4.9-star rating and nearly 5,000 reviews.
Target's deals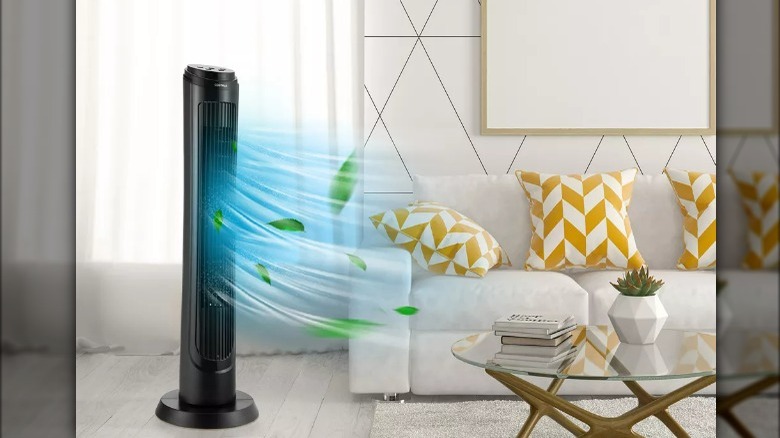 Target
The Costway 40-inch tower fan is available at Target for $67.99 which is an $82 price cut from the original cost of $149.99. Like Walmart's tower fans, this one also includes a remote, oscillation capabilities, multiple wind modes and speeds, and a 15-hour timer that can be adjusted by 1-hour increments. This lightweight and compact option from target has stellar reviews including this one, "I wanted a quieter tower fan for the bedroom to use while sleeping at night and I'm so happy I found this on sale! It is much quieter than my old fan."
Similar to this, at a slightly higher cost is Costway's 16-inch oscillating pedestal fan which boasts dual blades and a remote control. The fan was originally priced at $129.99, it is now $78.99. Though it is a bit more expensive, even with the sale, it has slightly better reviews than the previous one, and its adjustable height makes it more attractive to some.
Between Target and Walmart, the final verdict on who has the best deals is a close call. Both stores offer a variety of fans that fit every budget, and many of them are on sale for more than 50 percent off. However, if to choose one, Target does have the better deals when we consider all aspects including cost, user reviews, discounts, quality of the items, and their special features.