Target Or Walmart: Which Has Better Deals On Wall Art?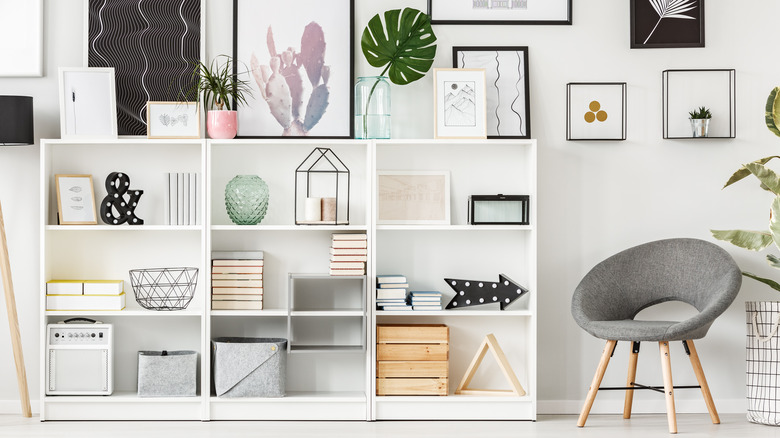 Katarzynabialasiewicz/Getty Images
We may receive a commission on purchases made from links.
When searching for the right wall art on a budget, you may quickly feel overwhelmed. Many retailers have quite a few options to choose from, and finding the right piece that fits both your style and also your price point can be challenging. Two retailers with countless options are Walmart and Target; while Target has close to 34,000 options, Walmart has over a whopping 300,000 choices.
Further, both stores have multiple ways to find exactly what you're looking for. For instance, on both websites, you could filter by materials, main color, size, vertical or horizontal, framed or unframed, style, and overall theme (such as animals, landscapes, city skylines, etc). They also have multiple different types of wall art, from posters and prints to canvases and paintings.
However, your biggest concern when choosing between these two stores may be the price. Below, we've compared the most inexpensive wall-art options and crowned one retailer the champion of affordable artwork.
Target's options
The cheapest option available on Target's website is a "Stay Wild" 8 x 10-inch print, which has no reviews and is sold for $6.99. However, this low price is a rarity on Target's website; in fact, this may be the only option that costs less than $10. The majority of this retailer's most popular pieces cost at least $20, with many rising above $40. 
If you're looking for art for your wall that costs $10, you could peruse Target's many prints and posters, including the colorful landscape option pictured above. However, keep in mind that many of these pieces have no reviews. Further, the store also has sets of prints that are each 8 x 10 inches, sold for $13.99. For example, you could choose bohemian green leaf prints; this unframed set has five stars with two reviews. If you're searching for a canvas, one of Target's most inexpensive options costs $14.98; it features wildflowers inside a bicycle basket and is rated 4.8 stars with 20 reviews.
Walmart's options and the winner
One of the lowest-priced options at Walmart is a small 6.5 x 8.5-inch saying canvas, which is sold for only $4.44; this playful piece has no reviews. Many of Walmart's posters are also sold at a similar price point, for $4.97, such as the above piece, which showcases a Claude Monet painting. The seller, Art.com, has over 1,000 reviews and an impressive 4.5-star rating.
However, while these posters are less than half the price of those at Target, they're also slightly smaller (Target's are 9 x 12 while Walmarts are 8 x 10). When it comes to sets, one of Walmart's most affordable wall arts has three gold abstract canvas prints for $6.75, on sale from $9.99. However, the seller, Yirtree, only has 2.8 stars with over 150 reviews.
This said, overall, while Target has some gorgeous pieces, Walmart is the clear winner for affordable wall art. Not only does it consistently offer the cheapest prices, but Walmart also has way more options. Further, while some of its items don't have the best star ratings, many of Walmart's pieces receive significantly more reviews than Target's, which will help you make an informed decision about which artwork you should purchase for your wall.