We Tried The Cheapest Room-Darkening Curtains At HomeGoods. Here's How It Went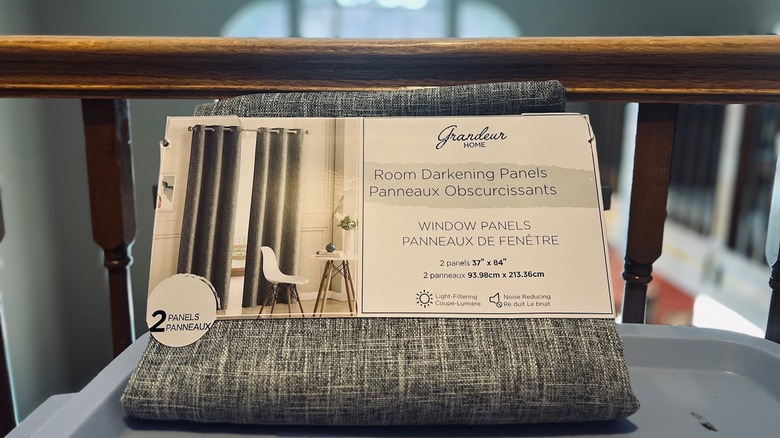 Sandra Lee
These days, curtains do more than simply look pretty against a window. Curtains that block some or all light are a very popular pick for those who are sensitive to light or sleep better when it's pitch-black. Also, let's not forget parents all over the world who look for blackout curtains for their baby's nursery, a must for those early newborn months when sleep has a tendency to be all over the place. There are several different kinds of light-reducing drapery, according to Allure Window Treatments, including blackout (designed to make a room pitch-back), room darkening (to block some but not all light), and light filtering (to give the room a nice glow) products. 
We decided to try the cheapest room darkening curtains at HomeGoods to see if the quality, light-reducing properties, and overall aesthetic are worth the cost. There were many designs to choose from, from products with bright colors like yellow and purple to high-end fabrics like silk and linen. We decided on the Softline Room Darkening Curtains for their neutral gray color and price. At an affordable $24.99 (with $15 shipping and tax, making the total $43), we bought them online and had them shipped ready to test.
Softline Curtains Overview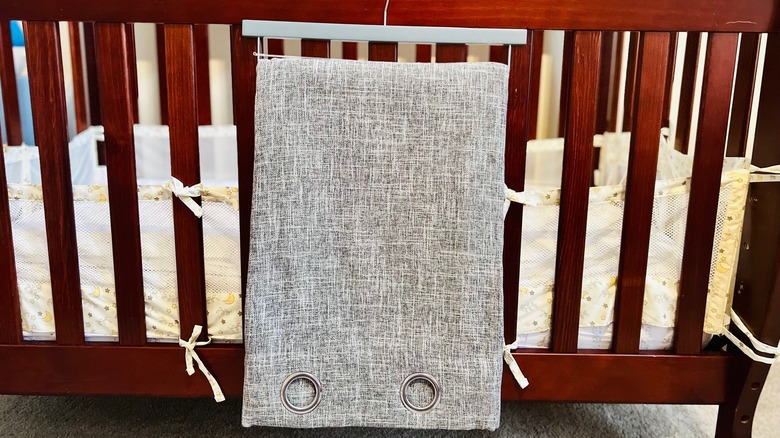 Sandra Lee
Room darkening curtains vary in price depending on color, fabric, and a wide variety of other noteworthy factors. Details like how much light or noise is reduced, fabric thickness and quality, and even brand recognition all play a role. The Softline Room Darkening Curtains at HomeGoods are made of polyester, one of the best fabrics to use for blackout (or, in this case, room darkening) curtains, according to Silver Bobbin. However, it's worth noting that polyester must be tightly woven to block light.
These came in only a single color — light charcoal — which we liked as a neutral shade. Its pleasant, linen-like look and texture came as a pleasant surprise. Described as contemporary curtains aimed at creating more privacy, the light and noise-reducing properties, washable fabric, large metal grommets, and standard 37-inch by 84-inch length made it an easy choice. We unboxed the two-panel set, found the perfect window, and started to set it up for testing.
How we tested the curtains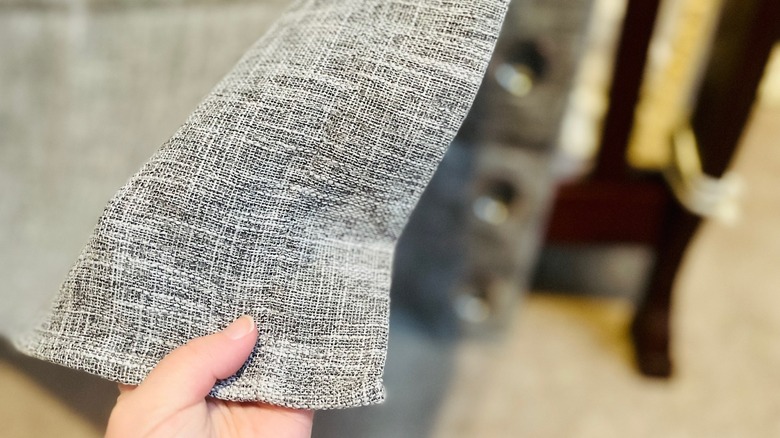 Sandra Lee
Room darkening curtains are made to block some light without creating pitch blackness, which is perfect if you want something a bit dimmer during the day. They're ideal for that mid-day nap, a cozy relaxation corner, or a calm space for a baby to rest before bed. We wanted to test the curtains in many different possible light conditions to see how the light-reducing properties would perform in the morning, afternoon, and evening. Thus, we picked a window with plenty of light and periodically checked throughout the day to see how the room's light levels were affected.
According to Sleepout, room darkening curtains can also help regulate the temperature of a room, which is a huge plus if you live in a house with a second floor where all the heat (in colder months) rises. As you may imagine, having a two-story home or vaulted ceilings makes regulating a home's temperature very challenging. So the room we chose was upstairs to test whether the curtains made any difference.
Did it exceed expectations?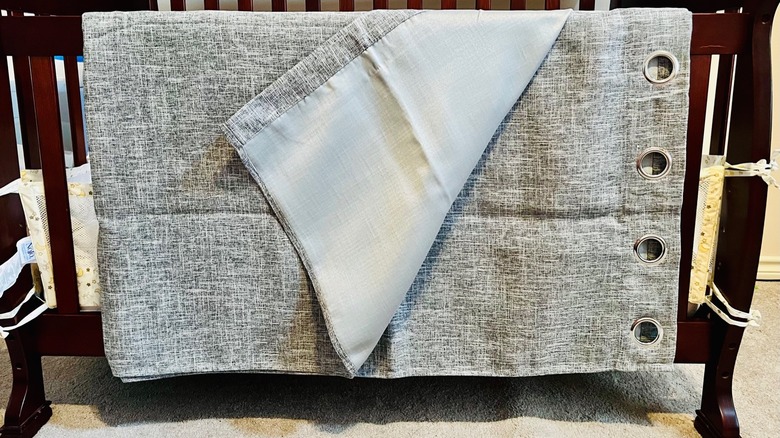 Sandra Lee
The curtain length was perfect for the window chosen, although we were slightly concerned with the lack of length options. Also, we loved how high quality and thick the fabric felt, and the stitching didn't feel flimsy or loose. Assembly couldn't be more straightforward, and when we put them up, the linen fabric detail was noticeable, which added a lovely touch. We also liked that the large grommets fit nicely with various curtain rods and prevented annoying tangles. 
After putting the curtains up, it was instantly darker in the big room, and we could imagine it being even dimmer in a smaller room with no other windows. However, although plenty of light was being blocked during daylight hours, the visibility level was adequate to walk around without bumping into furniture. As for the temperature, we didn't notice any changes when we tested the product. However, we could see how it may make a difference over time in a much smaller room. 
How it could be improved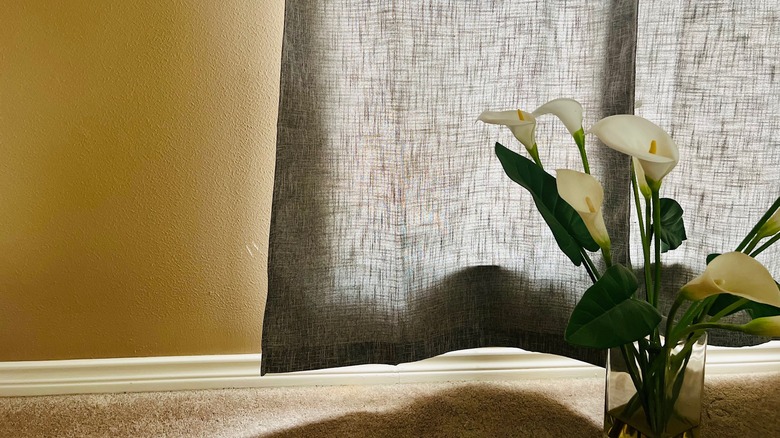 Sandra Lee
While we were not expecting these curtains to block out all the light, we did notice that the fabric style and color made the room look a bit sad, which we didn't like. Different curtain styles are designed to highlight a room and complement the furniture, color palette, and decor. That being said, even though these were meant to block out some light, we didn't anticipate the room's overall feel being altered so drastically. 
One drawback of some room-darkening curtains is that they can be nearly as thick as blackout curtains; this product may fall into this category. The large grommets made them easier to hang, and we used a pretty substantial curtain rod, but we could see how a thinner or cheaper curtain rod might falter under the weight. Speaking of grommets, while they were large and easy to work with, we didn't love the quality of the metal. 
The final verdict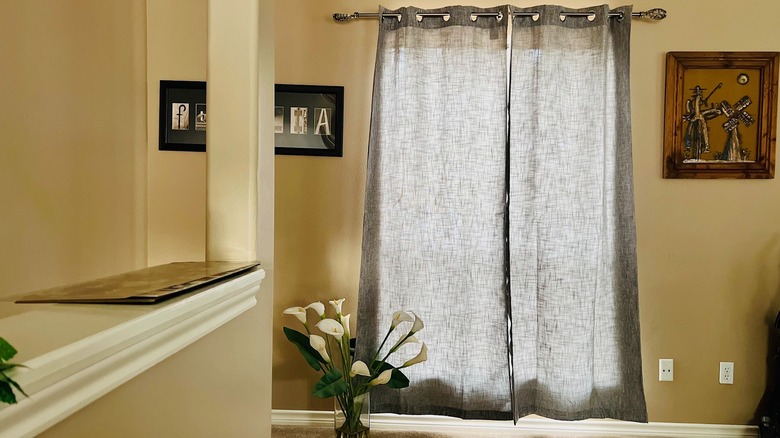 Sandra Lee
Overall, we appreciated how the Softline Room Darkening Curtains performed how they were intended to, blocking out some light, but not as much as typical blackout curtains. As a result, we could see this product being a worthy addition to a smaller room with neutral decor, such as a reading or meditation room. While the curtains have some issues, like their thickness, flimsy grommets, and somewhat drab color, we think these factors could all be mostly forgiven when employing the curtains in the right room. 
So would we recommend it? For the most part, yes. The pros of getting curtains that block out some (or all) light outweigh the cons. Not only do they help improve sleep, but there are also important health benefits (via WebMD). So, in conclusion, if you are looking for affordable light-reducing curtains that can be used in a smaller room, these are a good buy, especially in terms of their affordable price.