This Is The Best-Selling Couch At Walmart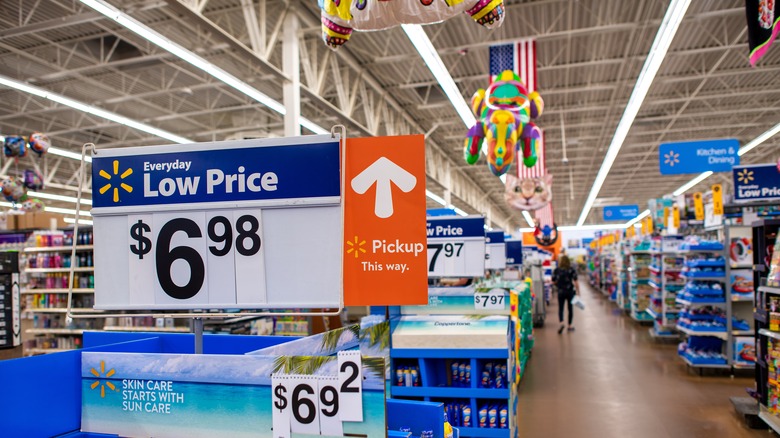 GagliardiPhotography/Shutterstock
Sometimes we can grow attached to a certain item of furniture, especially if it's been with us for a long time — for example, you might've had the same couch since you moved into your first apartment. On the other hand, if your favorite item has seen better days, or you just want to spruce up your home with some new furniture then you need to know where to start looking.
There are a few things to look out for when you're couch shopping. According to blogger Amanda Katherine, the couch's frame should be sturdy, so it won't crack or warp over time. A heavy couch is a good sign it's made with high-quality materials, such as kiln-dried wood, metal brackets, dowels, and wooden blocks. Another factor is the comfort of the couch — cushions that are denser and heavier are better — in addition, the fabric that it's made from should be durable and last a long time.
If you're on a budget, you might consider couch shopping at one of the many retail stores like Walmart. They offer a variety of sofas that can fit any space for any home design. So, we did some digging and found the best-selling option at Walmart, which could potentially be your next new couch.
Lifestyle Solutions Taryn Sofa
The versatile Lifestyle Solution's Taryn Sofa is the best-selling couch from Walmart. It's a three-seat couch made with a solid eucalyptus wood frame and upholstered in polyester fabric that is meant to last. In addition, this sleek black couch has elegant, button-tufted back cushions, high-density seat cushions, and curved armrests. It has a modern look that would suit any contemporary home design and is also available in brown and gray for $287.99.
Based on a 3.4-star rating, customers claim the sofa is durable, comfortable, and easy to assemble. One customer states the fabric feels like soft suede material, and the cushions are plush and bouncy when you sit down. Another customer said it's not too small or too big and is great for a primary bedroom nook (78.7 inches long and 32.7 inches tall.) On the other hand, a few customers had issues with their package arriving with damaged pieces, so they had to return the sofa or replace it. Walmart has a forgiving return policy, so you can return or exchange the item within 90 days if you keep your receipt. Overall, more than half of the customers who bought the Taryn sofa had a smooth delivery and assembly.