This Viral 'Burrito Method' Hack Makes Putting A Duvet Cover On So Much Easier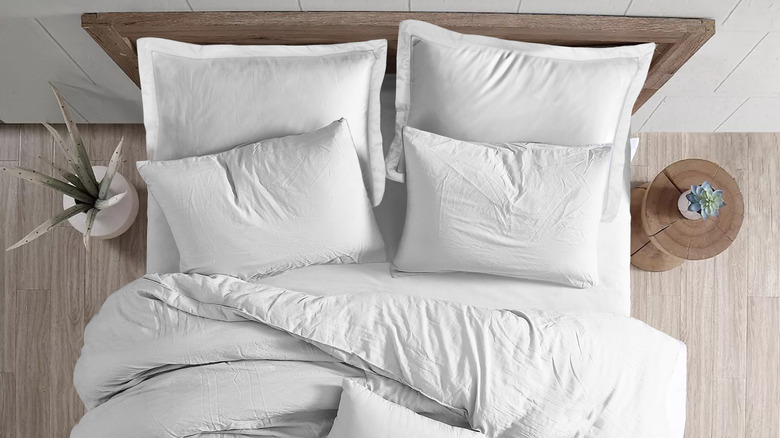 vectormann/Shutterstock
TikTok is an iconic app for the home decor space. Of course, there are cleaning hacks that have likely saved you time, like hacks to make cleaning your shower easier. Then there are the organizational hacks, such as folding your towels like a hotel spa. Now there's a viral 'burrito method' trick that makes putting the duvet cover on your bed much easier, so your bedroom is the comfortable oasis it should be! 
Duvet covers are undoubtedly a popular option for bedding. While a comforter is just one piece of bedding that is usually bulkier, a duvet is two pieces consisting of a duvet cover and a blanket or comforter that goes inside. Most people love how easy duvets are to clean and how simple it is to change out once you get bored with the design. However, many dislike how hard it is to put the duvet cover on.
Thankfully, a duvet cover hack went viral on TikTok, so keep scrolling because you'll be amazed at how simple this trick is.  
Here's how to master the viral burrito method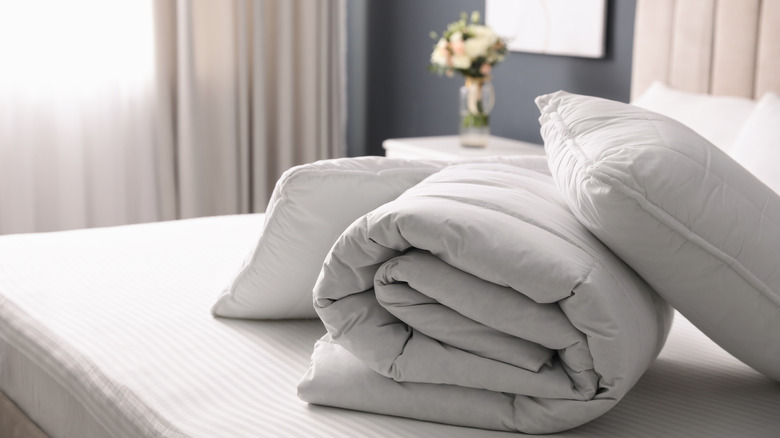 New Africa/Shutterstock
Picture this: No longer will your blanket/comforter be bunched up in the duvet cover, but you will enjoy one that is perfectly spread out inside. 
This masterful duvet cover hack was first noticed on the Rachael Ray Show (via YouTube) with the acclaimed clutter organizer Peter Walsh of Peter Walsh Designs, unveiling the "sausage trick" or the highly sought-after burrito method is a dream come true. The hack recently emerged as a trend on TikTok, with @wovennook showing off the burrito method with ease. 
The first thing you'll want to do is put on your fitted sheet, some linen spray, your pillows for sleeping, and a top sheet, just like this influencer! Now for the fun part! Turn your duvet cover inside out and place it on your bed as if you are making it. As soon as it's all spread out, add your comforter or blanket on top of the duvet cover. One is fine, or you can add two, just as @wovennook did. Then you'll start from the top and begin rolling it all together, just like a burrito. Once it's all rolled in, you'll tuck the corners inside, zip it up, and roll it out, so it's perfectly put together. So simple, right? Making your bed just got a whole lot easier!
The benefits of duvets and the burrito method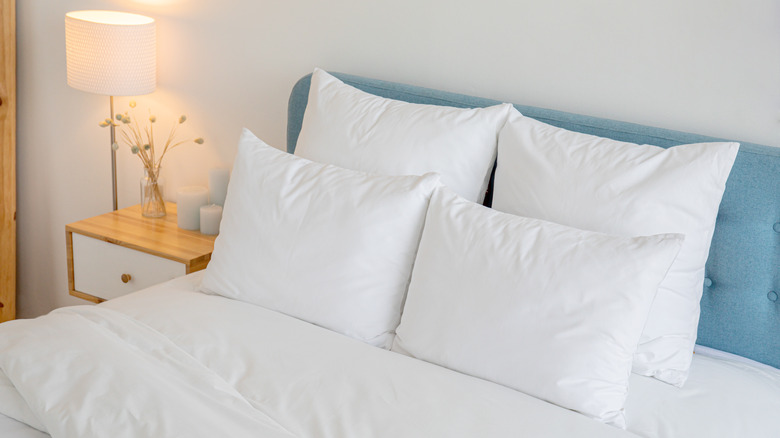 World_of_Textiles/Shutterstock
According to Casper, the benefits of a duvet are that they are easy to clean and easy to switch out different styles, while the positives of comforters generally are bought as a complete set, and the filling is spread out evenly. If bulky filling that's not correctly distributed throughout the duvet has made you avoid this type of bedding, there's no need to fret! The burrito method has taken this factor out of the equation. The biggest pro is how simple and fast it is to put together your bed so that the blanket doesn't clump in one section of the duvet.
To see what people really think about this hack, venture to the @wovennook's comment section (via TikTok). One responder suggested this method would take too long, but the popular TikToker replied, "For all the people saying I take too long to make my bed. Four minutes, and that's me taking my time." She says, "It's an essential part of my morning routine now," and if you're looking for an easy fix, try it out!