Why You Should Avoid Painting Your Bathroom Pastel Colors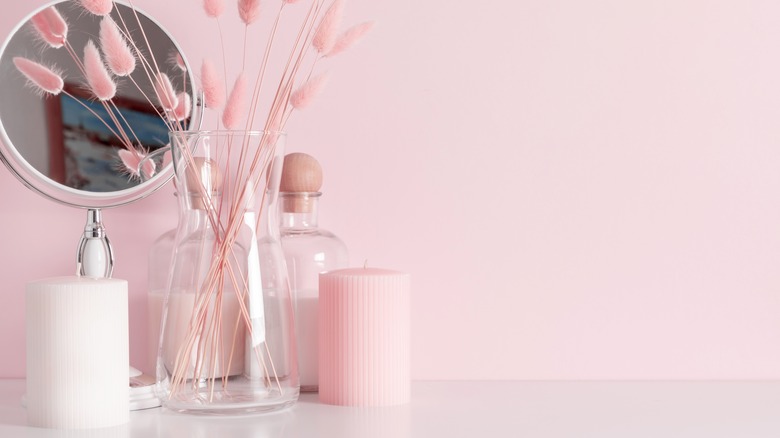 All for you friend/Shutterstock
Pastel colors have their place in the world. Baby clothes, Easter eggs, and cotton candy — all great candidates for pastels. But should you be using them on bathroom walls at this point?
Hues with low color saturation, like pastels, impart a calm feeling to a room, and there's nothing wrong with that. There are times when a tranquil retreat is just what you need to unwind. But after a few crazy years warranting a palliative effect, many home decorators and interior designers are now feeling the look of pastel bathrooms is dated, and it's time for a change, according to Homes & Gardens.
That means softer colors are not at the top of the list for bathroom paint color recommendations at the moment, and the popularity of light hues like these has been waning over the past year or so. Don't worry; some great selections are readily available to replace them.
Why pastel bathrooms are no longer on trend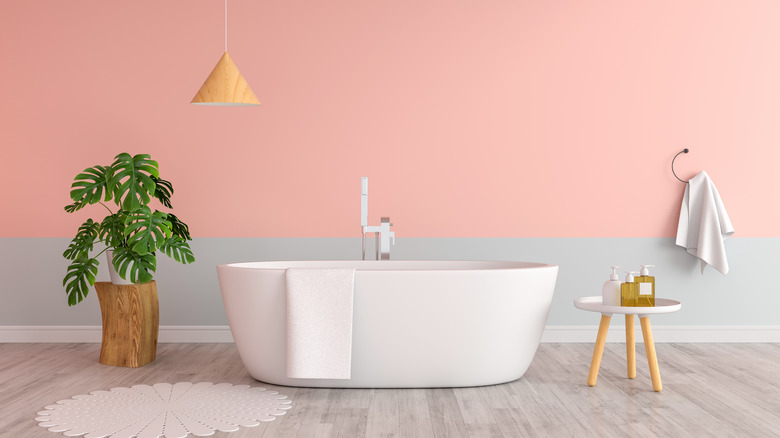 Wuttichaijangrab/Getty Images
More and more, light colors are vanishing from bathroom color palettes. "Pastel shades — pinks, yellows, greens, and blues — have been overdone, especially during the pandemic when pastel colors were the soothing antidote we needed to the craziness of what was going on in the world. We're now wanting a change, moving to earthier tones that reflect our newfound respect for nature," designer Barrie Cutchie told Home & Gardens.
If you painted your bathroom a pastel color and still like it, by all means, stick with it as long as you like. Personal preferences come first in decorating choices, whether you're doing it yourself or working with a designer. But for those contemplating a paint refresh or a remodel who like to be right on trend, picking a pastel might not be the best choice right now. Looking at bolder and warmer alternatives could be a better way to go.
Colors currently trending in bathrooms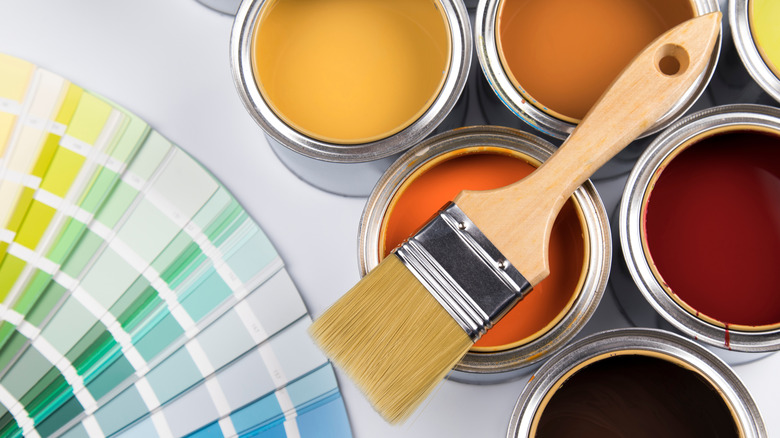 Sebastian Duda/Shutterstock
If you're one of the people tired of seeing pastels in bathroom decorating spreads, you'll be delighted with what's next. Colors inspired by nature are coming to the forefront now. This means earthy tones, spicy hues, and more vibrant shades of blue and green. Various colors of red, from magenta with pinky-purple overtones to those with hints of orange, are also currently on the decorating radar.
If you still want a serene feel for your bathroom, going for a color a bit more saturated than a pastel can have the desired effect. House Digest's paint color of the year, Teresa's Green by Farrow & Ball, is a green that has a slightly deeper tone. Aqua alternatives that offer this type of darker-than-a-pastel look are also popular with many home decorators now.
Of course, there are always folks who love looking at lots of colors in magazine decorating spreads but just can't see themselves living with them for years. That's when neutrals are a perfect choice. Updated neutrals for bathrooms include shades of cream, taupe, and deeper tans. These paint colors offer go-with-everything versatility without being overwhelming. You can then add plants, boho touches, or other trendy accents that can easily be changed out when you want a refresh.