25 Beautiful Brick Backsplash Ideas To Totally Transform Your Home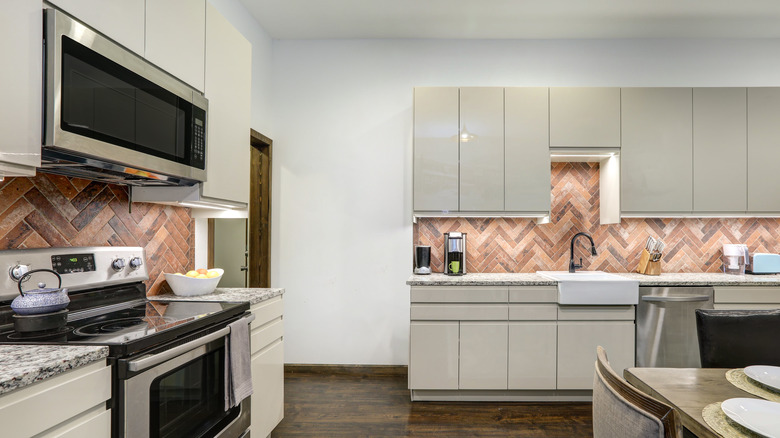 Artazum/Shutterstock
When designing your kitchen, you want each element to reflect your own unique sense of decor, whether that's modern, farmhouse, industrial, traditional, eclectic, or somewhere in between. However, you also want those components to be functional. In a kitchen, that means heat, water, moisture, and stain resistance.
That's why many people opt for backsplashes behind their stoves, sinks, and counters, as it provides a buffer between the bare wall and splashing hot food or liquids. There are several backsplash materials on the market, but few are as visually striking and functional as brick. As Paragon Tools points out, brick is durable, heat resistant, and can fit in with a variety of aesthetics. And although it is absorbent, you can add a sealant to prevent moisture from embedding in the material. Brick is a great, practical, and stylish backsplash material that can go with any number of design styles. Keep reading for brick backsplash inspiration and ideas.
1. Classic red brick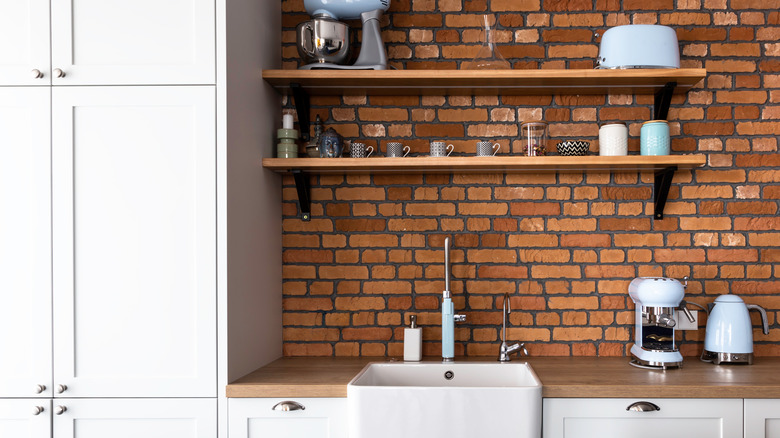 Raisa Suprun/Shutterstock
Start simple with a classic, rich red brick backsplash in your kitchen. Pair with white cabinets and appliances for a classic, timeless look.
2. Chevron brick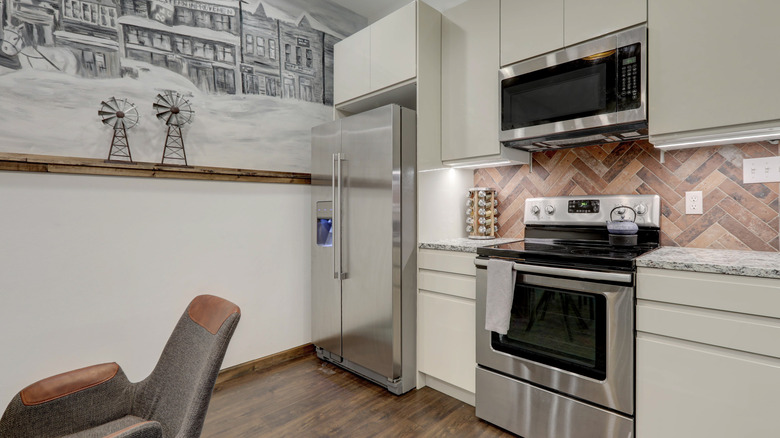 Artazum/Shutterstock
One of the great aspects of working with brick is that it can be laid out in any variety of patterns. You can still achieve the classic look and feel of red brick but in a more modern, trendy chevron pattern, which also helps highlight the slight color variances in the material.
3. Glossy brick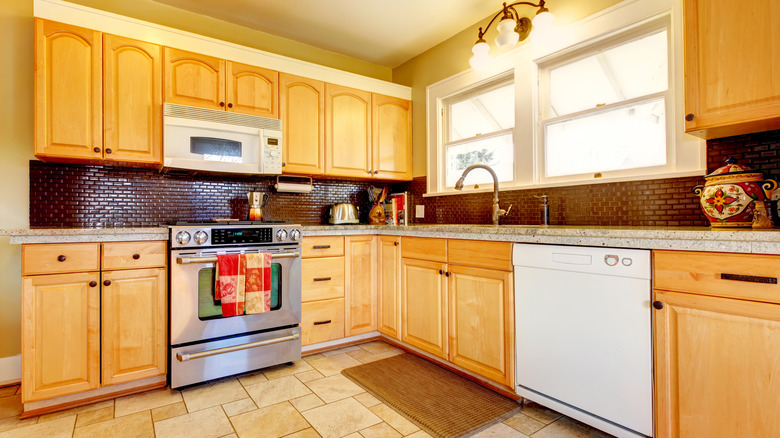 Artazum/Shutterstock
If you like the color and depth that brick gives a kitchen, but not the flatness of its matte texture, add a high gloss sealant for a shiny, reflective brick backsplash.
4. Frame a window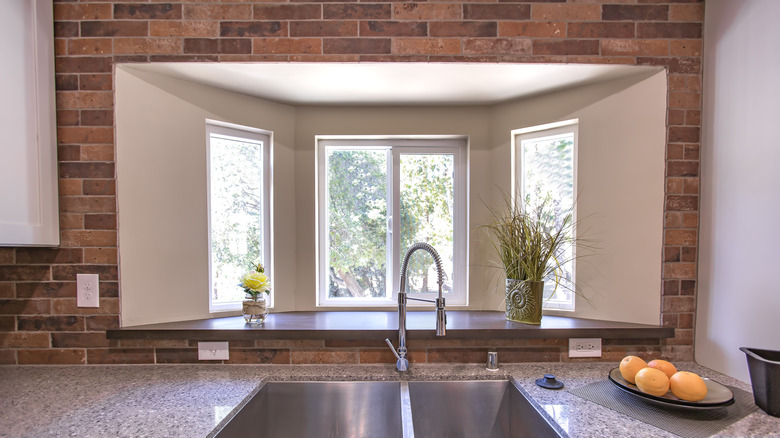 Jason Finn/Shutterstock
Brick backsplash can do wonders to highlight your kitchen sink — as can a window. Pair them together for a beautiful, serene scene in your kitchen.
5. Weathered white brick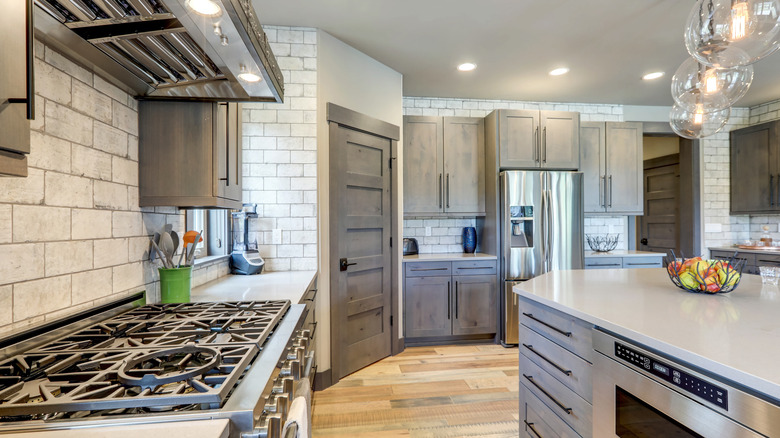 Artazum/Shutterstock
If you want to achieve a blend of modern and rustic farmhouse design in your kitchen, opt for a weathered, white-washed brick backsplash with gray cabinetry, doors, and other wood accents.
6. Industrial influences
A classic brick backsplash is gorgeous on its own, but it can be enhanced with shiny stainless steel appliances, like ovens and vent hoods, for a slightly industrial influence.
7. Patterned brick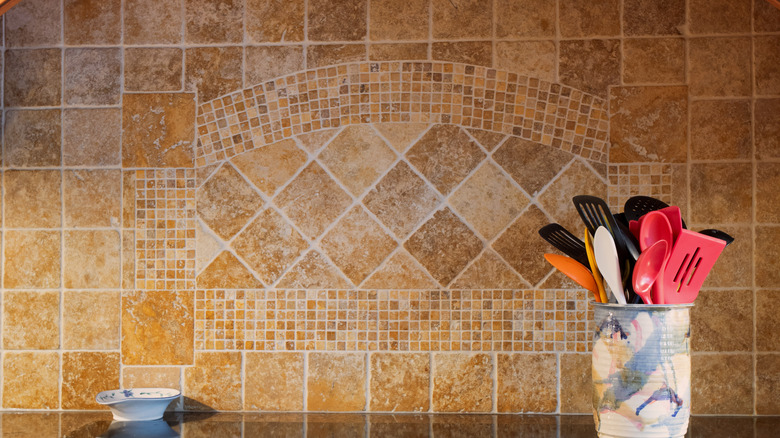 sockagphoto/Shutterstock
Don't stick with one pattern in your brick backsplash — go for a traditional Tuscan feel with rounded arches and diamond patterns in the tiles. 
8. Brown brick
For a more rustic, cottage kitchen sensibility, go for very weathered, dark red, if not brown, bricks for your backsplash. Pair with lots of reclaimed wood and copper for the full effect.
9. Light Tuscan style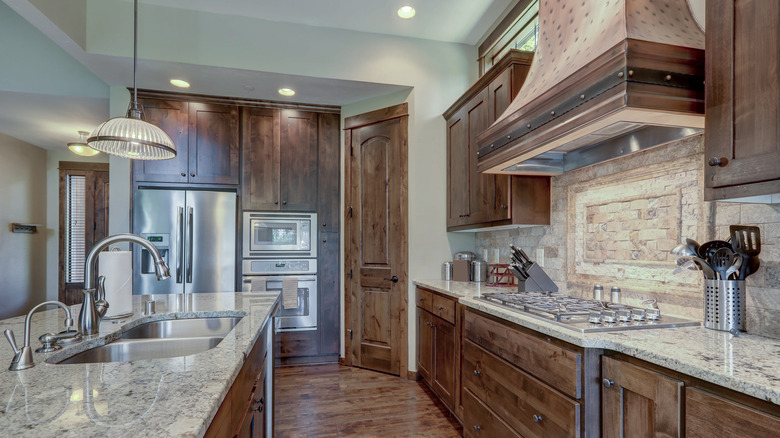 Artazum/Shutterstock
Tuscan and traditional kitchens are timeless, but they can also be updated with simple switches. For example, instead of a rich, orange-toned brick, opt for a lighter pink or gray brick backsplash. 
10. Classic white brick
For a clean, timeless look, pair whitewashed brick backsplash with light gray cabinets and steel appliances. Add some depth with light, or even white, gold hardware.
11. Farmhouse white brick
White brick can also be a wonderful backsplash option for a farmhouse-style kitchen, especially by incorporating shades from bright white to deeper stone grays.
12. Warm rustic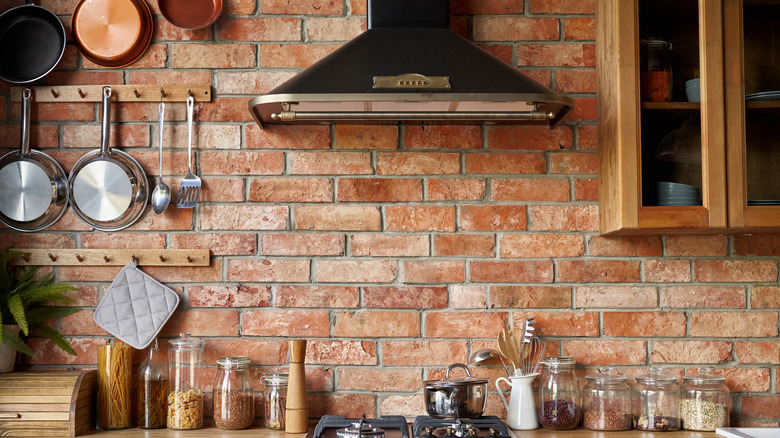 Tanyasid/Getty Images
Red brick adds a lot of warmth and depth to a space. Enhance it with darker black appliances, wood utensils and kitchen tools, and lots of copper accents.
13. Loft style white brick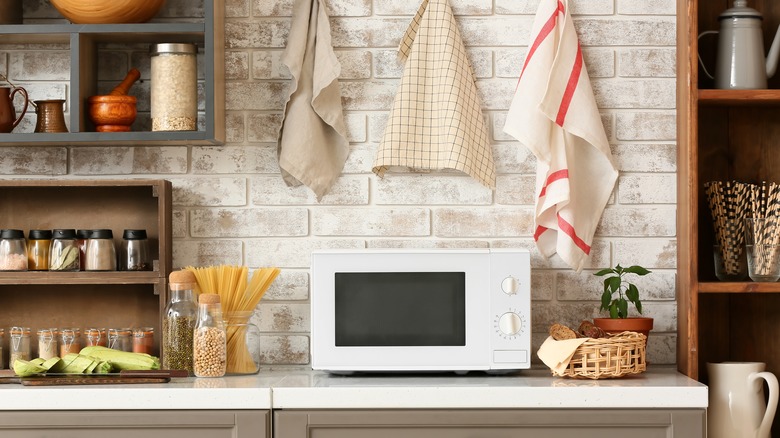 Pixel-Shot/Shutterstock
For a trendy loft-style approach to kitchen design, utilize a slightly worn white brick for your backsplash, pairing it with cooler wood tones.
14. Brick accent wall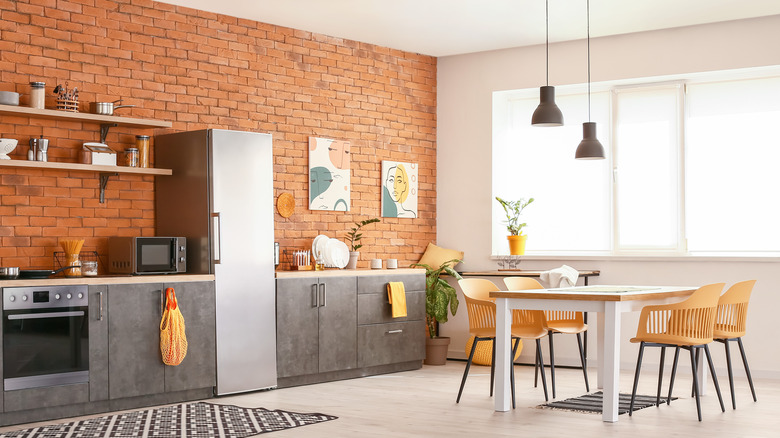 Pixel-Shot/Shutterstock
If you don't have any hanging cabinets, make use of the open wall space and go for a whole brick wall instead of just a backsplash. Opt instead for open shelving for an even trendier look.
15. Bright white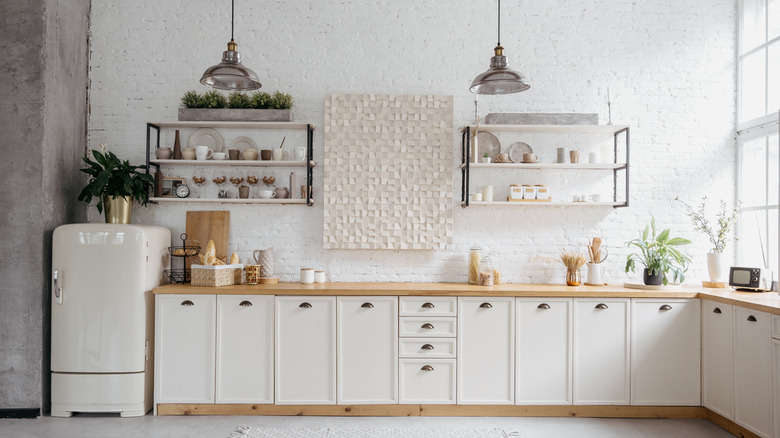 brizmaker/Shutterstock
If you prefer a clean, bright white kitchen that reflects lots of natural light, add some texture variance with a white brick backsplash, or even a whole accent wall.
16. Pub style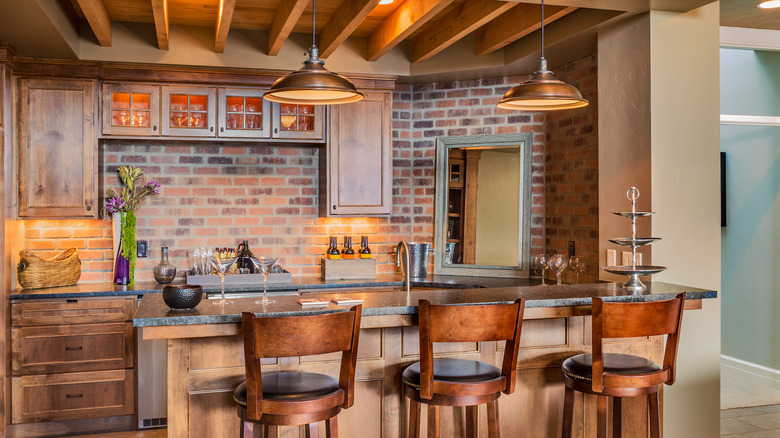 Hikesterson/Getty Images
Make your kitchen look like a warm and rustic pub with deep, rich wood tones, metal and copper appliances and hardware, and, of course, a weathered, deep color brick backsplash. 
17. Dark and moody brick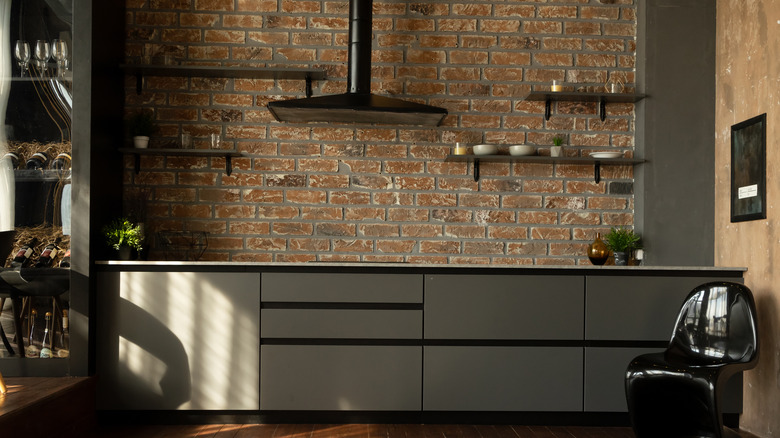 Neirfy/Getty Images
Choose a brick backsplash with little to no color variation and a duller shade, and pair it with darker gray and black appliances, cabinets, and so on for a moody, dark kitchen.
18. Contrasting styles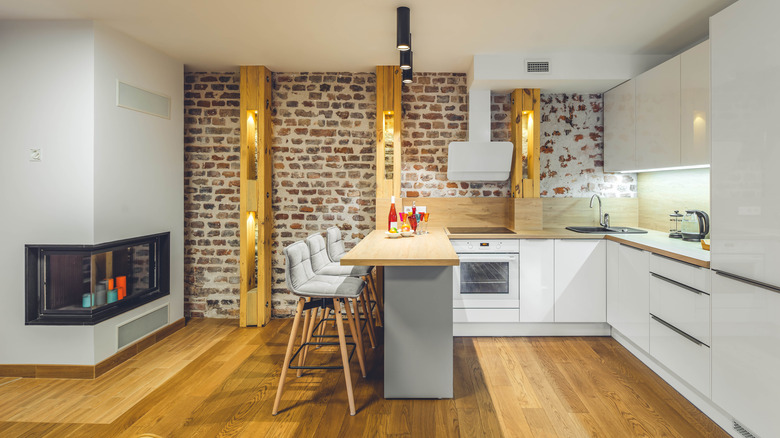 Aleks Kend/Shutterstock
Shake it up a bit by adding a super weathered, rustic-looking brick to an otherwise clean-line, modern-style kitchen.
19. Retro inspirations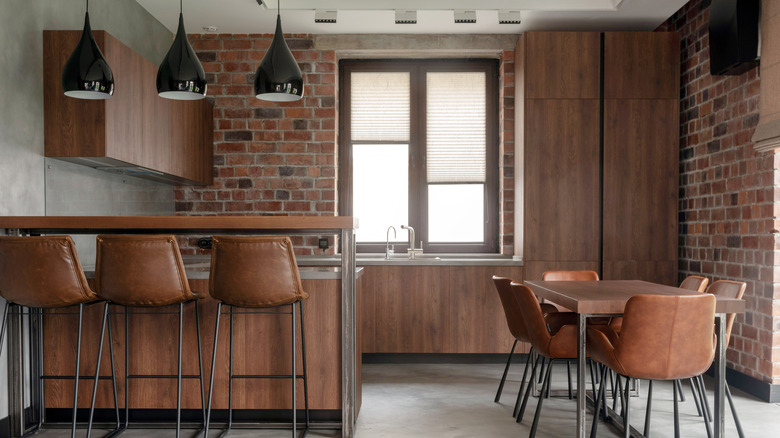 Demkat/Shutterstock
Use a warm brick backsplash to enhance the warm tones in mid-century-inspired cabinets, light installations, and furniture.
20. Cottage style white brick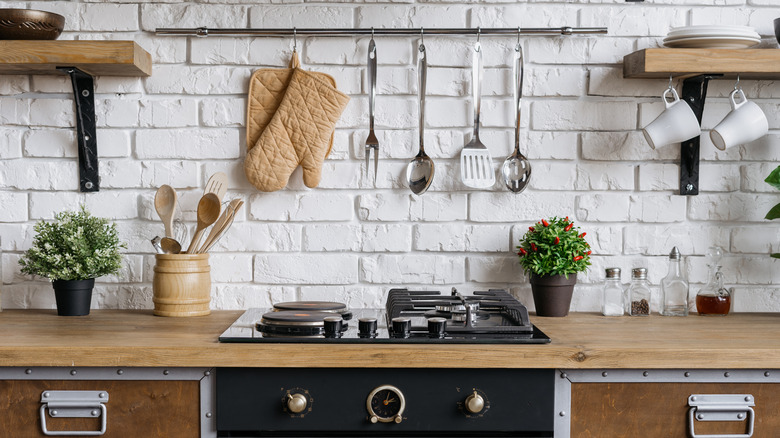 brizmaker/Shutterstock
White brick can also give your kitchen a cottage feel while looking a lot brighter than it would with red brick. Make it cozier with lots of soft wood tones, both on your cabinets and kitchen tools.
21. Dark brick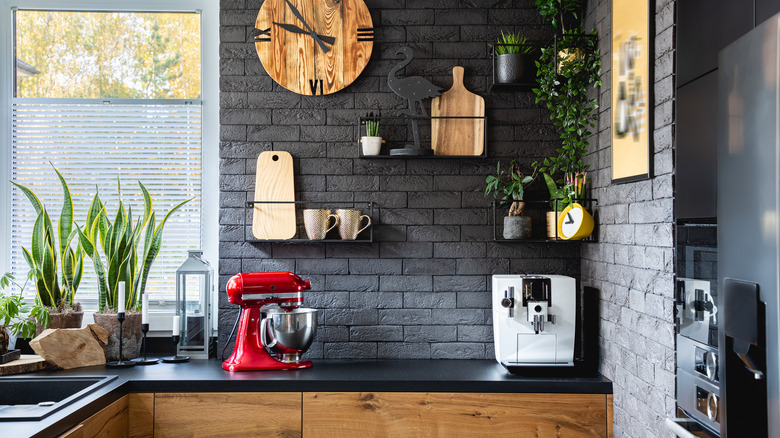 Ground Picture/Shutterstock
Get the texture and practical effect of brick as a backsplash in your kitchen while making it work for your personal style with dark gray or black bricks.
22. White brick accent wall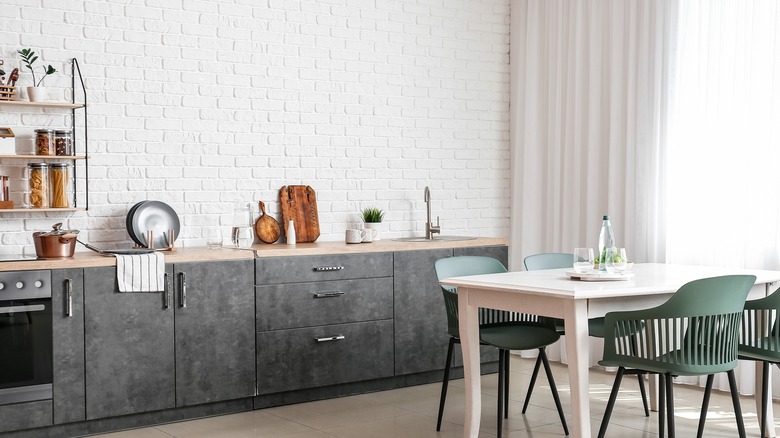 Pixel-Shot/Shutterstock
White brick is also a very effective accent wall option for your kitchen, acting as both a backsplash and an eye-catching installment. Pair with darker cabinets, appliances, and furniture to balance out the brightness.
23. Rustic style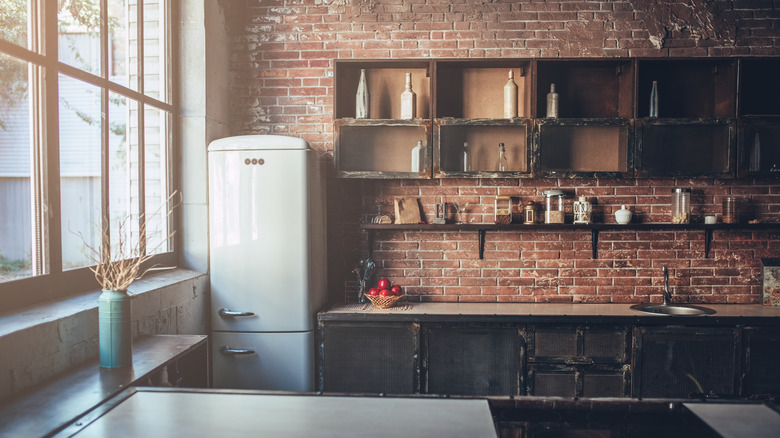 4 PM production/Shutterstock
Lean heavily into the rustic element of red brick backsplash with reclaimed wood wall cabinets and shelves, and even rustic or industrial floor cabinets. 
24. Bright red brick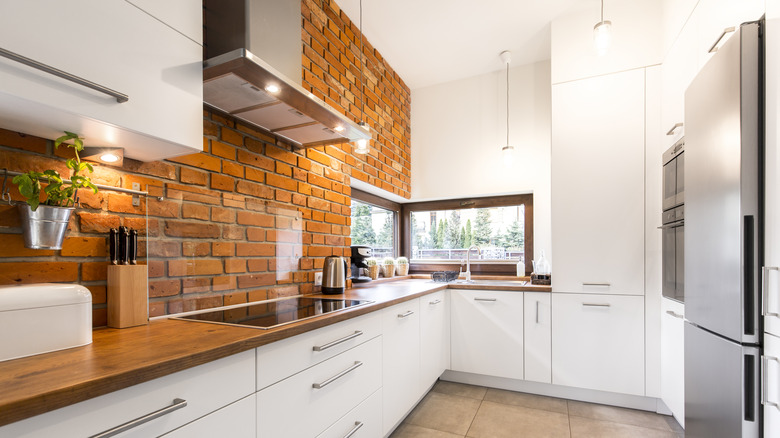 Katarzynabialasiewicz/Getty Images
Instead of a softer, darker red brick, give your kitchen a pop of color with a bright red, vibrant brick. Pair with warm wood countertops that can be further enhanced by the backsplash. 
25. Pop of color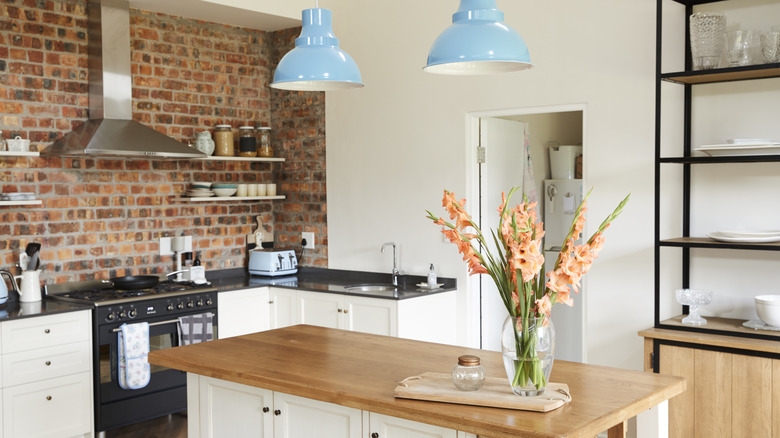 Monkeybusinessimages/Getty Images
Red brick, even used sparingly as a backsplash, can get a little heavy in color sometimes. Break it up with a pop of color, like the pictured bright blue pendant lights.