How To Find The Perfect Length Curtains, According To An Expert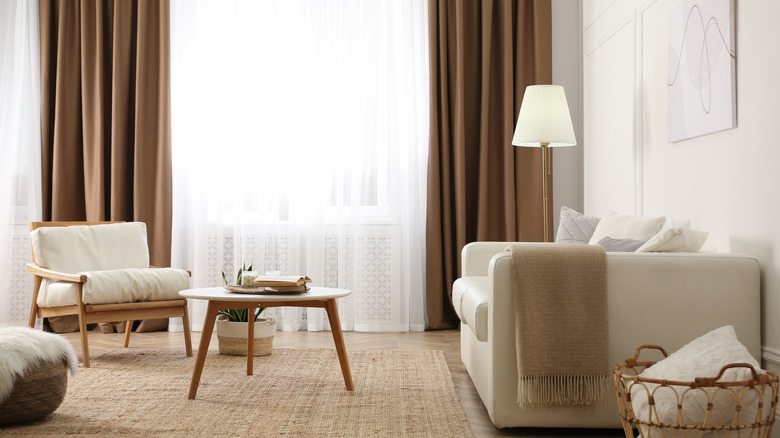 New Africa/Shutterstock
Many elements of home decor have as much to do with practicality as with aesthetics — a perfect harmony occurs when these two properties meet. It's lovelier though when the function is superseded by the design and still performs optimally. A beautifully tiled hearth, an architectural range hood, a patterned area rug, and an eye-catching stair rail are just a few examples. Window treatments are another. 
Curtains provide a point of softness and style cohesion with print and color repeated from the decor. Further, well-chosen curtain hardware can add structure and complement the design. Aside from aesthetics, drapery offers several benefits, including privacy, light control (especially with black-out options), temperature regulation, and the dampening of exterior sound. However, because curtains can occupy a fair amount of the decorating budget and visual space in our interiors, homeowners are often afraid to get them wrong. In an exclusive interview with House Digest, Amanda Oninski, interior designer for Floor360, explains one of the most important details when choosing curtains for your home.
The rule of thumb
Hanging curtains too low is a frequent mistake, especially considering that just a few inches can make a significant impact on the design. With that in mind, Oninski explains: "A rule of thumb when installing curtains is to install them about 4 to 10 inches above the top of the window." Ideally, curtain rods can be directly underneath the ceiling or crown molding; the height carries the eye upward, creating an impression of a more expansive room. "When you place the curtains higher you'll give the illusion that the room is much taller than what it is and it will make the overall space feel larger as well," she explained. Additionally, Oninski recommends exceeding window perimeters by 4 to 6 inches on both sides. This cleverly tricks us into believing the windows are bigger while ensuring the panels don't block too much light from entering the room. 
Although it may seem strange during the planning or purchasing stages not to adhere to the true dimensions, this is an effective method for altering the perception of both widow and room size, and a tried and true practice among interior designers. When shopping, take the final desired curtain and hardware measurements into account. Off-the-shelf curtains are available in standard sizes, so, if your required length falls between two of them, rather than settling for ones that are too short, purchase the longer ones and have them hemmed. 
Consider your home's unique style
In addition to the dimensions of the windows, Oninski explains that it's important to consider your home's architecture and decor aesthetic when deciding on curtain length. "The length of your curtains will depend on the style of your home. If it is more simple or contemporary with straight lines, then you want your curtain to just skim the top of the floor," she explained. A clean and tailored impression is well suited to a modern design, and tailored drapery can support your overall design scheme without attracting undue attention.   
However, curtains are wonderful for amping up glam, and further, underscore a sense of luxury. "If you have more of a traditional or chic home and would like a more dramatic feel, then you can pool the curtains," Oninski suggests. "When you do this it's up to you how much you would like and how dramatic you'd like it to look. Typically you want to have an extra 3 to 10 inches on the bottom for pooling," she noted. This method is less exacting regarding accurate measurements — a little extra won't hurt and it goes a long way.