The Kitchen Feature Buyers Will Add To Their Must-Have List, According To Real Estate Agents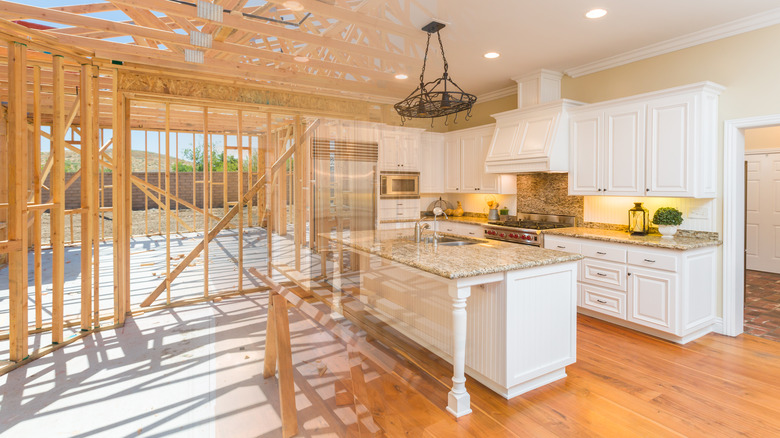 Feverpitched/Getty Images
Though it tends to be costly, renovating the kitchen is one of the things that makes a big difference in a house sale. A simple remodel can cost around $10,000 on average but yield over $17,000 in a resale, via HomeLight – quite the return on investment. This is why both investing in the kitchen is a vital part of the real estate process for a seller, and why agents have many recommendations concerning how to upgrade this area.
In addition to being clean and well-maintained, kitchen features should be as up-to-date as possible so buyers don't have to think about investing heavily in renovations. According to HomeLight, some things sellers might want to consider for upgrading theirs include adding a backsplash, painting old cabinets, installing new countertops, and adding shelves. However, there is one specific kitchen feature that real estate agents say buyers will add to their must-have list.
Expected trends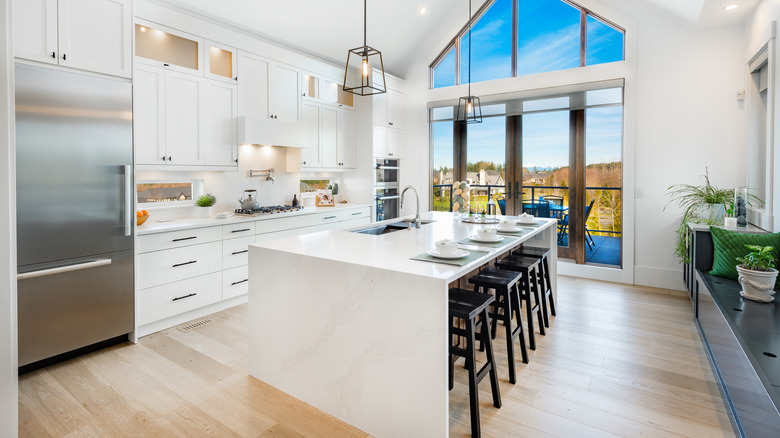 Sheila Say/Shutterstock
Some trends that real estate agents predict will influence the 2023 housing market include buyers having more power, remote workers flocking to affordable areas, and modern kitchen and bathrooms attracting shoppers, via HomeLight. These are important to know for two reasons. First, the buyer's opinion and what they are looking for are essential to sellers and other agents in the market. Secondly, sellers need to be more aware of how to cater to buyers, from the types of rooms and designs that are attractive to them to the demands of their lifestyles.
Buyers are looking for upgrades that they don't have to do themselves. Perks like smart appliances, energy-efficient devices, walk-in pantries, and kitchen islands are just some of the enhancements that can make a home stand out in the current market, per HomeLight. A kitchen island is a feature that real estate agents say buyers will add to their must-have list.
The top kitchen feature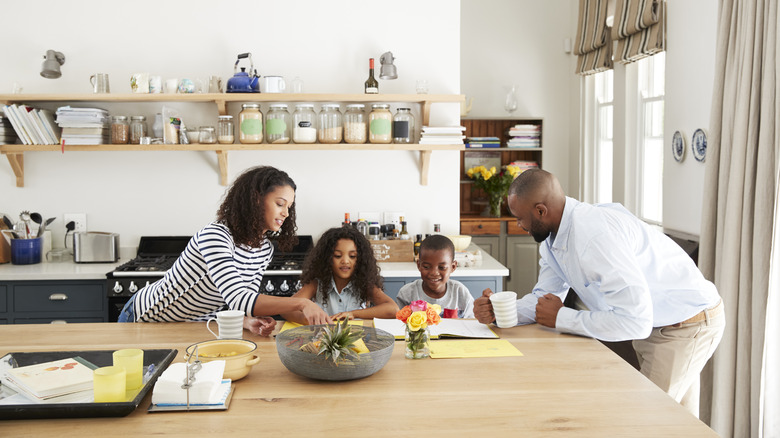 Monkeybusinessimages/Getty Images
According to HomeLight, 52% of agents predict kitchen islands to be popular with buyers this year. Most agents expect open-concept kitchens with family rooms to be popular as well. An open floor plan is currently the most wanted home style, and 85% of buyers want open-concept kitchens and dining rooms. This looks like a seamless flow between where the cooking happens and where people sit to eat. This can result from more flexible work and life schedules where the home has become a place that needs to be multifunctional and suitable to everyone's needs.
Whether for a remote worker or a child with a lot of activities, the living room, dining room, and kitchen should be comfortable enough to spend lots of time in. As open floor layouts and central spaces continue to grow in popularity, kitchen islands are an excellent way for homeowners to achieve their goals of homes with more freedom, openness, and opportunities to cultivate community. They create a defined, versatile space for the family to gather while providing extra seating and storage.