An Expert Explains How Adding A Rug Under Your Dining Room Table Can Make Your Space Look Luxe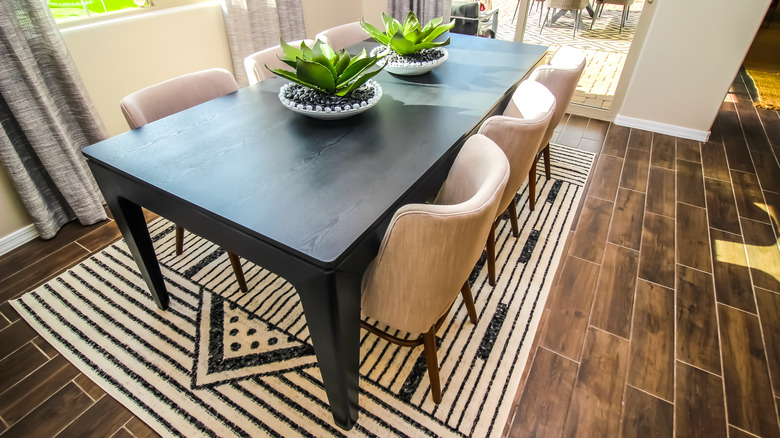 Thomas Bullock/Getty Images
Your dining room needs something to make it look less like the family gathering spot and more like a luxurious and relaxing place to enjoy meals with adults. But how can you make this seemingly boring space truly luxe, perhaps even into a statement dining room?
The answer is beneath you: Rugs are valuable interior design pieces, not just a warm place to put your feet. They can make a space look homey and welcoming, or even elegant and sophisticated, depending on what you choose. Per Rejuvenation, there are numerous types to consider — perhaps a handwoven throw rug made using hand-knotting will do the trick, or a simple, store-bought, low-pile carpet cut to size. 
The right rug certainly will help to keep your table from sliding around on your floor, but it goes further as it can truly contribute to the aesthetics of your home. Kelly Kuehn, a Floor360 interior designer, offers insights into how to use one to create an expensive-looking space in no time in an exclusive interview with House Digest.
Custom rugs can elevate your space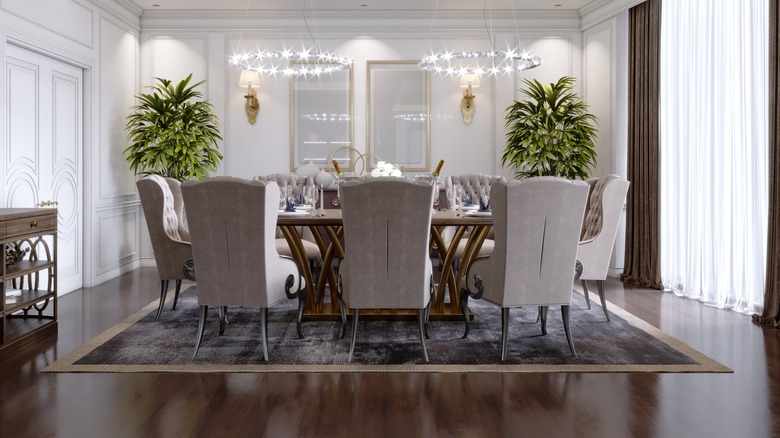 Peter_visual/Getty Images
While there is no shortage of rugs out there created by a host of manufacturers, Kuehn points out that people may still be left wanting. "Homeowners are realizing that predetermined sizes of area rugs bought online do not meet their needs for creating a luxurious design moment in their dining room," she points out. "What's more, homes with open floor plans often don't have defined dining spaces to allow for an intimate setting."
Considering this, if you want to make your dining room a more standout component of your home's artistic character, consider choosing a unique flooring solution, suggests Kuehn. "Simply incorporate a custom area rug over hardwood or vinyl –- measured to perfectly envelop the dining space -– which can create that luxe space with softness, color, and texture," she continues. So consider what appeals to your style and interests, as well as the sophisticated look you are trying to create within your home. Then select the custom retailer that speaks to your aesthetics.
Colors and textures on-trend in 2023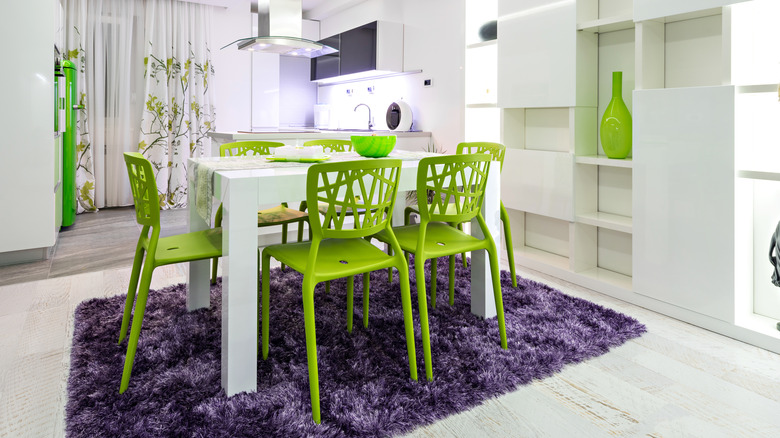 Poplasen/Getty Images
There's still one big concern to consider: How do you know what's going to create the feel and look you desire in your space? You could go with the latest interior design trends, shares Kuehn. "We recommend going bold with rug colors and patterns," she explains. "Think jewel tones like magenta and emerald green in varying textures. A graphic pattern or animal print will add personality while defining the space." To that end, look at a few designer room mockups to get some inspiration for your own oasis.
Beyond colors and patterns, Kuehn encourages you to think outside-of-the-box when it comes to your dining room. "Choosing a shape other than square or retable will add a custom touch to your space like round, oval, or even hexagon," she adds. "If you are curating a natural eco-friendly environment in your home, a textured rug in jute, sisal, or a wool blend will add warmth while providing a polished look." So at the end of the day, be creative and choose something that's appealing to you.