Real Estate Agents Say Kitchen Storage May Make Or Break A Prospective Buyer's Decision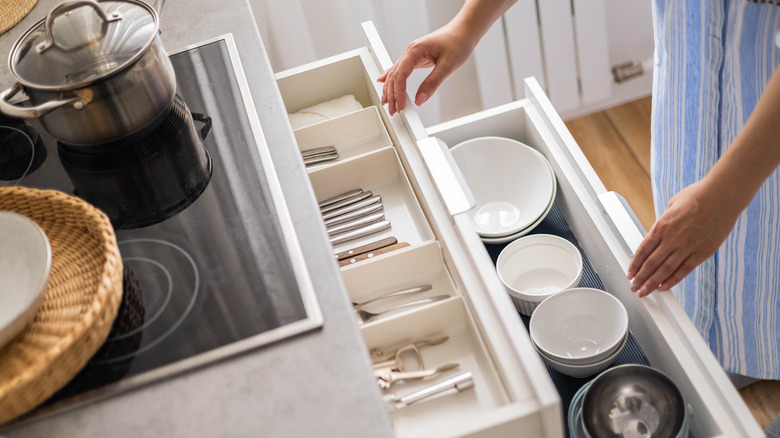 Kostikova Natalia/Shutterstock
The real estate market, going into 2023, is on shaky ground. Mortgage rates have spiked to their highest levels in over a decade, according to NextAdvisor, and the future looks troublesome with the debt ceiling rapidly coming into focus for the national economy, via The New York Times. Trouble in the housing space has led to a decline in completed sales, a cratering of new mortgage applications, and a turn in trending home prices more broadly.
This means buyers may soon be shopping in an enriched market that places them — and not sellers — in the driver's seat of these complex and life-changing transactions. Mortgage buydowns have risen in popularity recently, giving buyers an increased incentive to participate in the marketplace, with the seller offering up a portion of early mortgage debt that lowers the interest rate for a time. This makes a significant financial impact over the lifespan of the mortgage loan and is enticing for buyers. Sellers are also looking for ways to improve the bones of their properties as well. These tactics have been deployed for many years, but today, they are leveraged in particular locations and features to improve resale value and capture increased buyer interest.
The market today is fragile, and buyers can afford to be picky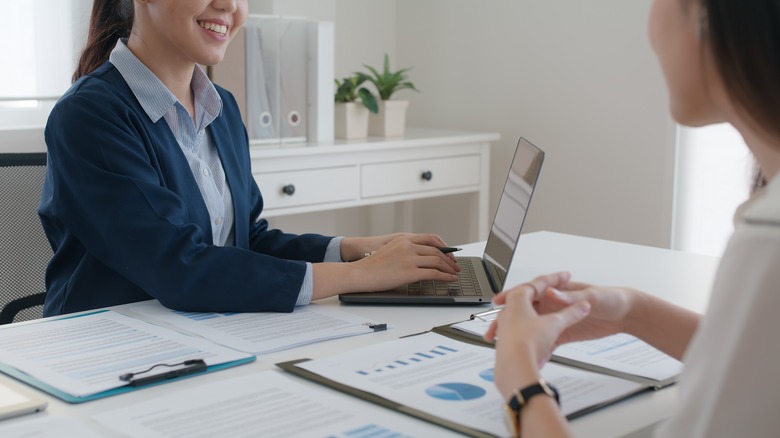 Chaay_Tee/Shutterstock
The key takeaway from the mounting data surrounding the real estate market is that buyers can afford to be picky, careful, and deliberate. In the past, sellers enjoyed a unique position in which a listing might go up midweek, and by the weekend, multiple interested buyers would be battling to purchase the property. Forbes reports that between January and May 2020, 42% of buyers had to win a bidding war to acquire the home they would eventually move into.
This heat has primarily left the real estate marketplace in 2023. So buyers have a greater opportunity to wait out impatient sellers who might engage in stylistic upgrades to the property (replacing carpet, adding new appliances, etc.) or drop the price to attract new interest. Sellers feel the squeeze now as the market trends are out of their favor. HomeLight has reported on several realtor sentiments and key indicators surrounding the marketplace, with one metric standing out. In the second quarter of 2022, 95% of real estate agents would describe their marketplace as a "seller's market"; in the fourth quarter (just six months later), only 30% made this judgment. Shifting market sentiment means buyers can dictate terms and wrangle key concessions out of sellers. Functional upgrades and layout styles are essential features in this give and take.
Kitchen design and storage may be the key decision point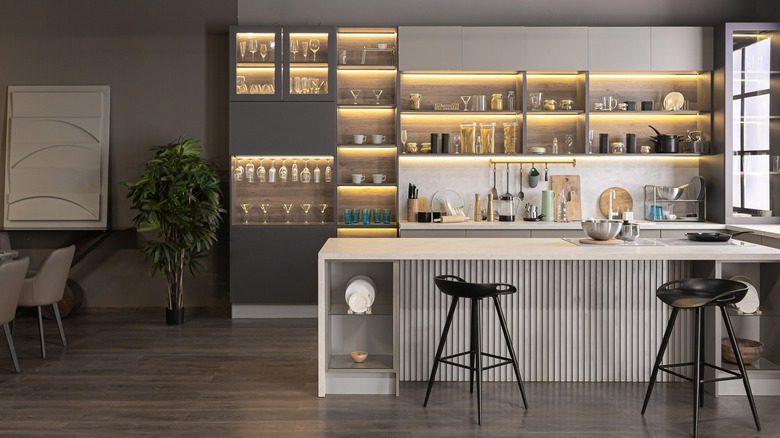 Pinkystock/Shutterstock
Perhaps surprisingly, HomeLight reports that in 2023, real estate agents have signaled kitchen styles that include open, functional work areas and ample storage space in the cabinets and pantry as a critical feature in property searches. Kitchens have remained a major sticking point for home buyers. Often, buyers will make an offer on a home contingent upon a kitchen renovation or a reduced price that accounts for the money that will be sunk into later changes here. 
The truth is that everyone has their style and workflow, and the kitchen is a space that will exacerbate friction between the property's layout and the new owner's preferences. Ample storage is a crucial piece of the puzzle for obvious reasons once you've understood the importance of the kitchen in closing a sale. Storage is routinely in short supply, no matter the size of a property. A separate pantry space increases drawer and cabinet volume, and even kick drawers in the lowest portion of your floor cabinets can add a depth of character and functionality to the kitchen and entice buyers to chase after a home on the market. For sellers, focusing on efficient kitchen upgrades should be a priority in 2023; there's simply no way around it.