The Kitchen Paint Trend That May Just Help You Sell Your Home Faster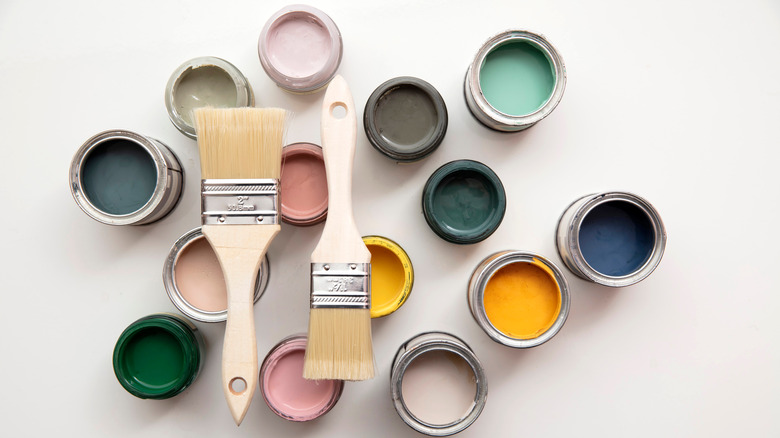 Ink Drop/Shutterstock
As you prepare your home to be put on the market, there are many things to ponder. Who is your target audience? Is this a home for children and pets, or a couple keeping it small? Is it for older folks looking to downsize or young adults with roommates? Honestly, whichever buyers you are hoping to sell your house to, the kitchen will remain one of the most critical areas to get right. Trulia notes that the kitchen is always among the top two rooms in a house that are most heavily considered in a buying decision.
Painting the kitchen is an easy way to clean up a high-traffic space and change the design aesthetic to something more eye-catching. According to Fixr, painting your kitchen is priced anywhere between $400 to $1,200 depending on whether you choose to DIY it yourself or hire professionals. Laying down fresh paint can become a bit costly, but Kind Home Solutions finds that painting your home's interior can increase the value of your residence by $4,000 or more. Sprucing up the kitchen will be well worth the investment, and with it being the heart of the home, it may be time to stray from overly used paints and contemplate more unique designs for your potential buyers.
Muted shades of green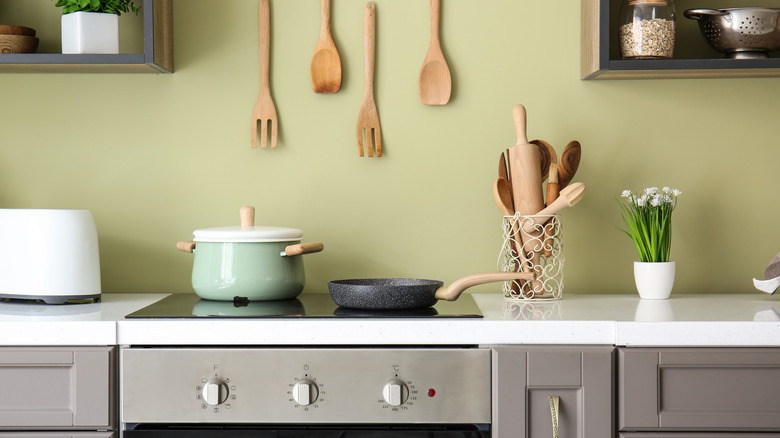 Sergey Kirsanov/Getty Images
According to Homes and Gardens, real estate experts recommend playing it safe with lighter colors in the kitchen, and it doesn't get much safer than white. It is time to stop making timid choices and start setting yourself up for success by separating your home from others on the block. Greens are at the top of the trends chart, and choosing the perfect subtle shade is the key to a flawless kitchen. You'll want to get just risky enough in your color choice that buyers feel drawn to the distinctive experience you have to offer.
Greens are being so widely accepted due to their versatility and fresh look. It is an escape from the whites, grays, and beiges that have ruled the paint game for so long. These viridescent shades also play into earthy and botanical trends that consumers are raving about. Before deciding on your green shade, think about the tone you want to set. Greens can create many conversations in a room — seafoam colors give a coastal breeze, darker greens can add a sophisticated voice, and soft sages invoke a calming and relaxing discussion. Sherwin Williams' Frosted Fern is a beautiful earthy green with darker undertones, yet it still portrays a muted hue. For a more true green that isn't too bright and stays on the softer side, consider Behr's Fresh Artichoke.
Pairing kitchen accents with green hues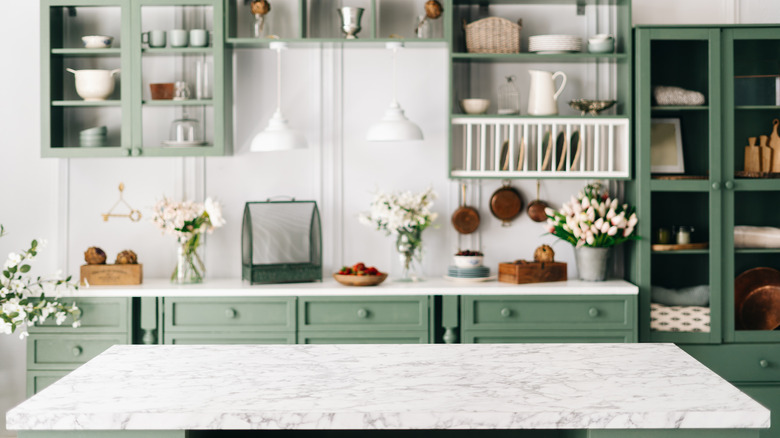 Brizmaker/Getty Images
Have you ever wondered why green means go at a stop light or why highway guide signs are highly reflective in the same color? This lies in the fact that green is one of the most visible colors to the human eye. Hal Glicksman, a retired professor at California State University's Art Department, speaks to the fact that our visual systems are most responsive to green light. It's essential to have proper balance in the décor and accessories paired with your kitchen's green walls. Think about the undertones of the green paint you've chosen; those with blue undertones will pair well with dusty whites and feathery grays, while those with yellow bases, such as olive greens, will find harmony with warmer shades of gold and bronze.
Given the versatile color green, there will be minor difficulty in accessorizing as long as you know your direction. Don't be afraid to be bold with peel-and-stick wallpaper for fun accent walls, or play around with natural wood grains and stone for that added texture everyone loves. Narrow in on the details by mixing and matching your hardware, giving your kitchen a one-of-a-kind look. As you prepare to sell, strip away the safety net and find the little things that will genuinely make your home memorable.