Why Picking The Right Size Tile Is The Key To Pulling Your Space Together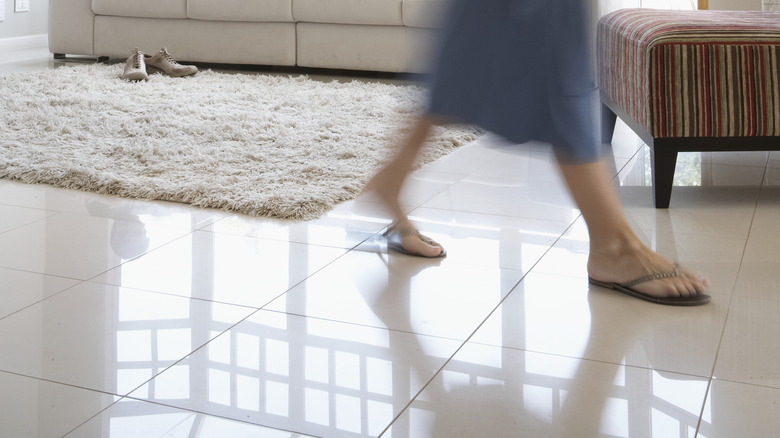 Thomas Northcut/Getty Images
Tiles are commonly used in spaces with a lot of moisture, like bathrooms and kitchens, but can also be used creatively in other places, like sunrooms, home offices, and halls. This age-old décor adornment protects the floor but can also be useful in interior design. Endless choices of patterns, colors, shapes, and sizes make tiles a great way to liven up your home. Tiling is an intense process, and tiles aren't supposed to be changed often, so make sure to choose styles that can stand the test of time instead of moving with trends.
While larger tiles can make a space feel bigger, they can't be too big, so they don't overwhelm the space. Small tiles with tiny patterns can be better in such cases because they add a necessary consistency, says Granada Tile. Striking the right balance and arriving at the sweet spot is important when choosing tiles, and here are two ways that the correct-sized tile pulls your space together.
It influences the feel of the room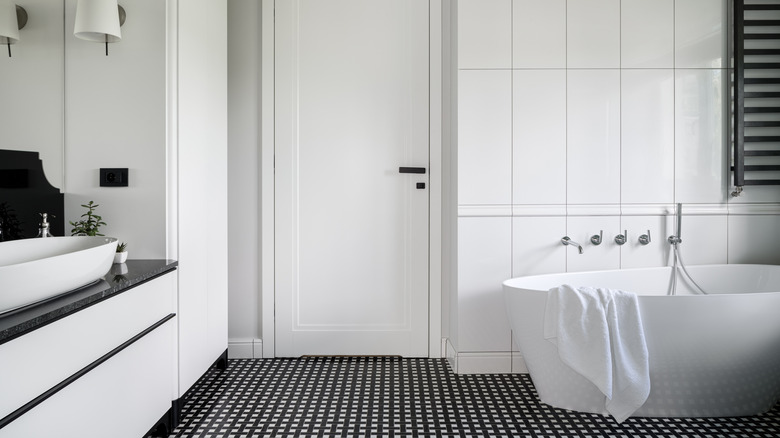 Dariusz Jarzabek/Shutterstock
The tile size you choose affects the feel of the room because it determines how it is experienced. Large tiles can expand a space and make it feel bigger, while small tiles can give it a smooth flow. When the eye sees fewer tile joints, it creates the illusion that there is more space, which is why big tiles are great for small spaces. Small tiles can also work in undersized areas due to their interesting patterns. For example, the proper lighting in a room with mosaic-style tiles can make it seem spacious, according to Luxury Tiles.
With any size tile, but huge ones, positioning them diagonally will also make the room feel bigger than it is. Are you thinking of using tiles on the walls too? American Olean advises against wall tiles that are bigger than floor tiles to maintain a balanced look. Wall tiles should be matched to the floor, not the other way around.
It boosts the aesthetic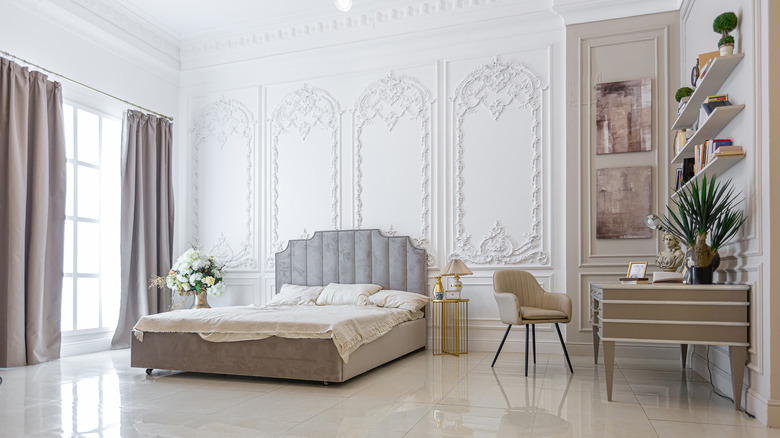 Pinkystock/Shutterstock
The right size tile is the key to pulling your space together because it contributes to whatever look you're going for. Small tiles come in various patterns and styles that can add character to a room, especially when there isn't enough space to do so through other avenues. The most popular types are subway, penny, and plank, via Dwell. These options can add dimension to a room without using furniture and work best for small bedrooms, bathrooms, and closets.
Large tiles, on the other hand, can achieve a more uniform look with their simple colors and textures. This minimalist floor appearance makes a space feel airy and open. Living rooms, kitchens, and common areas are great locations for bigger tiles. To achieve a unique look, mix different tile sizes. This gives off a smooth appearance, makes it more visually attractive, and can tighten the space, via Granada Tile.