This Layering Trick Is The Key To Making Your Couch Look More Expensive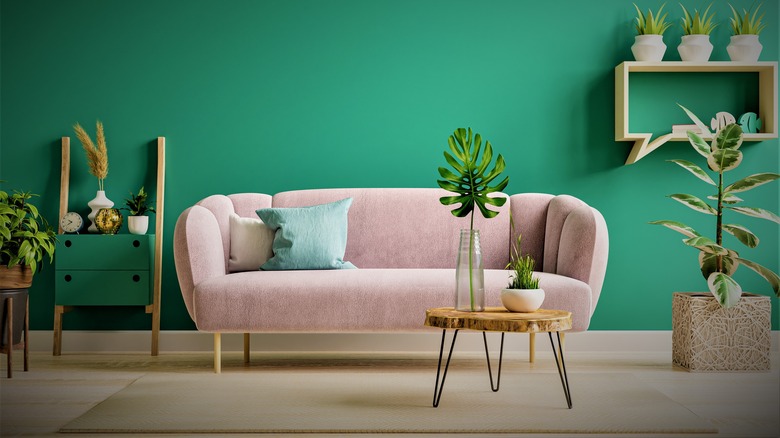 fazilran1234/Shutterstock
Your couch is the focal piece of a room, which is why styling it helps set the vibe for everything else around it. Even if your couch is on the older side, thrifted, upcycled, or just too comfy to let go, it can still look expensive with the proper care. Couches are like fine wines: most of them just get better with age. While you don't want to hold onto a piece that is falling apart at the seams, if there is nothing wrong with it, there are plenty of savvy tricks to turn your hangout spot from drab to fab.
Your couch doesn't have to be made of fancy leather or fine silk to look expensive. In fact, just focusing on some key additions will ensure it remains the eye-popping piece it was made to be. Forget reupholstering or starting fresh because the following tips will elevate your couch and create that chic dynamic in a room you've been craving. According to MyMove, homeowners can create their own focal points within a space, and if yours is the sofa, accents are your final touch to keep it engaging.
All about the accessories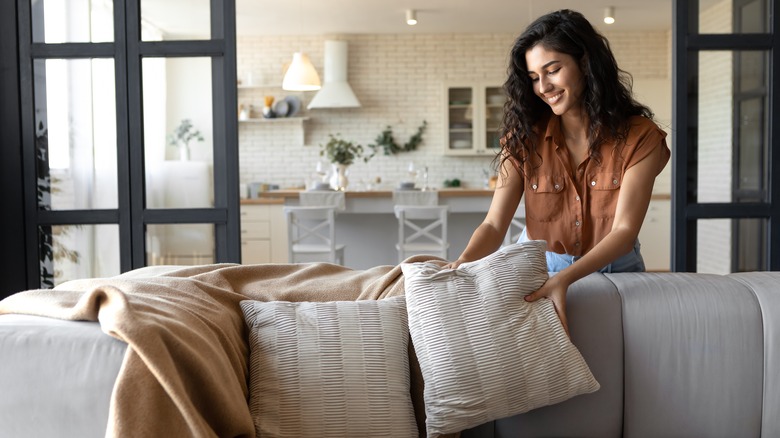 Prostock-studio/Shutterstock
Accessories are the foundation of a cozy, welcoming living room. Even if you prefer minimalistic decor, having just a few accents can transform a space. In the case of your couch, there are two important elements that will make it look luxurious and expensive with minimal effort. Throw pillows and blankets can completely elevate your sofa, and the best part of this trick is that you can upgrade your textures, patterns, and materials as often as you want. Rather than replacing the entire couch, you only need to purchase new throws to alter the overall aesthetic.
When it comes to purchasing or adding throw pillows, consider grabbing a few different sizes. This instantly provides the space with volume and dimension, making it inviting but also stylish. Lovely Etc recommends adding more pillows if you're trying to cover more area. If there are parts that look more worn down, these are ideal for a pile of pillows in a variety of shapes, sizes, textures, and colors. Stick with the room's existing palette, but you can stretch to either end of the color scheme. For example, if your living room is neutral, add in black, gray, beige, and brown to complement the existing materials and decor.
Tips for textiles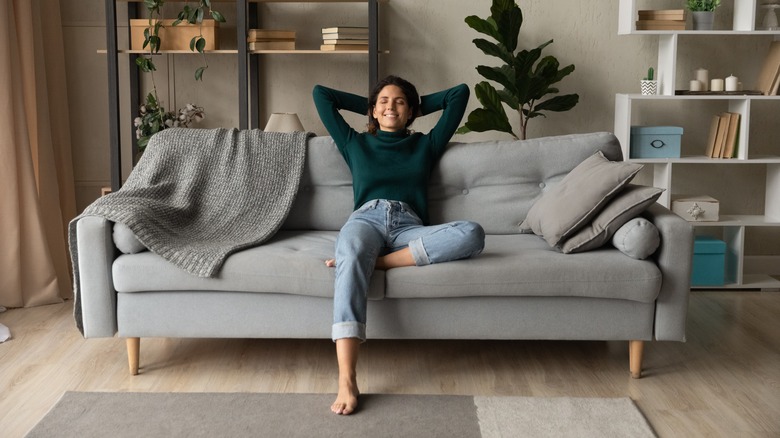 fizkes/Shutterstock
Throws are another great way to layer your couch and make it look more high-end. Soft, thick blankets can be draped over either end of the sofa or across the top to provide a cozier vibe, which at the same time makes it look chic. The Design Edit says there are several different ways to fold your throw, and each one creates a different aesthetic. Folding longer or larger blankets into thirds or halves provides a more proper look, while a draped approach appears effortlessly fashionable.
If you have a smaller couch, fewer pillows and a draped throw will give you the ideal amount of layering without feeling overdone. For larger pieces, try placing several small pillows in front of a larger one, then adding a blanket to the arms or footrests if there is one. The biggest bonus of this trick is that you can update the colors and textiles throughout the changing seasons to integrate holidays, palettes, or your personal preferences.