Why It's Important To Prep Your Walls Before Applying Wallpaper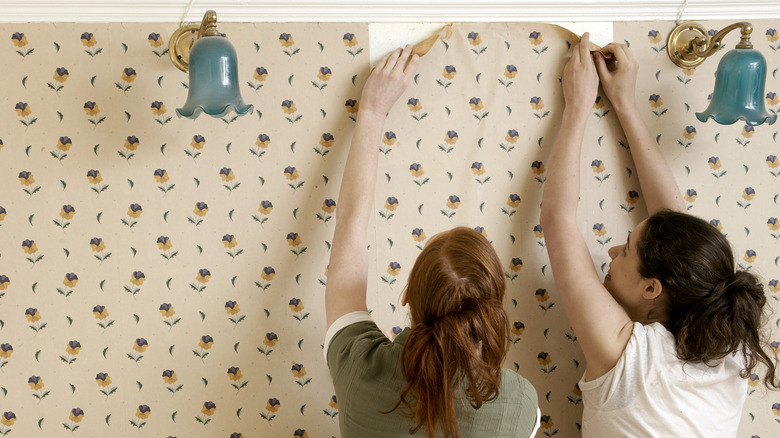 Gary Houlder/Getty Images
So, you're tired of the walls in your living room and ready for a dramatic change that a new coat of paint will not offer. Wallpaper sounds like the perfect solution, especially if it can hide all of those marks, dings, and scratches on your wall. There are a few qualities that make wallpaper better than paint for certain situations, explains Walls Republic, including its ability to add texture and intricate patterns to an accent wall in a way that is unachievable with just paint.
However, it's not wise to simply cover your walls in wallpaper and hope for the best outcome. By investing some time in the preparation you will ensure the final project looks fantastic, and the application process goes smoothly. If you've never tried hanging wallpaper in your home, here's what you need to know about the project, and how you can save yourself some time and money in the process.
Surface preparation before applying wallpaper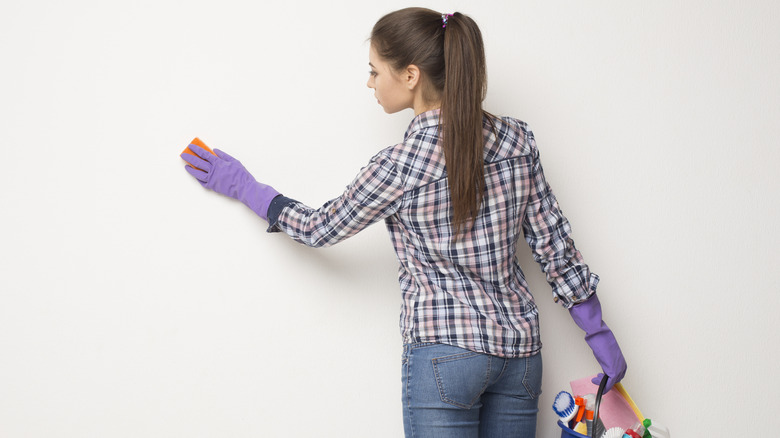 Prostock-studio/Getty Images
Once you've chosen a wallpaper you love, the next step is to prepare the surface of the walls themselves before doing anything with the paper. Wallcoverings Association notes that, while following the manufacturer's directions is essential, most projects should start with some basic steps. That includes removing anything from the wall's surface that's not permanent, like the outlet covers and any fixtures. Consider taking off the door and baseboard framing, too.
The surface of the wall must be clean and dry, and you should remove any type of stains or marks, such as smudges from greasy fingerprints or crayons from the kids. If you don't, they could seep through the wallpaper or make it hard for the paper to actually stick to the surface. Home Depot recommends washing the entire wall with mild soap, warm water, and a firm sponge, which will also remove any mildew and mold. Alternatively, you can use cleaning erasers to remove more set-in stains. The main thing is to get as much of the material and grime off the walls as possible.
Repairing surfaces for wallpaper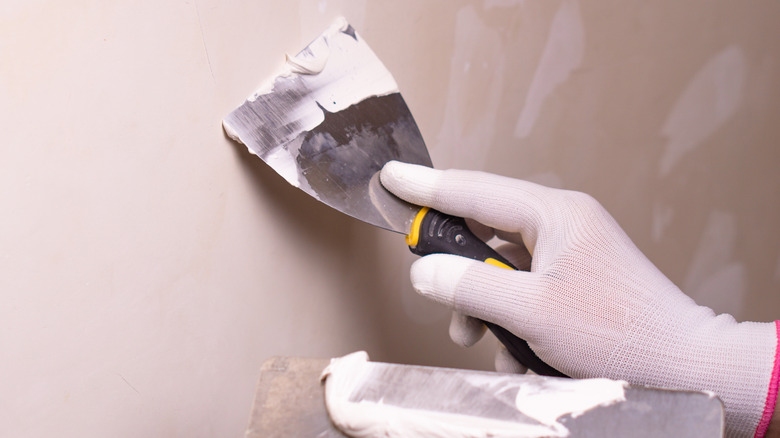 VK1971/Shutterstock
Based on the material of the wall, you may need to take additional steps to prepare the surface for wallpaper. If the walls have paint on them, test if it is water-based by applying a wet towel to the surface, holding it there for several seconds, and then rubbing it. If there's paint on the towel afterward, that means it's best to wash the walls with a mixture of water and ammonia to take off the paint. Because the paint is water soluble, it will make adhesion of the wallpaper challenging, warns Wallcoverings Association. If the paint is oil-based and has a semi-gloss texture to it, you'll need to sand it to create a rough surface for the wallpaper paste to adhere to.
To ensure the best outcome, sand down any significant holes or areas of damage and fill them with spackle. If you've previously had wallpaper on this location, it's critical to remove any remaining paper and adhesive and let it dry out fully. Otherwise, that adhesive can encourage mildew and mold growth under your new wallpaper.