Is The Oversized Tub Trend On Its Way Out?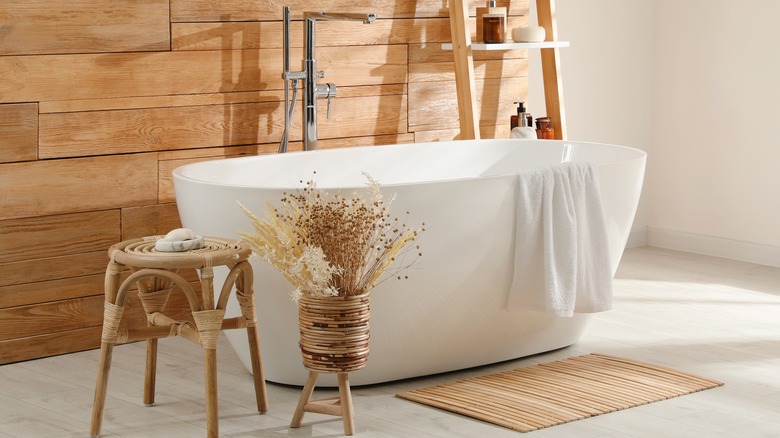 New Africa/Shutterstock
A perfect bathroom sanctuary is high on the must-have list for many homeowners these days. Whether the target is getting energized before a busy day or unwinding after a trying one, bathroom goals are real. When remodeling to get just the right fit for a household, bathtubs can be a point of contention. Do you need one to maintain the resale value of your home? The short answer is yes. Having at least one bathtub in a home is advisable by real estate pros, as noted by Remodel Inspo. Many families have children and rely on the amenity, so they may shy away from purchasing a home without at least one tub.
Remodel Inspo adds that a study conducted by the National Association of Home Builders further suggests that 50% of all buyers look for primary bathrooms with both tubs and showers. Given these factors, the demand for bathtubs seems to be here to stay. However, that doesn't mean people are sticking with the traditional built-in tubs typical in many homes.
The status of the modern oversized tub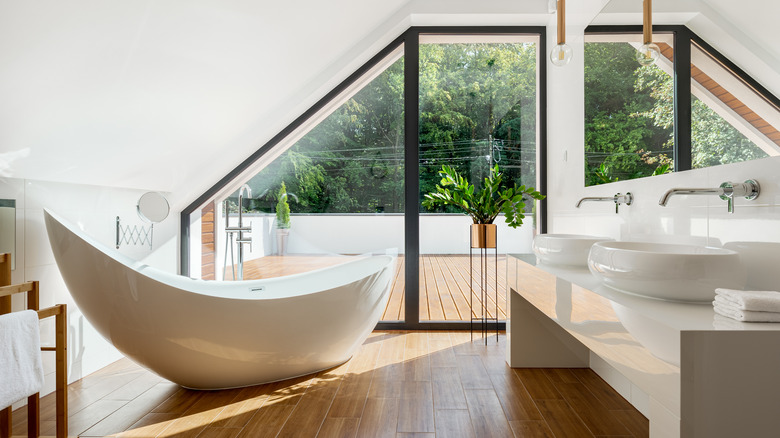 Dariusz Jarzabek/Shutterstock
Traditional built-in tubs — also known as garden or soaking tubs — have lost favor to modern oversized tubs in the eyes of many decorators. In fact, these newer eye-catching stand-alone bathtubs have been trending for quite a few years now, as noted by designer Michele Youell of Natural Domain Interiors (via Better Homes & Gardens). The updated version of the soaking tub is freestanding and comes in many shapes and sizes.
Modern oversized tubs add interest to a bathroom since they stand out as an architectural-type feature. They can be made from a variety of materials like copper, rock, stainless steel, and wood as well as the more common porcelain versions. Adding one to a bathroom can impart color and/or texture in an unexpected way in comparison to a standard rectangular bathtub caulked to the wall on three sides. Considering how many of these tubs are still being featured in decorating blogs and on Pinterest boards, they appear to be holding their own in terms of popularity. Still, it's worth noting that some remodelers of late are requesting the removal of all types of tubs in favor of other bathroom amenities.
Replacing tubs with bigger showers or more storage space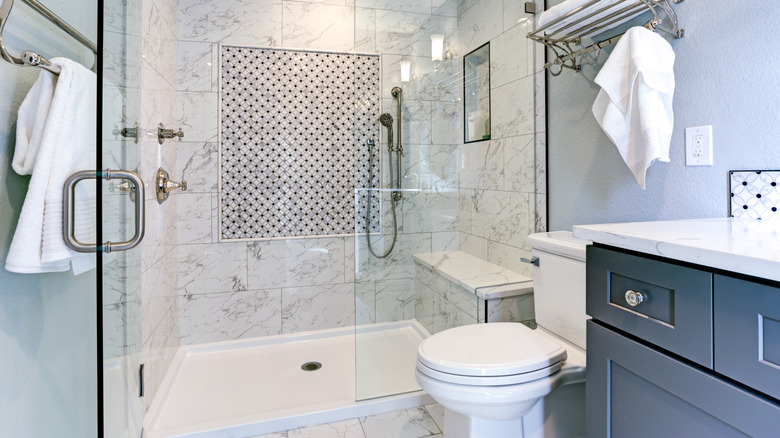 Alabn/Getty Images
One drawback with oversized tubs is the amount of precious bathroom space they require. Some people use them daily, but many homeowners opt for showers whether to save water, for quick convenience, or for ease of accessibility. More and more, Michele Youell is seeing unused tubs being replaced by larger showers or additional storage space.
Especially in smaller secondary bathrooms, walk-in showers not only eliminate the need for shower curtains, but they tend to open up spaces by using seamless glass enclosures. To avoid the boredom of plain tile, interest-adding patterns or colors can be incorporated into shower walls during a remodel. In primary bathrooms, there's often enough area for an extended shower with built-in benches, multiple shower heads, and other luxury features after a bathtub is removed. Additionally, eliminating a tub can add enough space for a built-in linen cabinet or a piece of stylish furniture to store bathroom essentials.
If a dream bathroom scenario is taking shape for you, before you get too far into it, consulting with a plumbing pro is advisable. Doing so will help you decide if what you have in mind is readily feasible, and how much it's actually going to cost to replace a bathtub with a walk-in shower. You might have to adjust your expectations, or your budget, but it's better to know sooner rather than later.