Housing Market Declines Are The Lowest They've Been In Months
takasu/Shutterstock
After over a year of home sellers dangling a competitive real estate market over the heads of buyers, it seems that the tables are finally starting to turn. According to Rocket Mortgage, low housing supply and remote jobs were some of the reasons why buyers were initially put in a bind — both of which were exacerbated by the COVID-19 pandemic. However, potential homeowners no longer accept extremely overvalued homes, competitive bidding, or home inspection waivers. Now, the housing market is full of consumers craving something financially sustainable.
In fact, pending home sales have continuously been dropping for the past six months, per Forbes. Since October, they've dropped by 4% and 38% since last year. Many are quick to blame high-interest rates; however, we believe there are other economic aspects that both buyers and sellers should be aware of. Below, we'll give you a full breakdown of all you need to know.
Declines everywhere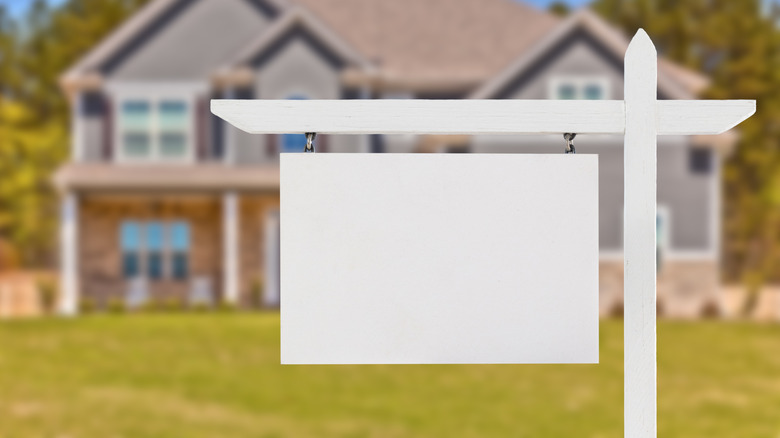 Feverpitched/Getty Images
According to Redfin, homes haven't taken this long to sell since April 2020. In the upcoming weeks leading to January 8, listed residences sat on the market for 44 days, leading to a record-breaking surge in annual home inventory. And although interest rates have decreased down to 6.33%, that number is still considered relatively high. In addition, the construction of new homes has also decreased by 9.6% in July as builders continue to lose confidence in the housing market, per Vox. As a result of diminishing demands for homes and high costs for construction materials, they don't see a reason for building new homes at a competitive rate. 
Also, in July, Redfin data revealed that new listings from potential sellers decreased by 132,649 compared to the previous month. "They were able to lock in really low mortgage rates, so they don't really have a reason to sell," Daryl Fairweather, the chief economist at Redfin, said. Although construction and new listings have slowed down, inventory is still steadily increasing. But we'll have to wait and see if this will substantially impact the housing market.