What Is The Best Time Of Year To Plant Marigolds?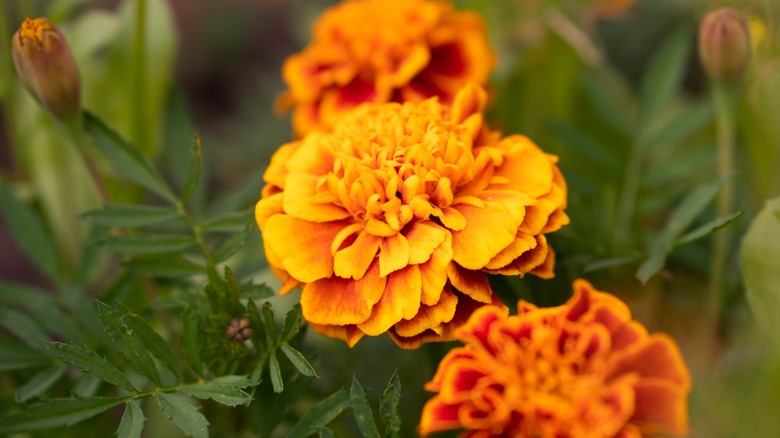 Roman Smok/Shutterstock
Marigolds are unique flowers with ruffled petals that come in orange, yellow, and mahogany. They look beautiful in rows along the walkways of houses, in planters, and trimmed for bouquets. If you love their look, you can easily plant them in your own garden or use them for landscaping your yard. Not only will they fill the outside of your home with vibrant colors, but you can also use them to decorate your interiors.
Creating a fresh bouquet as a centerpiece for your dining room table is one way to use them. Burpee recommends cutting blooms as soon as they open in the morning and setting them in warm water. Then once you're ready to create your arrangement, trim the lower leaves and fill your vase with marigolds and other foliage. They'll last for about a week. Although, you can preserve your blooms for years by drying them.
Of course, before you can reap the benefits of growing your own flowers, you'll need to prepare for a healthy and fruitful growing season. Take advantage of the warm weather while you can and plant your seeds at the right time of year.
From spring to mid-summer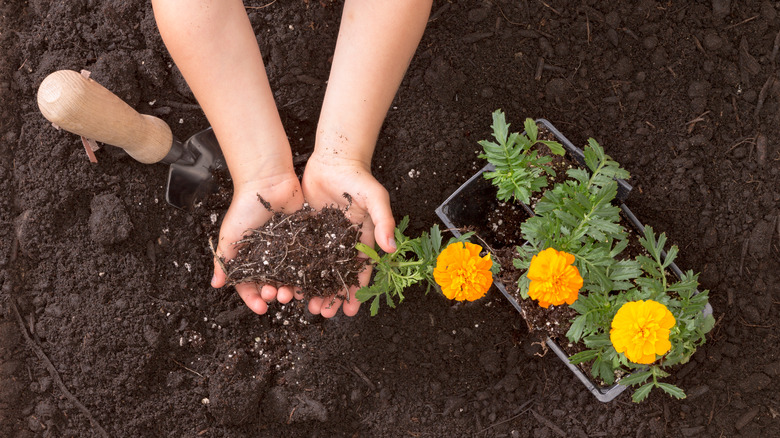 Ozgurcoskun/Getty Images
There are two ways to plant marigolds in your garden. Springtime through the middle of summer isn't an exact time, but it depends on how you're going to start them. You can begin growing marigolds from seed or transplant a seedling into your garden. Farmer's Almanac recommends starting marigolds from seed outdoors because they are easy flowers to grow. What you want to pay attention to is the last frost day in your area. This is when the ground will start being warm enough to support germination. You can sow your seeds about one to two weeks after the last day of frost. With many variations, you can wait until summer if you want, but African marigolds are the exception. They take a long time to produce flowers, so they should be sowed as early as possible.
By starting your seeds inside and transplanting them once it's warm, you can get ahead and have your flowers bloom earlier. If you're going to use this method, sow them around four to six weeks before the last day of frost. You'll want to time it so the seedlings don't outgrow their pots before you can move them outside. It takes about eight weeks for marigolds to bloom, so be sure to move them before then. Once frost has passed and the soil in your garden is warming up, it's time to transplant them.
How to plant marigolds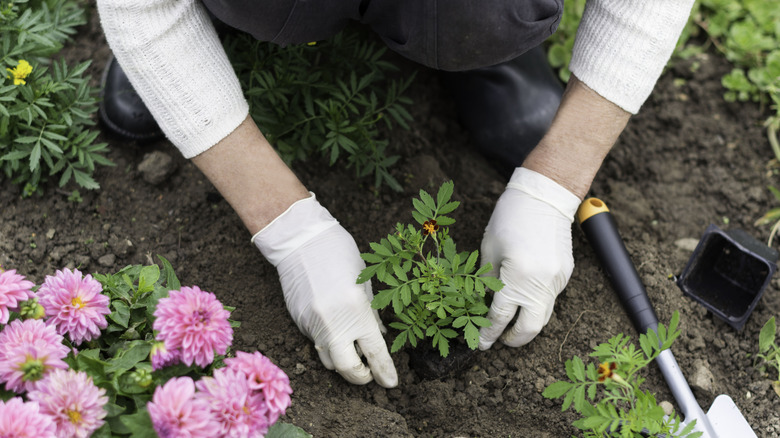 Jurgute/Getty Images
How you sow your marigold seeds is just as important as when you plant them. First, you need to pick the best spot in your garden for them. Marigolds love light, so find a place with full sun. However, if you don't have lots of bright light in your yard, partial shade in the afternoon is enough to support the growth of these flowers. Soil is the next factor; it should have enough aeration to drain well and be full of nutrients. Your marigolds are going to need fertilizer to produce healthy blooms. The best time to add it is before sowing the seeds. A light mix of 5-10-5 fertilizer will provide nutrients without burning your marigolds.
Grow Veg recommends spacing your seeds around 2 inches apart and placing them a 1/2 inch into the soil. This may seem tight, but not all the seeds will germinate properly. Once they've grown into seedlings, it's time to thin them out. Dwarf varieties should be 8 inches apart, while tall types need 12 inches of space between each plant. This is also the perfect time to pinch off the tops of the seedlings you left. Doing this will prevent them from becoming leggy and encourage them to bloom more.