Should You Insulate Your Sunroom?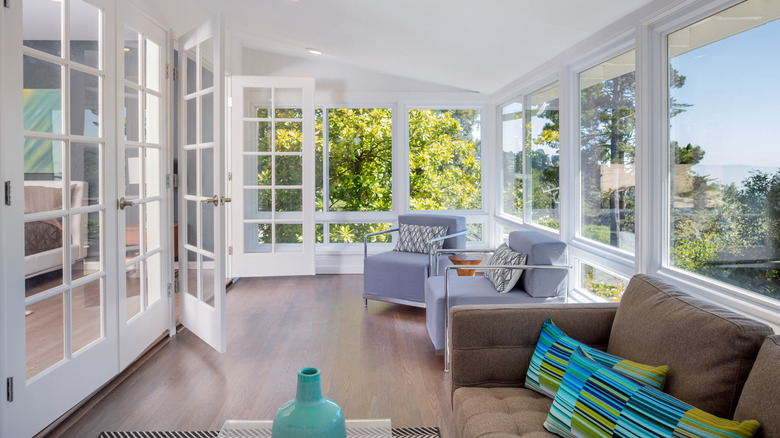 BondRocketImages/Shutterstock
A sunroom allows you to extend your indoor living area to the outside. Not only can you sunbathe without having to deal with all the bugs and critters you are also protecting yourself from the wind and other environmental conditions that might otherwise spoil the experience. However, it is important to remember that sunrooms are three-season structures that often don't provide the necessary comfort during the cold winter months. 
According to Prince William Home Improvement, this is because they don't enjoy the benefits of the HVAC system. While that is true, the good news is that with some simple improvements and upgrades, you can easily convert your sunroom into an all-year-round addition to your home. Whether you are building a new sunroom for your home, or simply giving your existing one a makeover, take a look at some of the important information you need to know about insulating it for use in the winter.
Benefits of insulating your sunroom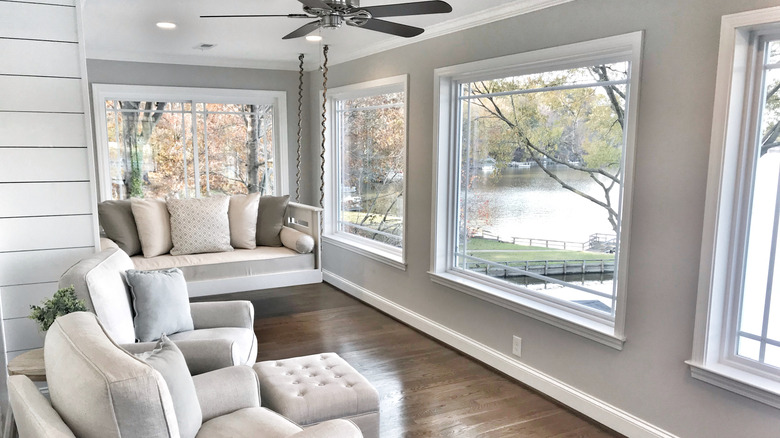 ocwarfford/Shutterstock
Although most sunrooms are often enclosed, a good number of them are not insulated which limits their use. One of the most obvious benefits of providing reliable insulation is to open up the space for use regardless of the season. There is so much you can do in this space other than lounging, it is the perfect spot for engaging in fun indoor activities, especially when it is cold outside. Other than that, another benefit of insulating the sunroom is to make the space more energy efficient.
The ripple effect of having an energy-efficient sunroom is that you get to save money on energy bills. In addition, Standard notes that insulating the sunroom also helps keep the noise away which is quite important when you want some peace and serenity. Things like window treatments and curtains will not only help with insulation but also aid in soundproofing the sunroom.
Tips for insulating your sunroom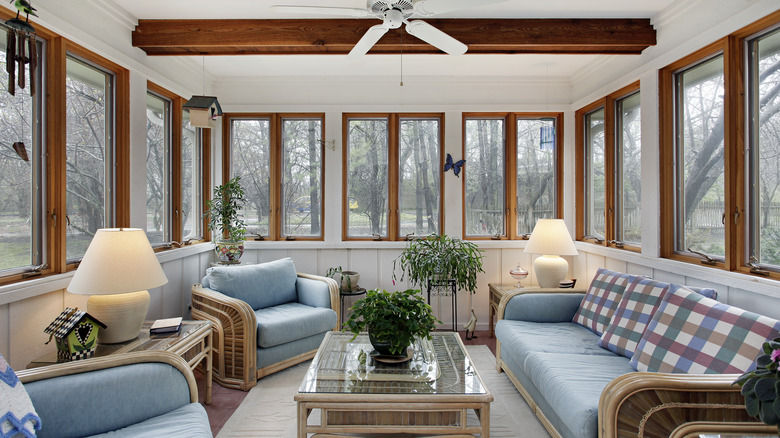 pics721/Shutterstock
Insulating a sunroom involves implementing ways that are going to make the space warmer during winter and also prevent it from getting unbearably hot during summer. To help retain heat during winter, Garrety Glass recommends installing weatherstrips on your windows to prevent warm air from escaping, insulating the window surfaces, and installing fans to propel warm air downwards. Another important part of the sunroom structure that you also need to insulate is the ceiling, as this is the main area that hot air escapes from in the cold winter months, explains Prince William Home Improvement.
If your sunroom has a glass roof or skylights, installing ceiling blinds is one of the most cost-effective ways of making it more energy efficient. It works well in retaining warm air during winter and also helps to prevent overheating in summer. If you have a solid roof, there are other ceiling insulation options like spray foam or rigid insulation sheets, however, these will need to be covered in some way as they look somewhat unattractive. Finally, also think about the floor. Laying a carpet will improve the energy efficiency of your sunroom while installing underfloor heating will give the room a cozy and warm feel throughout the winter.