Why You May Want To Add Wallpaper To Your Bathroom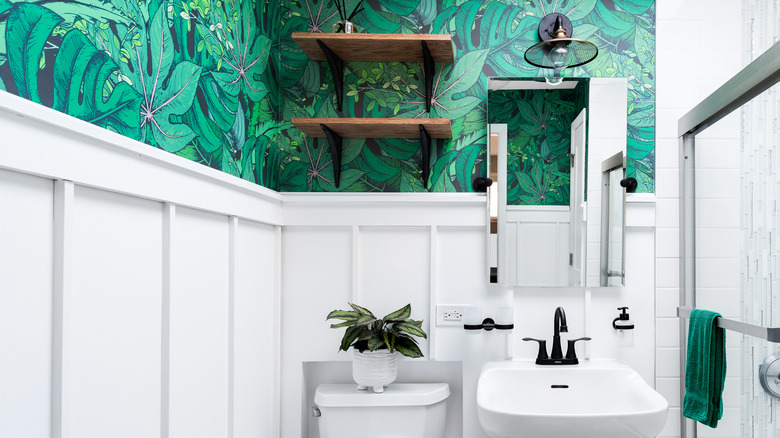 Hendrickson Photography/Shutterstock
Wallpaper is one of the hottest trends in home design — people are papering walls in every kind of room and catering to every aesthetic. From the most basic neutral textured papers to large-scale colorful and dramatic patterns, homeowners are increasingly choosing to forgo traditional painted walls in favor of papers. This is not, however, your grandmother's wallpaper of the previous century (unless you are going for a vintage look and want it to be!) Today, wallpapers come in a host of designs for every modern palette, including florals, stripes, damask, and retro mod patterns. Nor is installation as time-consuming and difficult to apply as last century, with many new designs being as simple as peel and stick.
While wallpapering an entire large room might seem a little much, wallpaper loves small spaces. A hallway or corridor. An accent wall or the back of a bookshelf. Bathrooms are a particularly great place to opt for wallpaper. Often, smaller spaces can seem to lack cohesiveness and intentionality that really pull the room together when you don't have a lot of room to work with. Wallpaper solves this problem easily, making a bathroom elevated and finished no matter what you're starting with. According to Livingetc, it can be one of the best, budget-friendly ways to raise the luxe factor of any space. 
Is wallpaper right for your bathroom?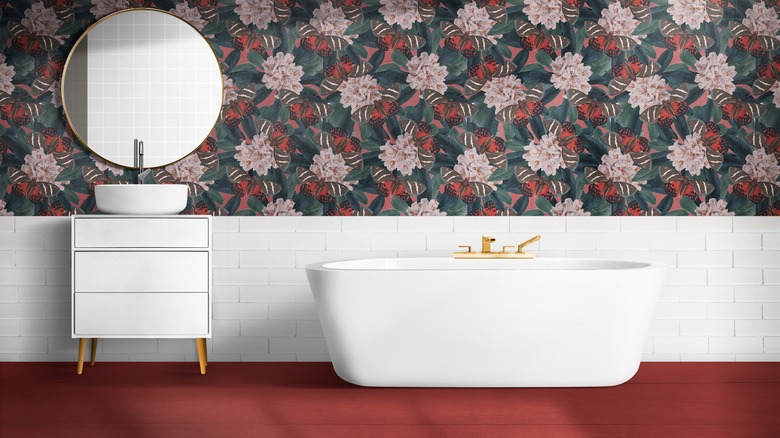 Rawpixel.com/Shutterstock
Wallpapering your bathroom is not only a stylish approach to making the space pop but also an affordable one. Because wallpapers, on the whole, tend to be more pricey than paint, a small room is a great place to use it, especially when you combine paper with paneling, shiplap, chair rail molding, tile, or wainscotting that takes up the bottom portion of the walls. Peel and stick options are especially great for renters who cannot paint their walls, with the paper easily removable when you move out. Wallpaper can also eliminate the clutter and need for additional expensive artwork in your bathroom since the walls become works of art themselves.
According to Driven by Décor, whether you should employ wallpaper will depend on bathroom conditions since high moisture can wreak havoc on papered walls. A well-ventilated space and careful placement will eliminate any fear of damage. If you find wallpaper may not work in your bathroom due to moisture and ventilation, you can also try stenciling, which creates the interest and effect of patterned wallpaper but without the actual paper being involved.
How to use wallpaper in small spaces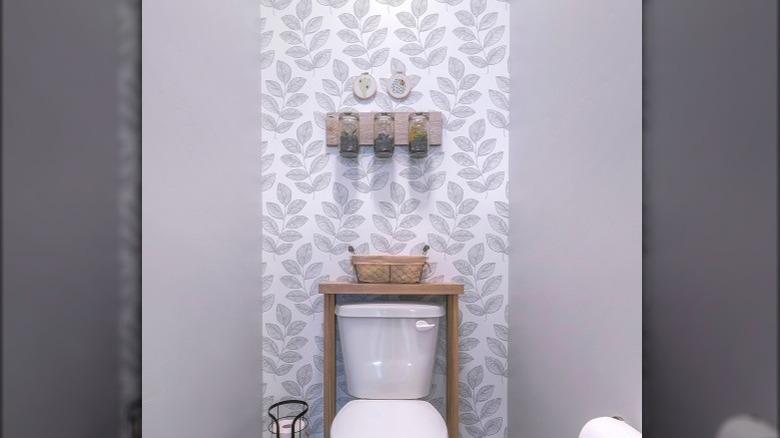 A bathroom or powder room is the perfect space to add texture and dimension while using visual tricks strategically for effect. Large or smaller prints can trick the eye into perceiving a space differently than a solid color wall. If you want to draw the eye upward in a small room, try using vertically oriented patterns like chevrons or stripes that lead the eye vertically up or down. Consider painting your ceiling a color featured on the paper or adding beautiful molding or a paper border around where the ceiling meets the wall.
According to Designer's Mark, for spaces you want to feel more cozy and intimate, choose darker, bolder colors and large-scale patterns to bring the walls in. The opposite is true for increasing a sense of space and depth with lighter, brighter colors and small-scale prints or textures. To add more light to a room, try a shimmering or glossy paper with flecks of gold or other metallic elements. A single accent wall of wallpaper can be perfect for adding dimension and making a room seem immediately larger. The bathroom is also a perfect pot for a full-scale vinyl or paper mural that instantly draws the eye and makes a far bolder statement than a single painting.