15 Eye-Catching Rattan Headboards You'll Love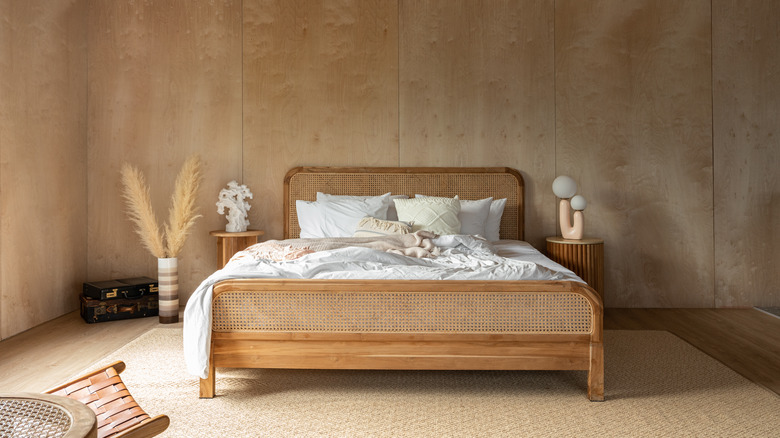 NMC2S/Shutterstock
We may receive a commission on purchases made from links.
If you're a bohemian lover, you're probably also a fan of rattan furniture or décor. This material is a staple of boho spaces, as it adds an organic look, natural feel, and interesting texture. These pieces can also be used in other styles, such as warm modern or coastal spaces. According to Rattan Imports, many use rattan to make furniture because it's both lightweight, meaning it's easy to transport, and durable, as it can be bent without breaking. It also requires very little maintenance, lasts a long time, and because the plant grows quickly, it's sustainable. 
While rattan can be employed in any room, many use it to make the bedroom feel warmer and cozier. Perhaps the largest and most impactful rattan piece of furniture you could purchase is a headboard, and there are countless options in different shapes and designs on the market. Below, you'll find gorgeous queen-sized rattan headboards arranged from the cheapest to the most expensive.
1. Leather details
Beginning with the cheapest option, this headboard from Amazon is sold for $139.99 and has to be mounted onto the wall. Its sharp corners and leather straps give it an overall modern appearance. 
2. Wraparound
Those who prefer a darker color may enjoy this piece, also sold by Amazon. Retailing for $204.78, this option has a mid-century appearance and a wrap-around feature that would surround your bed in warmth.
3. Rounded edges
While the black border on this piece provides a modern look, the rounded edges make it feel softer and more welcoming. Sold for $239.99 on Amazon, this headboard and footboard are attached to a metal frame.
4. Color options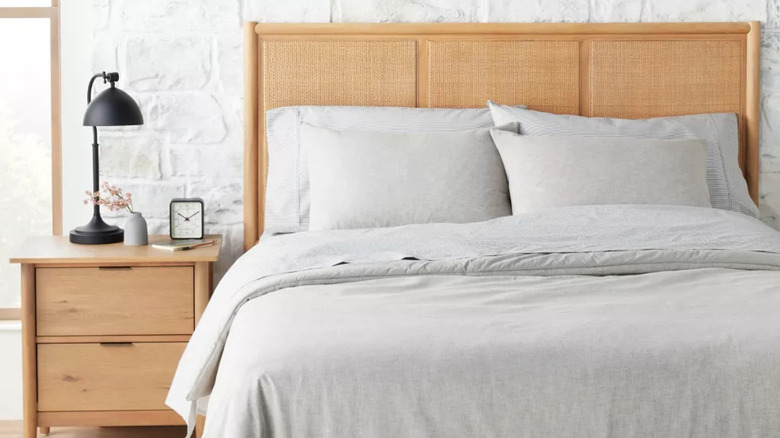 Target
This headboard, coming in brown, black, or natural tan from the Hearth & hand collection at Target, retails for $269.99 (the black and brown shades are currently on sale for less). 
5. Sharp corners
If you want an extra modern look, you could choose this headboard with a stark black border and sharp corners. On Amazon, this piece is selling for $256.75.
6. Oval shape
With a unique oval shape, this black-bordered headboard is currently sold on Etsy for $271 — for a Queen-sized bed. The border around the edge provides the piece with an extra dimension.
7. Organic look
Perfect for a coastal home, this headboard has a light tone and an organic, driftwood-esque appearance. It's currently on sale for $273.99 on Wayfair.
8. Arched design
With a warm tone and an arched design, this headboard evokes the idea of a sunrise and has many interesting woven patterns. Currently sold on Wayfair for $279.99, this piece has to be attached to the wall.
9. Minimalist wood
With a simplistic, minimalist look, this headboard is made chiefly of warm wood but has a small panel of rattan that adds texture. You could purchase this option from Amazon for $360.
10. Tropical vibes
Ideal for a beachy room, this piece looks particularly tropical, as it has multi-colored woven elements and an organic appearance. On Wayfair, this piece is on sale for $389.99. 
11. Floral appearance
Those who want to include a feminine and unique look in their bedroom could choose this floral piece, which comes in either silver or gold and sold for $829.99 on Wayfair.
12. Peacock feathers
Similar to the floral design, this peacock feather style has a warm appearance; It's handmade and sold on Etsy for $969.38.
13. Swirly design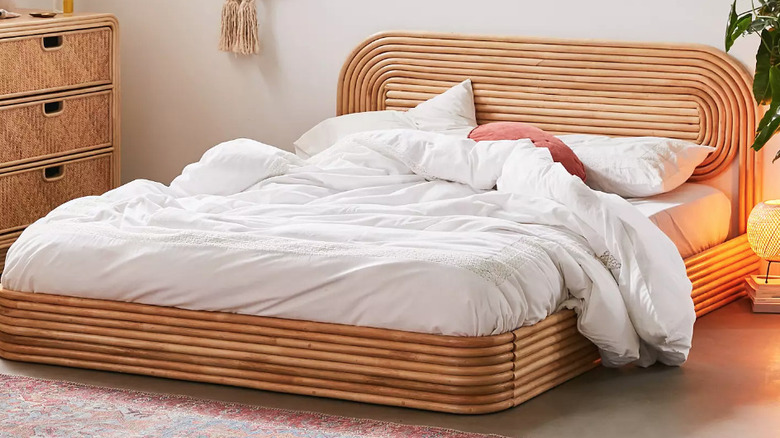 Urban Outfitters
Here's another unique bed frame that has swirly details and rounded edges. The piece is currently sold for $979 at Urban Outfitters.
14. Driftwood inspired
Because the wood is textured and rough, this piece is inspired by driftwood, giving it a beachy and airy appearance. It's sold at Pottery Barn for $1,099.
15. Warm tones
The most expensive option is from Urban Outfitters and retails for $1,699 for the full bed frame. It comes with either a light brown or black border, and the rattan has a gorgeous warm tone.