Replacing Vs Refacing: Which Is The Best Option For Updating Your Kitchen Cabinets?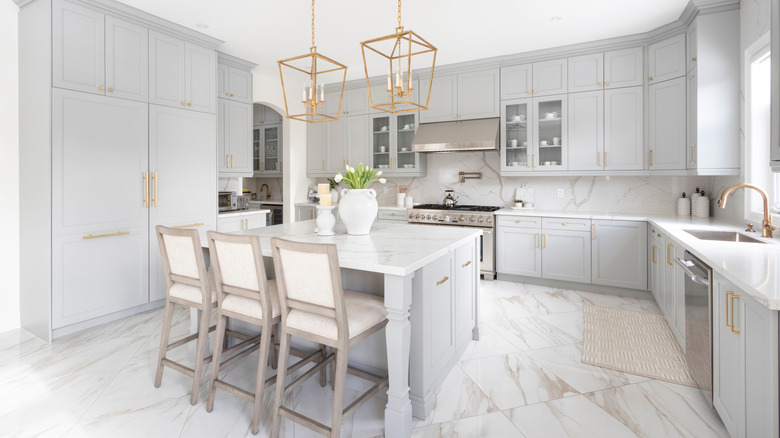 Xi Bai/Shutterstock
If you've ever perused real estate listings online, you already know that cabinets are the face of a kitchen. The color and style are often the first things you notice in a listing photo featuring the most-used room in the house, and cheap builder cabinets and outdated colors can stick out atrociously. The second aspect, and even more critical with daily use, is how many cabinets are even in a kitchen coupled with their functionality. After all, a bunch of beautiful cabinets that aren't user-friendly won't do you much good. You'd also be hard-pressed to find a home cook or avid entertainer who couldn't use some extra cabinet space.
Whether you're contemplating buying a home with kitchen cabinets that just won't do in terms of their look — or you've put up with some that don't suit your needs long enough — you'll need to decide upon the best solution. Sometimes that can mean replacing them, but you might be able to get away with refacing them instead.
What to know about replacing kitchen cabinets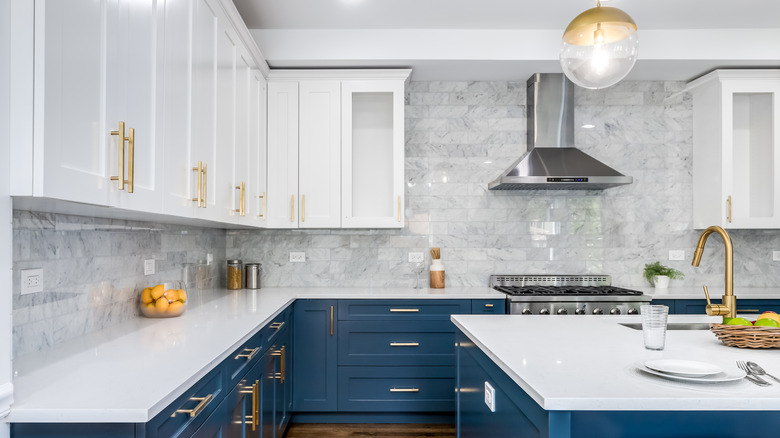 Hendrickson Photography/Shutterstock
Replacing your kitchen cabinets means the old ones will be completely removed and swapped out, top to bottom, with all new materials. There are several reasons for completely replacing kitchen cabinets in this way. The first advantage is creating a functional layout that also looks great. For example, if displaying collections is important to you, you might want some open shelving to replace an upper cabinet. Do you have a large family or a budding chef regularly using your kitchen? Reorganizing cabinet space to hold more food or to accommodate a wider array of cookware might be in order. If someone in your household is aging or has come to rely on a wheelchair, adding accessible features requiring new or lower cabinetry might make sense at this point. Depending on your circumstances, you can work with remodeling contractors to create a living space perfect for your unique household, as noted on Living Etc.
Completely replacing kitchen cabinets is also a way to upgrade poor-quality cabinets and hardware that haven't held up to heavy use with something more substantial. Of course, remodeling and upgrading also cost more to accomplish. If budget is a primary concern, this may not be the right path to choose.
The details about refacing kitchen cabinets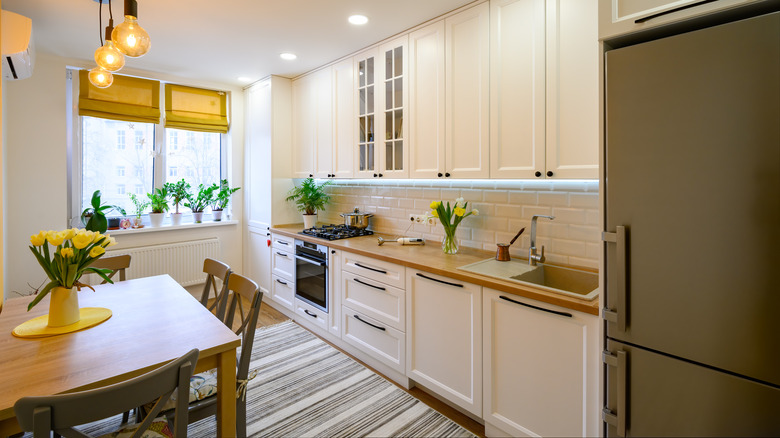 Serghei Starus/Shutterstock
Cabinet refacing doesn't require tearing out the old cabinets. You choose doors and drawer facings to replace the old ones and decide on a new color scheme. The cabinet frame will be redone to match the color you picked for the doors and drawers. The main drawback? You get to update the look, but the overall placement of your cabinets remains the same. Any further customization will have to be accomplished by adding convenience features such as pull-out drawers or decorative features like glass doors.
One of the main reasons households choose cabinet refacing over replacement is the budget-friendly nature of this option. The savings can equate to as much as 50% of what you'd pay to replace them, according to Mr. Cabinet Care. If you're selling your home in the not-too-distant future but want a facelift for your kitchen just the same, this can be the way to go. You'll still get the fresh look of up-to-date cabinetry without feeling like you spent more than needed to make your home more appealing and marketable. Another factor making refacing appealing is that it usually takes less time to complete, and there are fewer messes than remodeling demolition. This is also a more environmentally considerate option since fewer discarded materials end up in landfill.