The Hottest New Home Decor Trends For Spring 2023, According To An Expert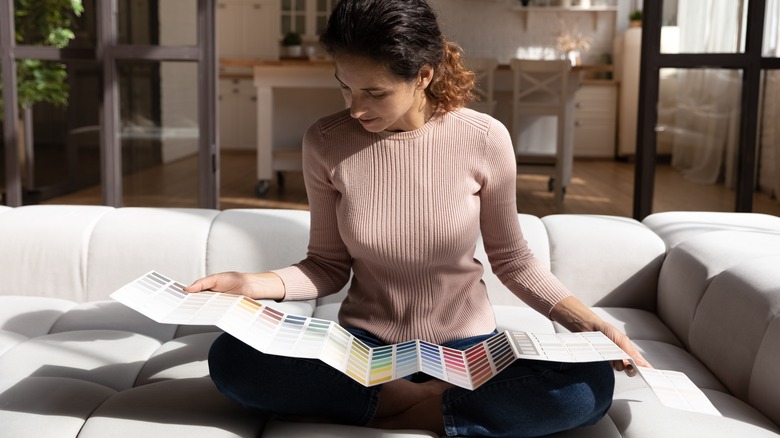 fizkes/Shutterstock
Spring is the freshest season of the year when flowers and little animals begin to make their appearance once again. This inspires homeowners to open their windows and do some traditional "spring cleaning," all while contemplating which new seasonal trends will elevate the design of their residences. According to Modern Glam, about this time last year, green plants, warm neutrals, and natural accents, such as rattan, were the talk of the town. But what should homeowners expect now?
In an exclusive interview with House Digest, we've asked Cinque Cerra-Saunders, interior designer and host of A & E's tiny dwelling show "Living Smaller," to offer his insights. As host, he has worked with a variety of clients to turn small and eccentric spaces into cozy homes, businesses, and relaxing vacation spots, per A & E Television Networks. Now, he'll let you in on all you need to know to give your home an updated look that's 2023-worthy.
Scenic (mural) wallpaper
Fans of wallpaper will be happy to know this design tool isn't going anywhere. Instead, it is evolving to accommodate current aesthetic needs. "Wallpaper has been back in style for many years now and each year the options get better," Cinque Cerra-Saunders says. "This year we will see and use murals, specifically of the scenic variety, but in a much more impactful way." However, this type of wallpaper requires a specific type of application. "Murals differ from standard wallpaper in that they are installed in fixed panels based on your ceiling height; each panel, though connected, is not identical because it is part of a larger story," he explained.
Additionally, this style can be used in rooms where certain design characteristics are absent. "Scenic wallpaper is a great option for rooms that lack a view or rooms without a lot of natural light," he revealed. "Go for artistic, painterly landscapes that feel like a floor-to-ceiling art installation and avoid kitschy motifs." Examples of this wallpaper trend include a luscious rainforest, a floral landscape, and a foggy mountainside.
Slab-look backsplashes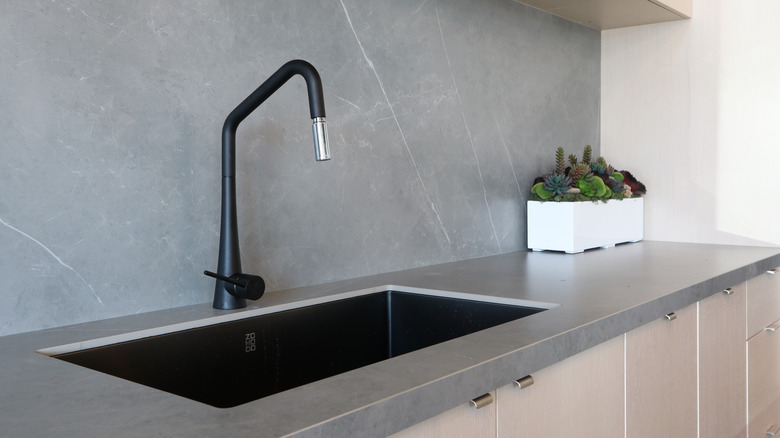 Xi Bai/Shutterstock
If you're a homeowner who adores the look of marble backsplashes but has been dissuaded by costs, this next trend will have you rushing to the tile store. "We've all salivated over editorial images featuring swaths of marble, quartz and granite adorning kitchen walls, extending well beyond the builder grade backsplash height of 4 feet," Cinque Cerra-Saunders stated. "This look has been cost prohibitive until now: large-scale, stone-effect ceramic and porcelain tile (think 24 feet x 36 feet and larger) is now widely available to consumers." This means customers can now save about $20 per square foot or more with this alternative.
And it's also a great, complementary option for those who desire a quick update that won't throw off their entire design scheme. "Your tile slabs don't have to match your countertops exactly," he revealed. "They simply have to go, making this trend a great way to update your existing kitchen without undertaking a major renovation or changing your countertops."
Statement wall-to-wall carpet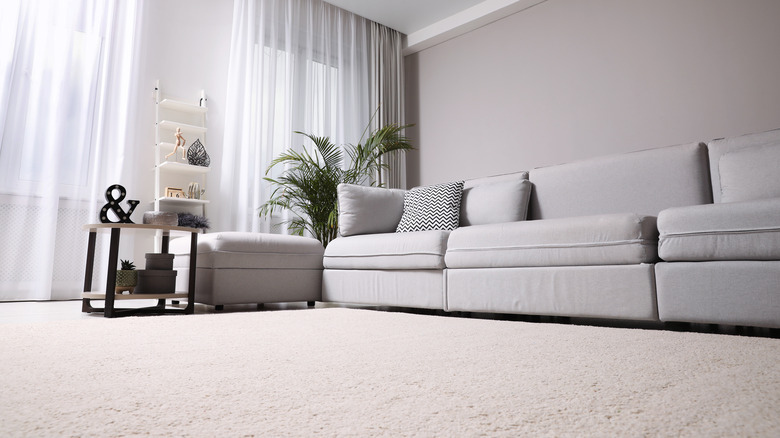 New Africa/Shutterstock
Cinque Cerra-Saunders says wall-to-wall carpet is making a striking comeback and thoroughly describes the new role it's taken on, further confirming how comfort has become a dominating factor in our interior design choices. "Carpet is often thought of as the backdrop for the moment rather than the moment itself," he said. "Yes, it can be extremely practical but that doesn't mean it has to be boring." In fact, he says there are a variety of choices to choose from. "Rather than selecting a basic cut pile beige, consider options with a tonal texture or geometric pattern; it's a great way to give a room an instant wow," he explains. "My favorite options mimic the herringbone or basket weave look of natural fiber sisal rugs."
Worried about the cost? Cerra-Saunders has got you covered. "Designer carpet can be very expensive, but here's an insider tip: remnants," he revealed. "Carpet remnants are overage goods in fixed lengths that can be purchased for pennies on the dollar and almost every specialty carpet retailer has access to them and/or a selection of them."
Monochromatic rooms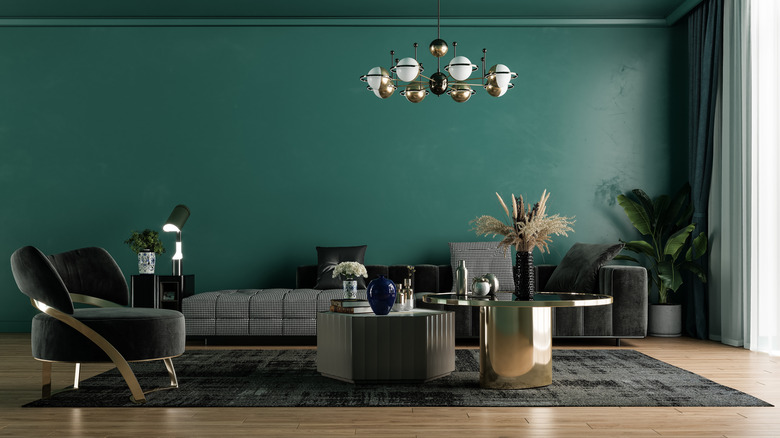 mixphotos/Shutterstock
Have a favorite color you'd like to slather all over a room from head to toe? Luckily, 2023 trends are green lighting monochromatic designs. "White walls paired with white ceilings are the most straightforward iteration of this trend but painting the ceiling of a room to match a deeper wall color (navy, beige, hunter green) is a great way to create a moody atmosphere," Cinque Cerra-Saunders explains. "Lean into it further by painting your baseboards and door/window casings to match the walls as well." Other colors to consider include light blue, gray, and deep brown.
Cerra-Saunders also reveals the best way to use this type of color scheme. "I especially like making use of this approach in dens and offices," he said. "The monochromatic look instantly creates a sense of sophistication. If you're concerned about things looking too dark, lighten the space via accessories and window treatments." This tactic could also be used to transform a bedroom into a cozy sanctuary, especially for those who desire sleeping quarters with minimal stimulation.
'70s inspired design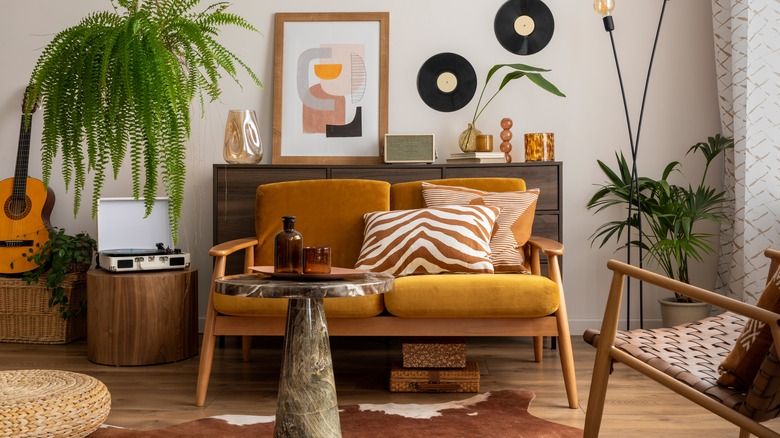 Followtheflow/Shutterstock
This next 2023 trend will have you reminiscing about bell-bottom pants and tie-dyed shirts. "Smoked glass, metallics, curved furniture, a palette of earth tones and 'ugly' greens, oranges, and browns — They're back," Cinque Cerra-Saunders declared. "The idea of '70s style returning can be overwhelming but think of the trend as an opportunity to push the envelope on a small scale — maybe even raid the attic for pieces that were so-bad-they-are-now-good in an ironic way." Examples include retro artwork, abstract vases, and eclectic light fixtures.
But if you don't want that full '70s vibe, you can also capture its ambiance through more subtle means. "Small accessories, tableware, or even an inexpensive plug-in pendant light are a great way to dip your toe into this trend without fully committing," he explains. "This look is all about the irony." For instance, a green dome pendant can be used to create a subtle groovy ambiance. Or an orange table runner with a swirly or floral pattern is sure to add a touch of 70's nostalgia to your dining room.