How To Design Your Beach House Without Cliché Coastal Decor, According To An Expert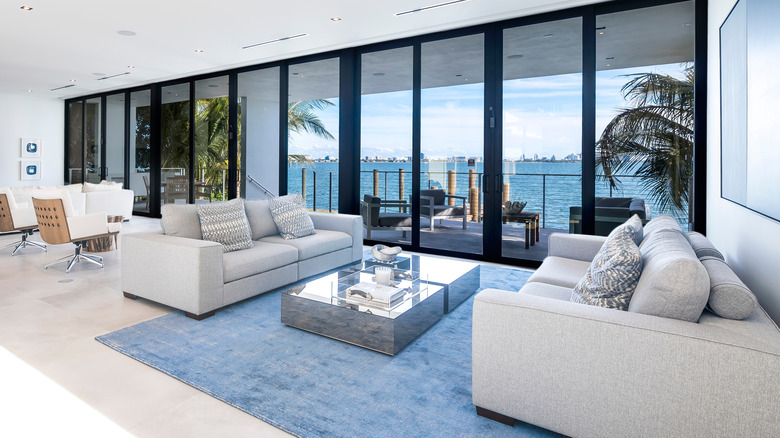 MDV Edwards/Shutterstock
For those who love to visit coastal communities, a stop at one of the local thrift stores is always worthwhile. That is, unless you stumble upon one that's filled with plastic seashells and strange lighthouse lamps with odd colors instead of classy vintage décor. It's easy enough to pull off a beach-like look using cheap mass market items, but to create a truly authentic interior design for your beach house, you'll want to take a more planned approach to your style decisions. 
In an exclusive interview with House Digest, company founder and interior designer Janna Robinson offers an inside look at how to achieve the coastal aesthetic without relying on décor that feels clichéd. "Coastal design is always classic, drawing inspiration from the natural elements of the sky, water, and sand," she says. "Its décor is often synonymous with blues, whites, shiplap, wainscoting, overly kitschy beach décor, and even beloved stripes. Don't get me wrong, if this is what you desire, you can incorporate it, but... sparingly." If you want something more, Robinson shares several tips that are easy to apply.
Today's coastal design is elevated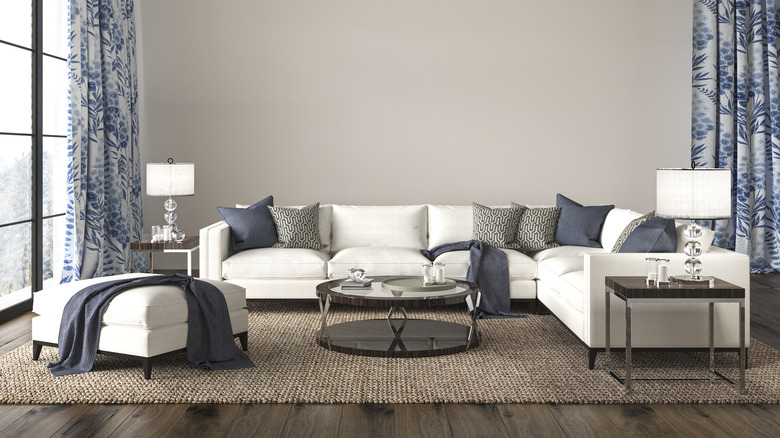 Victoriia Kovalchuk/Getty Images
When you're updating the look of your beach house (or any home you want to make feel like it's sitting at the edge of the water), Robinson shares a designer touch that's much different than what you would find a few decades back. "The ethos behind the elevated coastal design of today is cool, relaxed, open, light, airy, and effortlessly chic — more of an abstract interpretation and not too formal or literal."
Don't overthink the process when you're contemplating how to pull this off, but instead apply an earth-centric focus to the space. "To keep everything fresh and not too monotonous, I love to layer neutrals and add depth with color, texture, and materials," shares Robinson. "When working with neutrals, I always advise using performance fabrics on upholstered furniture to safeguard against the exterior elements and heavy foot traffic." Look to the walls for places to add texture and interest to the space, as they can show off more than just paint or wainscoting. "I love to adorn walls with grasscloth and some boldly-printed but elegant wallpaper," says the designer.
Working with wood and décor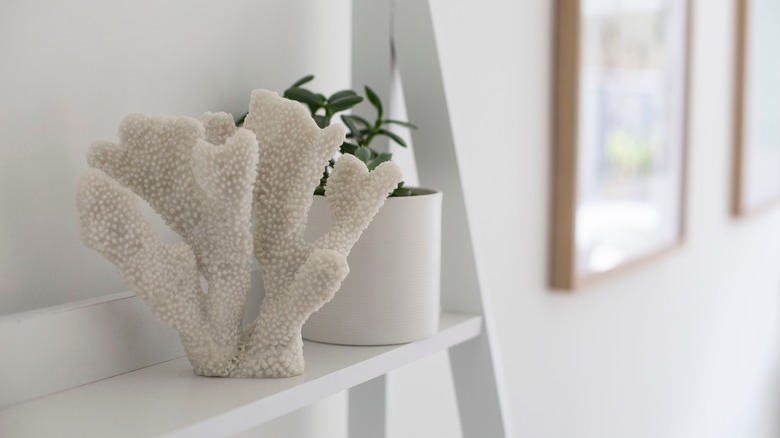 Amy Richmond/Shutterstock
For a natural element, bring wood into the space. You may even enjoy combing the beach for washed up pieces. "Raw, pale, bleached wood and white oak are timeless and offer a lot of flexibility," notes Robinson. "If paler woods are not ideal, mixing medium and darker wood tones is rich and beautiful." Find unique ways to incorporate the natural beauty of wood by pairing it with other elements. Some suggestions from Robinson include marble, stone, and rattan as well as natural fibers such as linen, woven furniture, subtly patterned rugs, and beaded or woven light fixtures. 
You don't have to give up finding local treasures, though, just add those fun finds in a more authentic manner, shares Robinson. "Using curated but not overly literal coastal art and accessories, perhaps from a local artisan, is an impactful way to bring in some color and flavor." Also, look for items that will add pops of interesting color and detail throughout the room. Robinson shares, "Lush and delicious fabrics like mohair and boucle come in an array of colors and make for noteworthy accents, like an upholstered bench, pouf, chair, or one of my favorites, decorative pillows."
Updated color palettes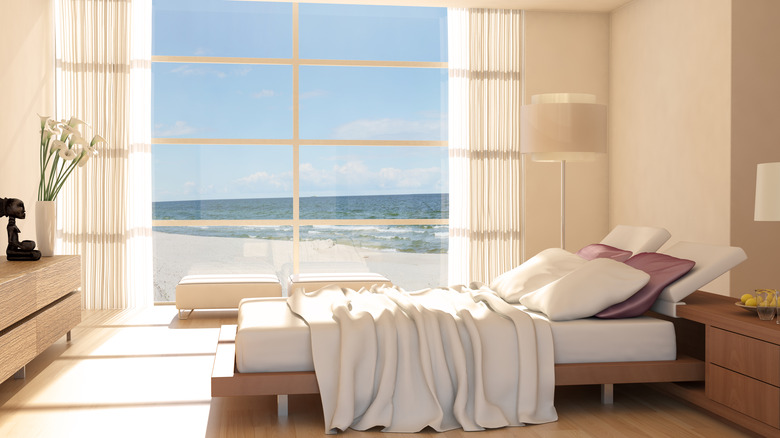 Eoneren/Getty Images
Color is always a personal preference, but it's a mistake to only focus on the heavily marketed and mass produced traditional coastal colors, believing they're a must in order to get the vibe. "Different shades of green are a sound alternative to blue and white, and [they] harmonize with soft peaches, oranges, and terracotta tones. If your preference is for a softer palette, sandy beiges, taupes, and watery pastels with gold or brass accents look stunning, especially with some... well-placed biophilia, like banana leaves or palm fronds," shares Robinson.
By rethinking what style elements you incorporate into your beach home, you can not only express your love of the water and the sand, but make it feel more upscale, modern, and authentic at the same time. "With thoughtful intent," advises Robinson, "there are endless combinations to give your home an elegant and casual coastal aesthetic. A word to the wise, pick your statements and tchotchkes carefully." Of course, you can still pick up a unique find that's interesting or inspiring to you, but that cheap captain's wheel wall art or the sailor-themed bathroom accessories may no longer make the cut.