5 Unique Interior Design Trends Emily Henderson Predicts We'll See In 2023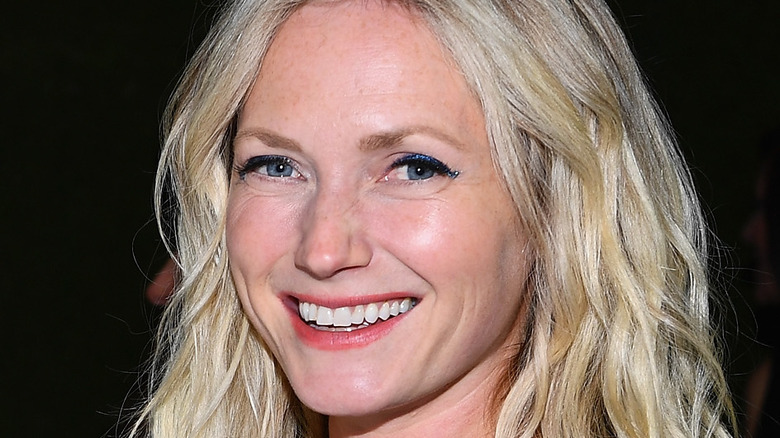 Dave Kotinsky/Getty Images
The beginning of the new year is not only resolution season but also a time to research new trends and plan out fresh design schemes. Although it's not entirely necessary to remodel your entire home, an update here and there can help elevate its overall appearance. Luckily, there have been a variety of famous interior designers who've been posting 2023 trend alerts non-stop all across social media, such as the tactful Emily Henderson. According to her Instagram, she's known as a New York Times best-selling author, television personality, and stylist who persistently releases reliable decorating advice to her 980,000 followers.
Now, Henderson has posted several unique bathroom and kitchen trends she believes we'll see more of in 2023. Get ready to witness new shapes, color schemes, and structures that'll have you on the phone with your local construction crew. It also seems that certain design norms are shifting, so it's important to get ahead of the game now to ensure the style of your residence remains timeless.
Pill-shaped islands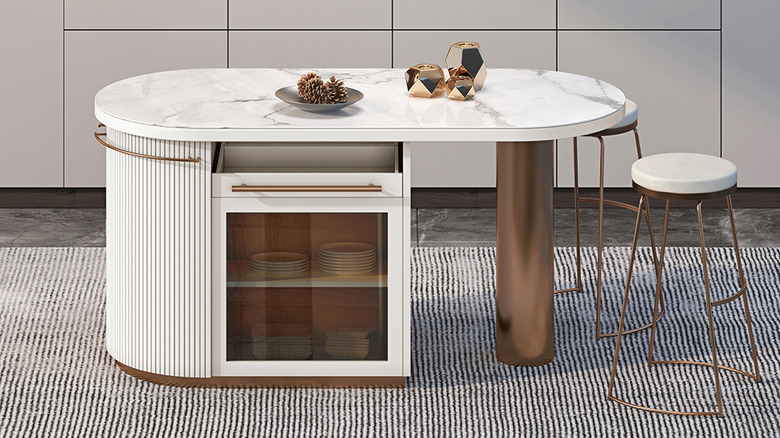 Domesca
Last year, it seemed that homeowners couldn't get enough of waterfall kitchen islands. The beautiful visual of marble flowing down the rectangular side (or sides) stunned showrooms across the country. But now, it seems that pill-shaped islands may be taking center stage, per Style by Emily Henderson. Not only are they aesthetically pleasing, but the round edges help create a smoother flow through the kitchen. They also seem to have a thinner width compared to the traditional, rectangular shape, ultimately providing homeowners with more walking space. 
If you're hoping to introduce a pill-shaped island into your kitchen, we suggest pairing it with curved décor, such as spherical light fixtures or round chairs. Additionally, since it resembles an organic shape, plants and wood tones would correspond nicely. However, we believe this style is better suited for a modern or contemporary space. If your home is more traditional or rustic, a rectangular or square island will most likely better complement the other shapes in your home.
Shower windows
According to Style by Emily Henderson, shower windows will be used to create a brighter and more spacious bathroom ambiance. Installing this unique feature will also allow homeowners to show off their shower tile better — because after spending hundreds of dollars on a beautiful tile design, the last thing you should do is cover it up with a curtain or opaque glass. But not only is it a stylish feature, but it can also be functional. For instance, if your shower has poor ventilation, you can install a top window that's made to open and let the steam out.
Amber Interiors posted a bathroom renovation earlier this year on Instagram, featuring a large walk-in shower with white window frames and panels. Not only is it elegantly designed, but it also allows an abundance of natural light to bounce around more freely, creating the feeling of a larger room. And as mentioned earlier, this shower features a ventilation window above the shower door.
Kitchen murals
If your kitchen's looking a bit bland, this next trend may solve all of your problems. Emily Henderson says that murals — especially floral and naturescapes — can create a timeless kitchen design in 2023. Whether it's implemented with paint or wallpaper, the decorative impact is sure to be phenomenal. There are also a variety of ways to introduce this technique. For example, you can paint a landscape above your backsplash for a dramatic look or lay down wallpaper at the end of your cabinetry for something subtle.
However, the options don't end there. According to Milton and King, other wallpaper styles expected to be trending this year include chinoiserie, gradient and muted styles, ocean-themed, and maximalist designs. The wide range of choices allows homeowners to select patterns best suited for the aesthetic of their home. Love contemporary design? Try out a foggy mountain landscape mural. Or is rustic more your style? Then we suggest incorporating floral wallpaper or a farmhouse landscape.
Fluted bathroom tile
Choosing tiles for your bathroom is a long and stressful process. But Emily Henderson may be able to point you in the right direction when it comes to the fluted tile trend. All different types of fluted décor have grown in popularity, from headboards to light fixtures, and it seems that people can't get enough. So now, it only makes sense to turn this beautiful shape into a tile we can install all over our bathrooms. 
According to Tile Club, fluted tile can accomplish a wide variety of design elements. Its curved shape introduces dimension into your bathroom while creating a soft and harmonious design. It also adds interest and texture wherever installed, whether as a focal point in your shower or on a bare wall. It's especially gorgeous behind the vanity. Additionally, this tile can be styled in many different ways. For instance, although using one color to create a beautiful, monochromatic design, this tile can achieve a blocked design by incorporating two or more colors.
The new neutral color scheme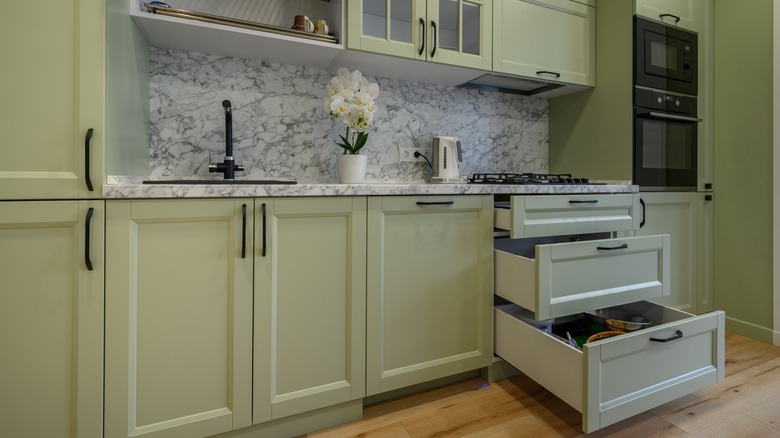 Serghei Starus/Shutterstock
However, what may be the most interesting trend of 2023 is the shift in neutral color scheme norms, per Emily Henderson. This year, designers won't be reaching for their go-to white and beige paint samples. No, this year, we can expect much more earthy tones, such as muted yellows and greens. These colors tend to create a much more comforting and welcoming ambiance, making them a perfect choice for those who often entertain guests in their homes. If you're uncomfortable with choosing a strong pigmented yellow or green, another option is to select a neutral brown or taupe with cool and subtle undertones. 
What we especially enjoy about these earthy tones is that they're easily complemented by simple shades of white and gray. So, if you're not ready to entirely remove yourself from what has previously been considered the neutral color scheme norm, they can easily be combined to create a cohesive and stunning design.