15 Gorgeous Ways To Bring Natural Wood Into Your Bathroom
When it comes to decorating your home, there are far more desirable areas and rooms to start with than your bathroom. That isn't to say you can't create a gorgeous bathroom with a little bit of time and dedication; it's just that accent colors and materials tend to stand out a bit more in the smaller area, making it more difficult to have a cohesively designed room.
This is especially true of brighter colors and more in-your-face materials like brick or marble. Some materials, though, such as wood, are a lot more subtle, even in larger quantities, as well as endlessly versatile. While wood in the bathroom may seem like a bad idea, the material goes through lots of treatments to make it heat- and moisture-resistant, as well as some woods being naturally waterproof.
Laminate is another great alternative to achieve the wood look without the maintenance. No matter what route you take, however, the addition of wood, from a subtle add-on to a more dramatic transformation, is never a bad idea in your bathroom.
1. Accent wall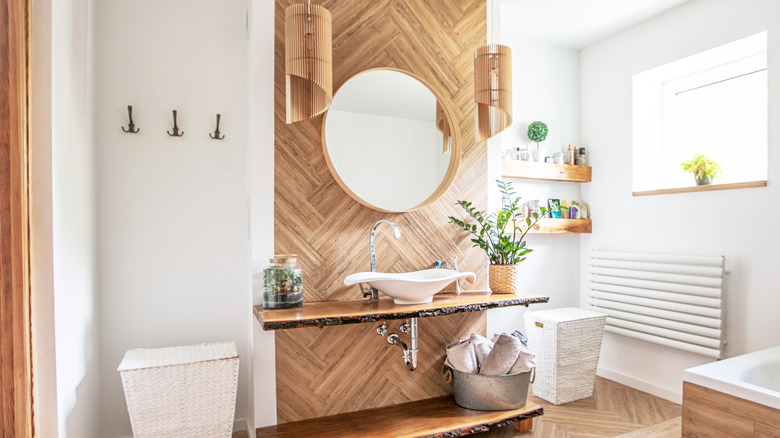 NeonShot/Shutterstock
Add a bit of dimension in both texture and color to an otherwise white bathroom with a wood accent wall. Use it to highlight your vanity area, complete with a large mirror and fun statement light pieces. Go a step further with a unique pattern, like chevron, instead of plain planks.
2. Rustic farmhouse
Add some rustic, vintage charm to your bathroom with rougher wood elements. Make your bathroom the star of the room with a raw, unfinished, slightly rough wood backing, and similar ceiling paneling. Modernize it while keeping in theme with lighter base colors paired with iron accents.
3. Brutalist inspiration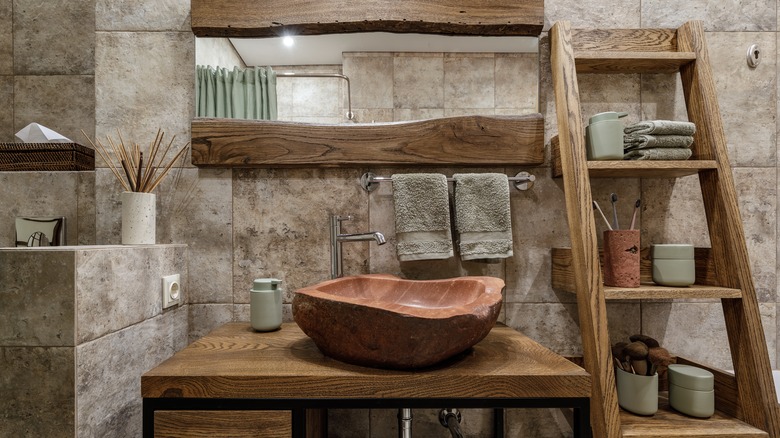 Jevgenija ZUK/Shutterstock
While wood isn't one of the materials commonly found in brutalist designs, it can help break up the intensity of the aesthetic, especially in a small space like your bathroom. Look for darker stains and raw grains, incorporating wood through your vanity or countertops, mirror frames, ladders, etc. Pair with rough, classically brutalist elements like stone and steel.
4. Cabin style
If you like a lot of natural wood, go for a truly rustic, cabin-inspired bathroom design. Use wood everywhere — the wall paneling, doors, mirror frame, vanity, flooring, and even the ceiling. Optionally, you could add in some natural stone elements. Top it off with brass hardware.
5. Subtle wood additions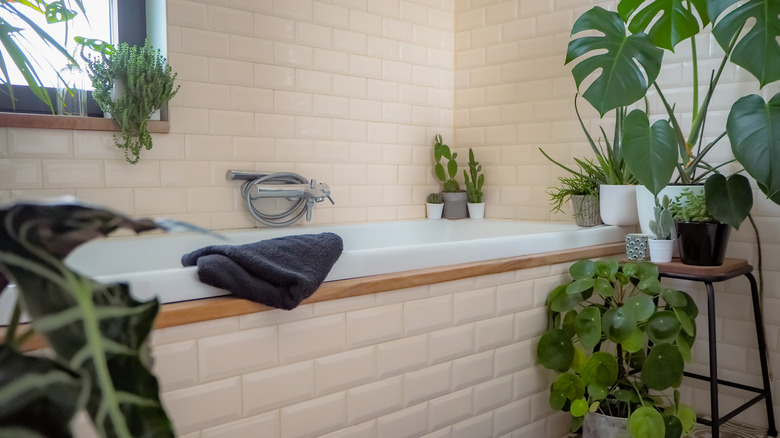 Luoxi/Shutterstock
On the other hand, you can go incredibly subtle with your wood additions while still highlighting the material. In an all-white bathroom, for example, wood will pop, and even highlight certain design choices. Use wood to trim the edge of your tub and window to tie the two elements together, for example.
6. Antique wood cabinets
Add some antique flair to your modern bathroom through your sink cabinets. Search your local antique malls or flea markets for older wood cabinets, repurposing them into sinks and vanities to add some character to your bathroom.
7. Wood tub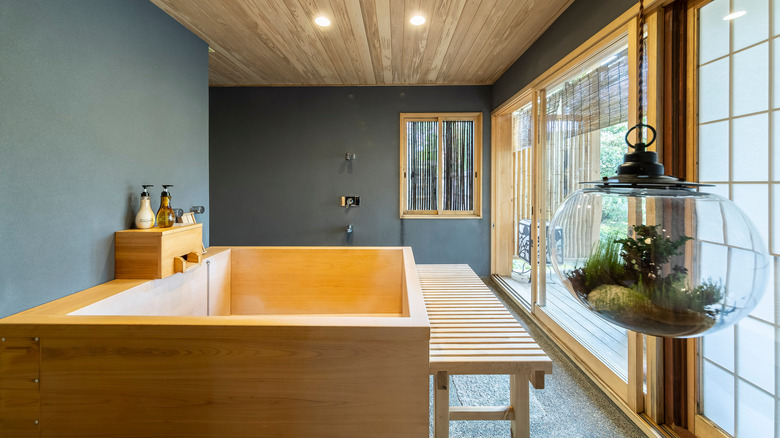 Sakarin Sawasdinaka/Shutterstock
Create a completely Zen bathroom with a large, wooden bathtub. So it doesn't stick out, incorporate other wood elements throughout (e.g., door and window frames, bathroom decorations, benches, and so on). Add a grounding shade, like blue or navy, to balance it out.
8. Minimalist wood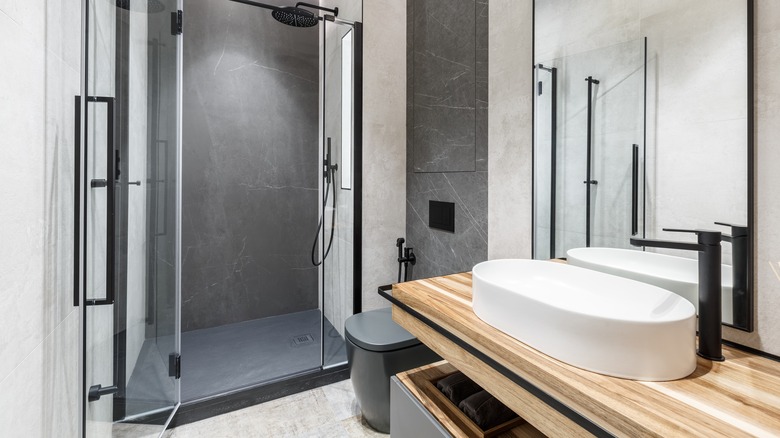 Kartinkin77/Shutterstock
While minimalism tends to focus on stone and metal materials, natural wood is a welcome addition when executed correctly. A smooth, light, grainy wood used in moderation, contrasts well with dark marble and steel elements.
9. Wood shower paneling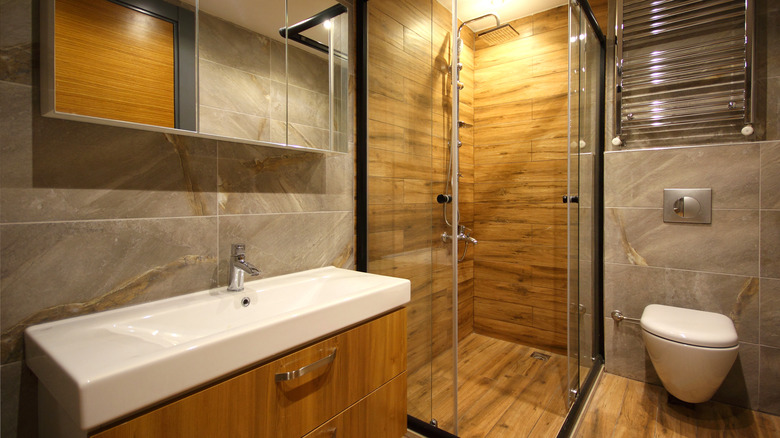 Arsel Ozgurdal/Shutterstock
Wood is a great way to highlight a large bathtub, but it can also be used to draw focus to your shower. Use wood paneling for a large, walk-in shower to make it feel more spa-like and luxurious. 
10. Dark and moody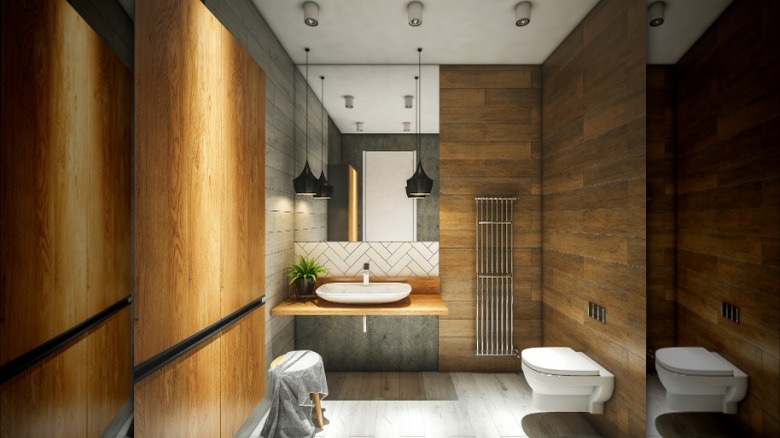 Aliyev Alexei Sergeevich/Shutterstock
Wood, especially lighter, natural shades, is often associated with brightening rooms. However, darker and warmer stains can have the opposite effect, creating a dark and moody, intimate feeling bathroom.
11. Eclectic style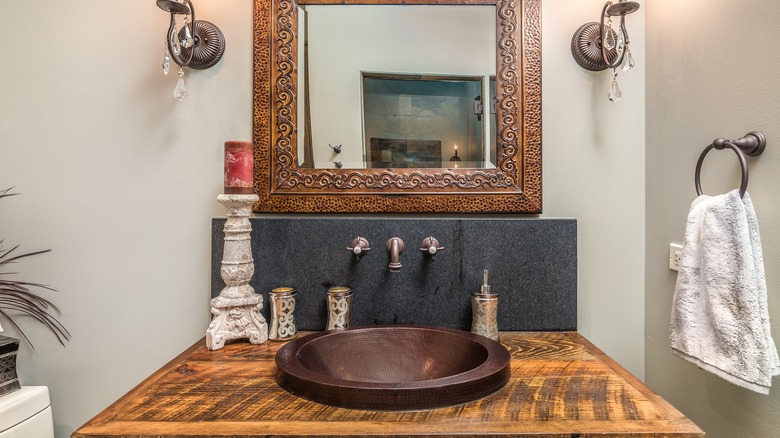 Hendrickson Photography/Shutterstock
For a more eclectic look, feature a darker, grainier wood on your vanity countertop with lots of mixing and matching materials: a stone sink, bronze mirror, brass and crystal light fixtures, etc.
12. Light wood countertop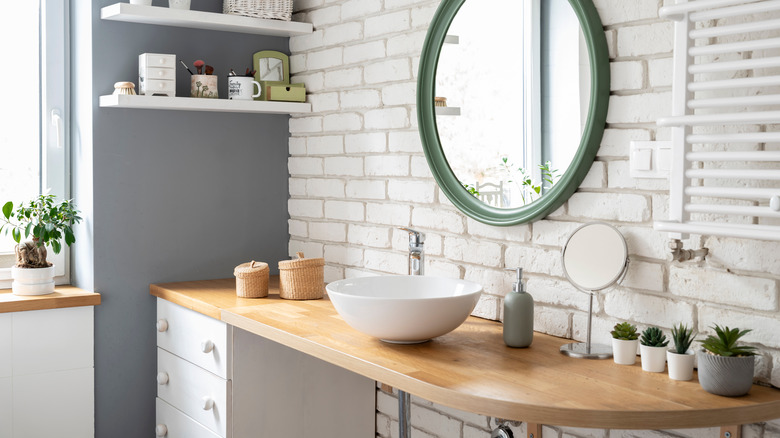 liloon/Shutterstock
For a more classic look, add a light oak countertop to your sink. This goes best in a trendier, light bathroom that features elements like white brick walls, appliances, and  furniture pieces paired with brighter pops of color like teal, sage, and greenery.
13. Boho rustic
shyshechka/Shutterstock
Wide, raw wood floor planks can transform the most basic bathroom into a rustic, boho oasis. Pair with lots of warm, natural elements, like dried Pampas grass and other natural wood accents. 
14. Clean industrial style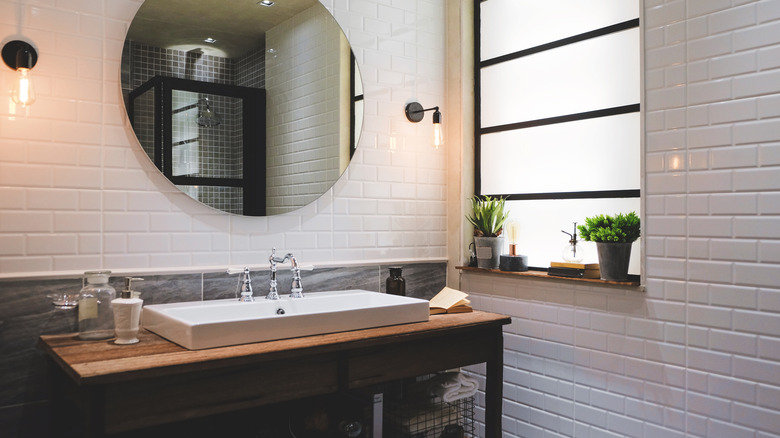 WindAwake/Shutterstock
A quick way to add some warmth to a sleek, industrial-style bathroom is with a touch of warm wood. Use it for your sink counter and/or windowsill, pairing it with clean lines and cool-toned metal and stone.
15. Simple Zen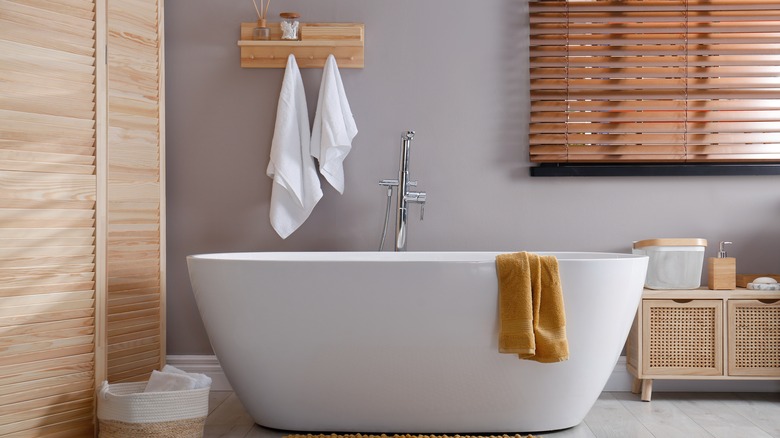 New Africa/Shutterstock
There's no need to go all out with natural wood elements in your bathroom to get the point across. Simple additions, like shelves, dividers, benches, or bamboo blinds, in a clean, bright bathroom can make it a spa-like, Zen retreat.