Are Colorful Bathroom Fixtures Coming Back In Style?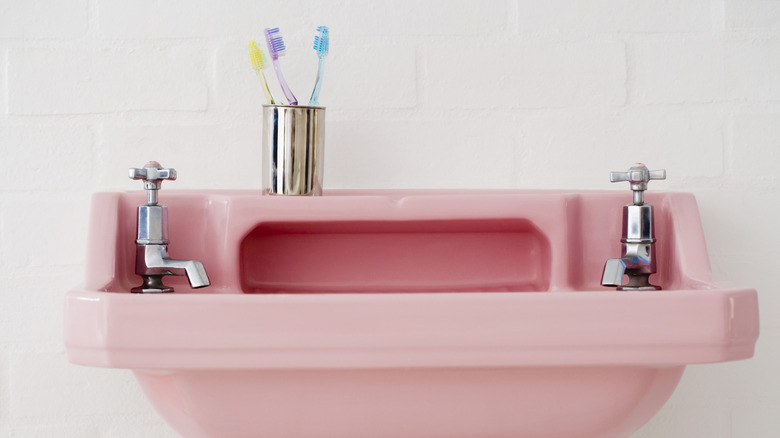 Jupiterimages/Getty Images
Bathrooms are some of the most important spaces in the house. According to Trulia, after the kitchen, the primary bath is the most scrutinized, with a major impact on whether a home sells or for how much. A bathroom can add value or take it away, and the same is true for its effect on the home's function and its inhabitants' daily routines. We have strong opinions about what they should look like. Crucially, they should appear clean.
Umpteen dollars have been spent on advertising campaigns that link a sparkling bath with a healthy home; we equate foaming cleansers and gleaming surfaces with a germ-free environment. We also associate the color white with cleanliness, according to Lonny, and that's a significant reason for the proliferation of white bathrooms. Simply put, it's easier to see dirt on lighter surfaces. Plus, reflectivity of white makes the room brighter and gives it an impression of spaciousness. The modern and spare aesthetic is well-matched to the minimal neutral schemes that have been popular in decorating for the last few decades. 
However, we're now learning that the absence of suds in our cleaning and beauty care products doesn't mean they're not working, and bleach isn't the panacea for wellness. Additionally, a personal sanctuary isn't a one-size fits all scenario. All-natural solutions and TikTok hacks to save time and energy have become more popular. And we're welcoming color and personality into our homes, signaling that white bathrooms may not always be the default they are currently.
Powder rooms pave way for color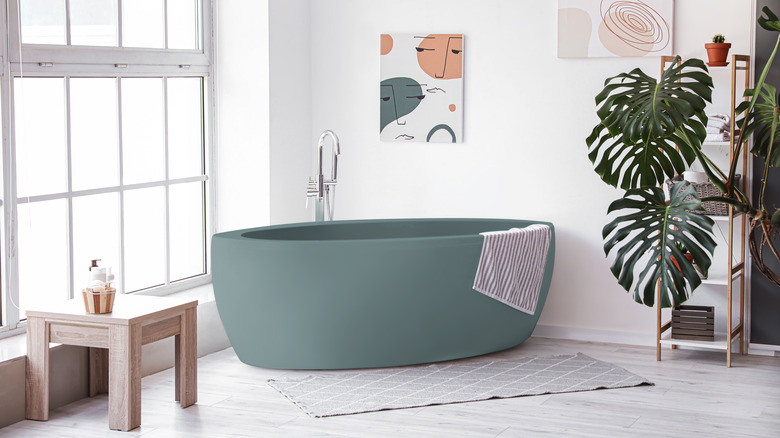 Pixel-Shot/Shutterstock
The powder room is the perfect spot for bold wallpaper, color, and luxury materials. Further, these steam-free spaces encourage decorating similar to other rooms in our homes. "A big trend we are seeing in bathrooms are non-traditional, colorful sinks. Using a bright color for a powder room sink is one of the best ways to maximize the design and truly elevate a small space," Hollis LaPlante and Jordyn Grohl of Hollis Jordyn Design told Forbes. "We love to pair a colorful sink with a bold paint for the walls, which adds even more drama and creates a jewel box in the bathroom," the duo notes. The chicness of well-appointed powder rooms has spilled over into primary and ensuite bathrooms. For example, high-style sculptural tubs have gone from white to classic black, and the hues in between. 
Additionally, the concept of self-care has come to the fore, catapulting spa-like bathrooms into mainstream design. Barrie Cutchie of BC Designs explained in Homes & Gardens, "The emergence of spa bathrooms has sprung from a combination of people's desire for a space to relax and unwind from everyday life, as well as the fact that people are traveling more and staying in hotels with luxurious en-suite bathrooms, which they look to replicate in their own home." Organic materials act as a balancing presence via tile, natural wood vanities, and stone countertops and sinks. These finishes often contain tones of green, gray-blue, or peachy pink.
White is still a fixture of bathroom design
Innovation has spurred the availability of colorful bathroom options. For instance, a waterproof 'wax' concrete covers the walls and tub of designer Beata Heuman's bathroom, enlivening them with a rich terracotta. "The idea here was to make the space feel warm and earthy, unlike most bathrooms," she explained in Homes & Gardens. The application can be stained in many warm and cool colors and is used to clad various surfaces, including ceramic and porcelain. Micro concrete and micro cement are also easy to clean and slip-resistant, via Living Concrete. 
On the other hand, Architectural Digest points to the prevalence of midcentury-modern interiors and decor for a revived appreciation of colorful bathrooms. Vintage inspiration includes fixtures and tiled walls and floors in original shades of blue, aqua, pink, green, and beige. "With a rise in midcentury-modern home remodels and an increased nostalgia for retro furnishings, we're seeing more customers favoring color," says Alyssa Wilterdink, Kohler's senior marketing manager, in the outlet. As a result, and to coincide with its 150-year anniversary, the bathroom fixture purveyor is reintroducing two hues from its archives this summer: Peachblow, a mid-tone peach, and a fresh aqua called Spring Green. 
Barrie Cutchie believes " ... we've actually fallen out of love with the bright white bathroom (once a staple!)," as he shares in Homes & Gardens. More designers and homeowners are willing to get their feet wet with color, although white furnishings are still the resounding choice.