We Tried TikTok's Most Popular Trick For Cleaning Grout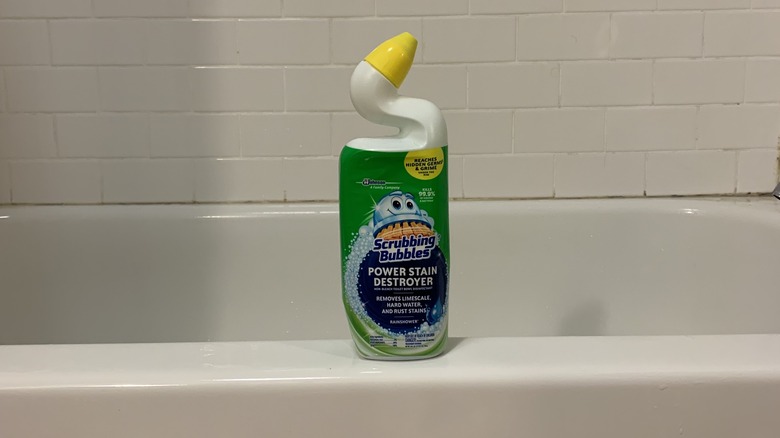 Juliana Lumaj/House Digest
Often, our concept of how to create a beautiful space comes down to finding the perfect designer finishes. However, nothing is ever so simple, especially when it pertains to interior design. Once you've landed on the perfect tile combo for your bathroom or kitchen floor, for instance, your contractor will then ask for your preference in grout color. This is an important aspect that can make your tile pop or blend into the background; either can work depending on the aesthetic you're aiming for. But a few months after installation, you'll notice that the grout will pick up dirt and start to turn a different color, especially if it's a light shade and has not been properly sealed. As this happens, the brilliance of your newly updated space will slowly start to diminish.
If you're currently facing this issue, there are many grout cleaning methods available to get it looking brand new again. We couldn't help but notice that the toilet bowl cleaner hack posted by TikTok user Cynthia Sierra has gained 2.7 million likes, over 14,000 comments, and more than 84,000 shares, (via TikTok). In the video, Sierra displayed how using this unconventional grout cleaner can quickly lift dirt up from floor tile. We wondered if it's as simple as this user says, so we tested it out to see for ourselves.
What you'll need to try the hack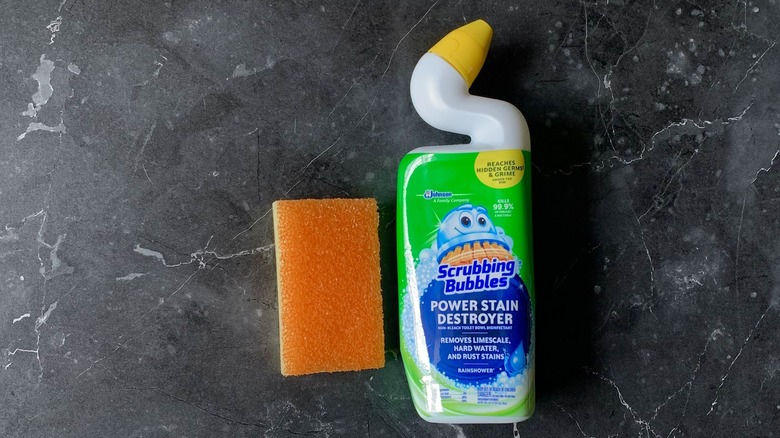 Juliana Lumaj/House Digest
In their TikTok video, Cynthia Sierra applied toilet bowl cleaner onto the grout of the kitchen floor, let it sit for five minutes, and then used an old toothbrush to scrub out the dirt. We grabbed our toilet cleaner and a Sponge Daddy, but instead of applying it to flooring tile, we decided to try it out in the shower where mold and dirt had slowly built up over the course of a few weeks.
One reason why many people have turned to toilet bowl cleaners is because of the sodium hydroxide and sodium hypochlorite found on most product ingredient lists. These chemicals are what help desperate homeowners wipe away seemingly impenetrable stains and dirt from tile and grout. Some products also contain bleach, which not only eliminates dirt but is also known to whiten surfaces. The cleaner we're using does not contain bleach, so we are solely relying on the other ingredients to remove the dirt and mold without whitening.
How our test went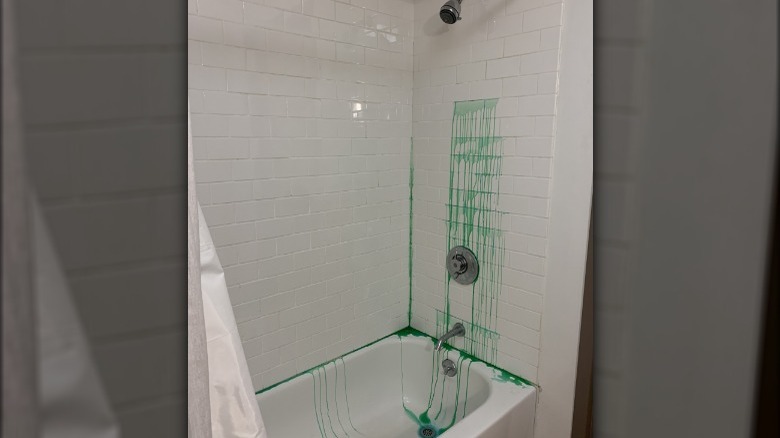 Juliana Lumaj/House Digest
In the shower, we identified target points in need of the most attention, which were grout lines below the shower head and along the corners of the bathtub. Similar to Cynthia Sierra, we dragged our toilet bowl cleaner along the tiles in order to cover all the dirty lines. Our test was a bit messier because our application was on a wall rather than on the floor. Everything dripped towards the drain, though, making cleanup easy.
We then left the bathroom and came back after about five minutes, as suggested by the TikTok user. We noticed that the toilet bowl cleaner itself turned yellow in a few areas, but it didn't seem to have lifted away the dirt in the same way as seen in the video. Next, we used our Sponge Daddy to scrub away at all the problem areas. This took about 10 minutes, and we noticed some dirt lift away, but not all of it.
Did the toilet bowl cleaner hack live up to the hype?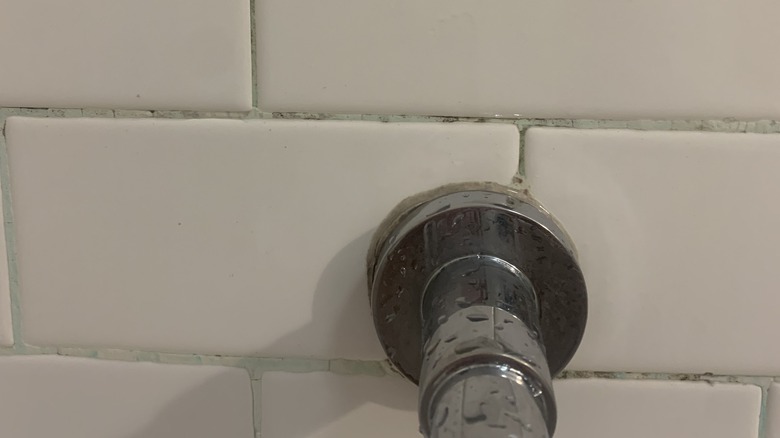 Juliana Lumaj/House Digest
After scrubbing the grout and rinsing off the toilet bowl cleaner, we noticed an issue; the cleaner tinted the grout a light blue. We immediately searched online to see if anyone else had this issue. Apparently, the internet is full of articles listing a variety of reasons why you should not use toilet bowl cleaner on grout. Since grout is a porous material, this type of cleaner can cause deterioration and damage.
And fine, our grout turned slightly blue, but it wasn't even completely clean. In the past, we've sprayed the grime on our bathroom grout with a mixture of dish soap, distilled white vinegar, and water, and that always made it easy to wipe everything away. In fact, we used that cleaning solution to get rid of this blue tinge. We believe it's possible that the toilet bowl cleaner worked better in the TikTok video because the dirt was so thick the cleaner wasn't able to penetrate and stain the grout within five minutes. So, if you are also dealing with minor amounts of dirt, we suggest using something else.