How To Flawlessly Integrate A TV In Your Living Room, According To A Design Expert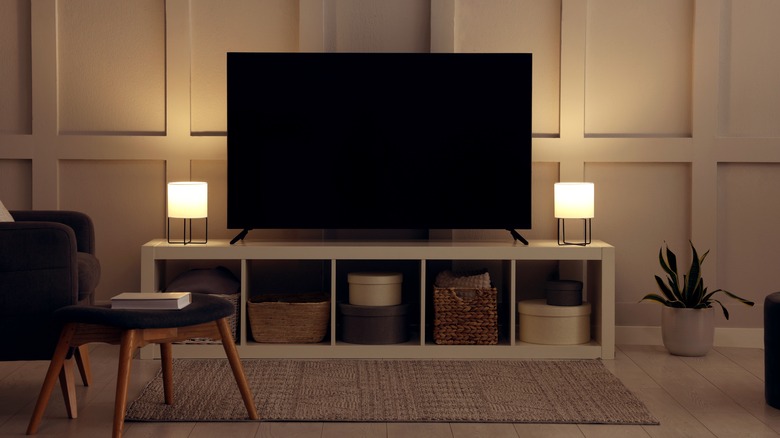 New Africa/Shutterstock
Once you've picked out your dream TV, you're faced with deciding how to display it. To mount or not to mount? Should you conceal the TV in a cabinet or disguise it with a picture frame to look like art? To help, we went to an expert. In an exclusive interview with House Digest, Janna Robinson, The Techorator and founder of JannaRobinson.com, gave us plenty of helpful tips for creating a functional but beautiful television display. 
Robinson specializes in seamlessly integrating technology into interior design. And she's here to give you the low-down on all things TV set-up. "The vast majority of people enjoy watching their favorite video content at home on a bigger screen. Thankfully, TVs are sleeker and thinner than ever, making them less obtrusive than they once were," Robinson says. "The layout of the room is going to help dictate the placement of your TV. Whether you desire to make it a focal point, camouflage it, or have it completely disappear, there are solutions for a wide range of options."
Mounting options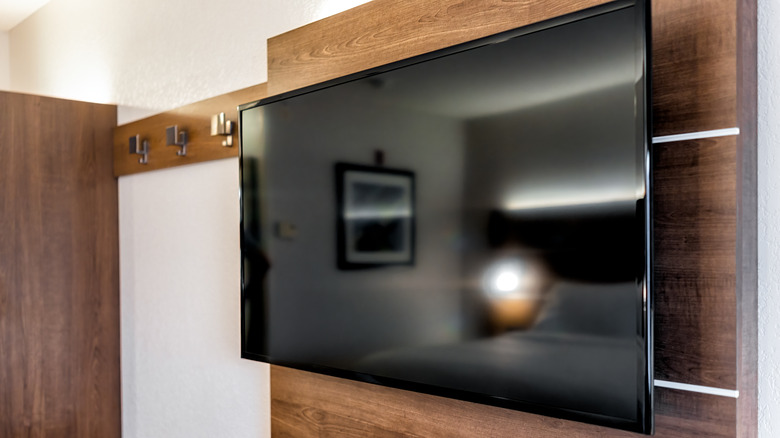 Krblokhin/Getty Images
Mounting a television is a popular choice because it doesn't take up precious floorspace as a media center or freestanding television might. But it can be a bit of a headache to determine how to best mount or suspend your device. "Contemporary TV mounts like fixed, tilt, swivel, full-motion, and ceiling are the most common, but there are specialty mounts like a pull-down and swivel. This is ideal for over a fireplace mantel or placed higher on a wall, so the center of the screen lowers to your eye level (which, sidebar, is the healthiest way to watch a big screen)," says Robinson. 
But your mount options don't stop there. "There are also motorized full motion mounts which offer the functionality of all the above. If you desire to conceal or hide the TV, motorized lifts that recess the TV in the ceiling and specialty cabinets and consoles that raise and lower the TV lift on command will help you execute." Having the ability to conceal your TV on demand can create an intimate feel in your living room without opting for a pricey renovation that offers a conversation pit. However, if you upgrade your television, you'll likely need to update your console's configuration. 
Making your TV a focal point
Thankfully, televisions aren't as unsightly and bulky as they once were. In fact, there's no shame in having one on full display. But you still have options if you're keen to keep your design chic. "Design-friendly options help to make the TV the focal point in the room. A framed TV, which adorns a frame-like bezel on the outside perimeter of the TV, displays your favorite artwork when powered down. A motorized art screen elegantly conceals any TV behind chosen artwork," Robinson suggests. These clever inventions look like unique pieces of art and can be swapped out to your taste or even changed with the seasons. "One of my favorites is a customized artisan TV bezel, available in a variety of fabrics and materials, which can flawlessly blend into the background or be a stunning addition to your room," Robinson adds. 
If you've got plenty of art but lack a place to touch up your lipstick in the morning, your TV can do that, too, assuming you opt for a model with a reflective surface. "For those that desire a mirror and a TV but can only accommodate one, a mirror TV is a captivating option," says Robinson. Not to mention, they also happen to look incredibly cool. 
Cable and cord management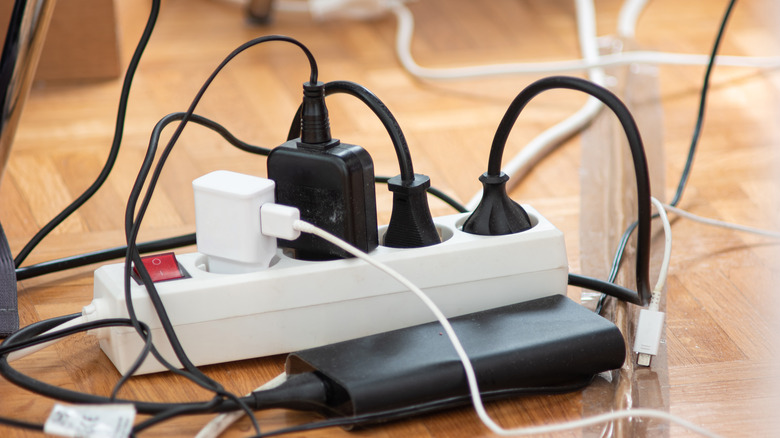 Octavian Lazar/Shutterstock
Often, it's only after painstakingly mounting your TV, concealing its edges with a custom bezel, and setting it to display stunning artwork that you notice the messy tangle of cords and cables. "We can't talk about TVs without bringing up the eyesores of cables and cord management," Robinson warns. Luckily, she offers tips for taming these attachments. "Here are some helpful solutions to make the conspicuous be inconspicuous," Robinson says. 
Many TV mounts have channels to accommodate cables and cords
Plastic or metal cable raceways or wall cable channels: Most are paintable and some you can even wallpaper.
Cord covers: Floor covers which conceal cables on the floor.
Cable sleeves: A pliable braided polyester mesh material that comes in various lengths, can be cut to size, and neatly houses cables and cords.
Cable management box: Boxes with closed lids that are designed to house a power strip, cables, and cords.
Cable ties: Bundles the cords together so you don't have cable spaghetti.
Cable clips: Plastic or metal clips attach to furniture or walls to hold cables in place.
Cord bundler: Adhesive-like plastic ring that attaches to the wall so you can wind your cords around it. This is best to place behind furniture.
Some furniture like desks, coffee, side tables, cabinets, smart mirrors, and even some chairs have USB ports and cable-ready management.
Strategically placed décor.
Not my favorite option, but you can hide cords underneath a rug.