How To Ensure Your Kitchen Table And Cabinets Complement Each Other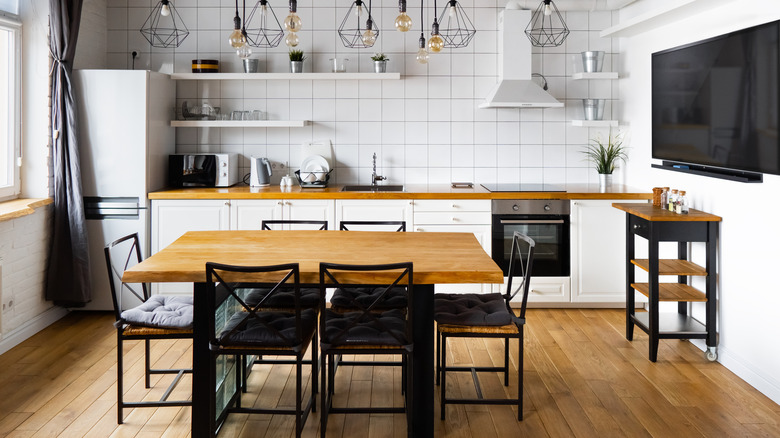 Jin Odin/Shutterstock
Modern kitchen design offers a wealth of cabinetry, flooring, and tilework options to choose from. While these more permanent elements can set the stage for what you have to work with for years to come, other furnishings for the kitchen, like the table and chairs, can be a great way to reinforce the room's aesthetic. In contrast, a kitchen's entire style and feel can be transformed by simply adding a different table and chairs. 
While there might be an initial temptation when designing a kitchen from scratch to match the kitchen table directly to the cabinet style and finishes, there are also infinite possibilities for forming interesting contrasts and complementary relationships between the two elements by mixing things up. If you keep a few key factors in mind, you can bring a sense of balance to your kitchen and create unexpectedly lovely combinations that look intentional and well thought out.
Color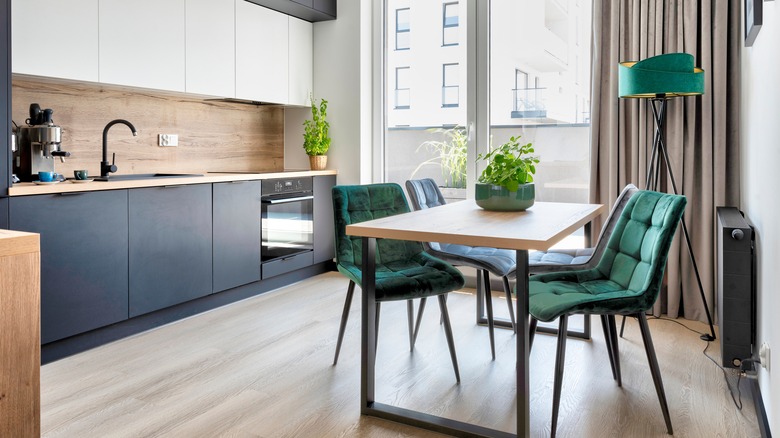 liloon/Shutterstock
According to Erika Jane Design, colors need not match exactly between cabinets and tables (via Home and Gardens). In fact, the effect of matching colors may make a room seem too uniform and unexpected. Nor do you want the shades to clash with each other. Most cabinet finishes tend to be neutral in natural wood shades or white, with slight variations of recent trends for dark green, navy, and gray cabinets. If your cabinets are neutral, you definitely have more room to bring in unexpected complementary shades, including other neutrals, rich deep accent colors, softer pastels, or bold pops of vibrant color. 
The kitchen table and chairs, simply by their collective size, will become one of the three main colors in the room, second only to wall color/tile and cabinetry, so there is a bit more room to play with shades that will guide the colorscape of the room. Above, sleek slate gray cabinets are complimented by a simple metal table and luxe jewel-toned dark green chairs. If your cabinets are painted in other shades, you can pick a contrasting color to make the table stand out or can work to make it blend more seamlessly into the surrounding shades by selecting colors with a similar tone but in lighter or darker variations. You may also choose a neutral or natural wood-finished table to pair with colored cabinets, either from top to bottom or just the legs or top. 
Materials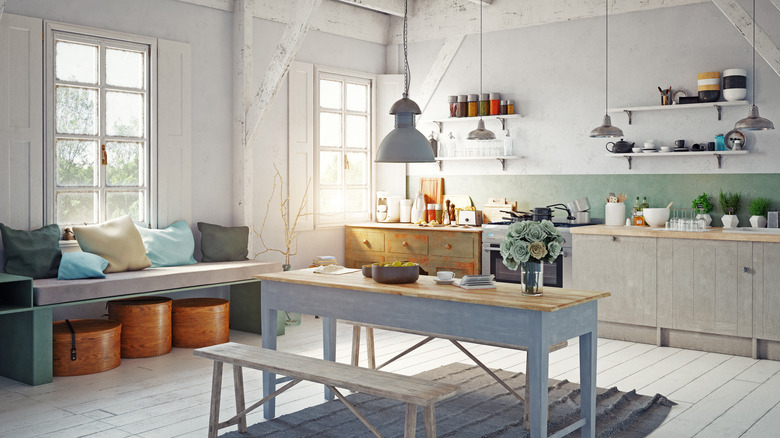 Vicnt/Getty Images
A shared sense of materials is a great way to tie together cabinetry and table. This can be literally what they are made of or other elements like finish, hardware, shape, and visual weight. Above, the light wood top of the table matches the butcher block counters, while the weathered pale blue of the lower half echoes the rustic weathered grey finish of the cabinets. When selecting the perfect table, look at the cabinets' shapes and handles/pulls and choose something similar in design. If your kitchen has a lot of wood tones, a great way to balance is to select the same or similar wood in contrasting finishes. Light-finished cabinetry can look stunning when layered with a dark or medium wood table with the same undertones. 
If your cabinets are less ornate, you can opt for a more intricately carved table and vice-versa. You might want to avoid combining like with like, particularly with more carving and ornamentation, which can sometimes be too much for the eye (via Home and Gardens). Similarly, not enough visual interest in either place can feel bland. Large and heavier cabinetry is often best paired with a larger, heavier table, while more streamlined cabinets work well with a similar, less visually weighty table.
Style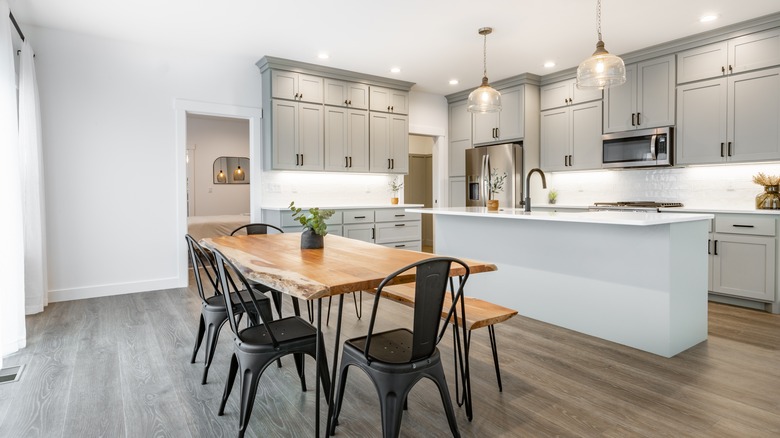 Sheila Say/Shutterstock
Cabinets that reflect a similar furniture style or design scheme usually will work well together, but that doesn't mean you can't be a little more adventurous in mixing and matching or making unexpected juxtapositions with your furniture choices. A modern farmhouse kitchen with shaker-style cabinets may suggest the obvious choice of a matching table but can look stunning with a more naturalistic raw wood table, as seen above. Plainer, modern cabinetry can be a great fit for a table with a more rustic or industrial feel.
Similarly, a Mediterranean-style kitchen's old-world feel may be complemented by a more modern mid-century table in the same wood finish instead of a more rustic antique or wrought iron option. For contemporary and sleek handleless cabinets, consider a mid-century modern dining set that echoes similar minimalist principles but with a vintage flair. Pair contrasting periods and styles using color and material as a common denominator.