Carnivalcore: What It Means And How To Get The Colorful Chaos Look In Your Home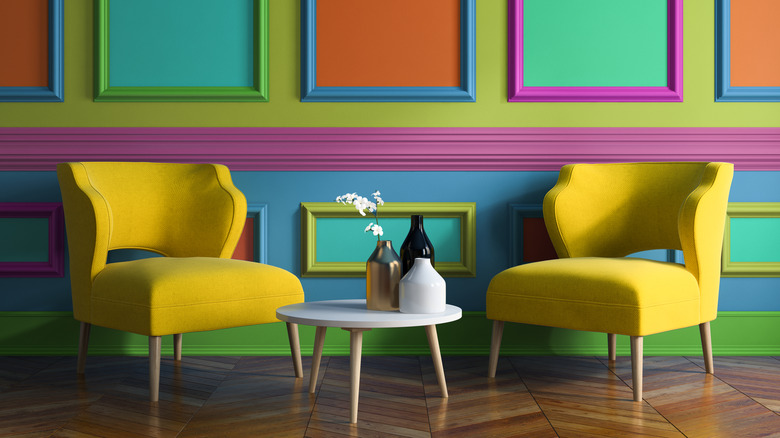 Hemul75/Getty Images
If you want to infuse your home with a nostalgic feel and are not afraid of bold colors or patterns, you may want to look into Carnivalcore. As you can probably infer, this unique style is heavily influenced by carnivals, which involve games, rides, fun foods, bright colors, and entertaining shows. This design style can also be influenced by the circus or the large show underneath the spacious tent with jugglers, trapeze artists, and animal stunts.
To create the right aesthetic, it's best to consider what reminds you of your childhood, which was most likely filled with colorful toys and wondrous elements. The design is meant to give you a sense of relaxing nostalgia and help you find your inner child again. Because this design style has no limits or rules, you can create a home that appeals to adults and children alike. Further, while these spaces are often maximalist, they don't have to be, as there are ways to use some of the elements without going over the (big) top.
Cara Delevingne's house, the perfect example
If you've ever been drawn to the style of Cara Delevingne's home, you may be a fan of Carnivalcore. As displayed in her home tour with Architectural Digest, the front door is flanked with lion statues, the kitchen has bright blue cabinets and a striped curtain, and many of the rooms feature loud animal or floral prints on the walls. Some of her most dramatic features include a poker room covered in a red tent material and a red and white striped ball pit.
When speaking on the aesthetic of her home, which was designed by Nicoló Bini, Delevingne said, "The meaning I have from this house is you just never grow up. You know, always kind of maintain some sort of childlike innocence, or joy, or just the need for fun," per YouTube. However, while you can create a childlike feel, that doesn't mean your home needs to look like a child's playroom. Cara adds mysterious, sensual, and dramatic elements to add a mature balance to her home, which creates what she calls an "adult playhouse."
The basic elements of this style
While this style could display any of the items typically seen in a carnival, such as exotic animals, tents, and clowns, you could also take a less literal approach. Perhaps you're not a fan of animal prints, or maybe you want to avoid clowns to create a more relaxing atmosphere — and we wouldn't blame you; the face of Pennywise from the movie "It" doesn't exactly scream peaceful abode.
To make the Carnivalcore style more "subtle" (if you can even call it that), you could simply use vibrant colors and bold patterns. Primary colors and geometric shapes are typically utilized, but other shades or floral prints could also be incorporated. To be specific, these designs often use items such as wavy mirrors, checkerboard tiles or rugs, disco balls, and rounded pieces of furniture. If you're wondering where to find these unique pieces, Etsy is a great resource. A rainbow checkered rug (via Etsy) on the floor could make a statement, while a neon wavy mirror (via Etsy) could faintly add a childlike appeal.