An Interior Design Expert Reveals How To Incorporate Maximalism In Your Home - Exclusive
The popularity of maximalism has been increasing as some start to leave minimalism behind. Notably, popular content creators on social media have weighed in on this trend and how it makes their homes feel cheerful and complete. Interior designers also employ maximalism to make spaces look more interesting and bold by introducing bright and dynamic colors, patterns, artwork, and more, according to Inked Nation. Tied to modern art, millennials are the cohort who have really made maximalism a widespread design choice.
Interior designer and founder of Mississippi Maximalism Jennifer Burt sat down with House Digest in an exclusive interview and shared how we can incorporate maximalism in our homes. Burt serves her local community in northern Mississippi and the Perdido Key, Florida, area. However, anyone in the rest of the country (and the world, frankly) can get her advice through virtual means, according to her website. Burt believes in mixing together old and new pieces to make a design truly complete, and her portfolio shows her nuanced capabilities for balancing out different bright colors. So if maximalism seems like your cup of tea, Burt's advice may help you accomplish your home makeover.
Hunting down the perfect décor
Many maximalist designers and enthusiasts love hunting down the perfect décor for their home, whether it's at a thrift store or an online marketplace, according to Jennifer Burt. "Find some kind of object that you can always be on the lookout for and collect," she explains. "Group collections together and display in unique ways. For example, if you collect vintage matchbooks, display them in a fancy crystal bowl."
When you're working to implement the maximalist lifestyle in your space, sometimes it can take a bit of DIYing to accomplish the look you're going for — but that is something that Burt actually enjoys. "You can easily find used lamps at thrift stores or online from marketplaces like Chairish.com," she noted. "I like to update the lamp with a fabric covered lampshade." 
There may also be items in your home that just needs to be properly displayed to enhance the design of a room. "Maximalists LOVE books and this is an easy way to get the look," Burt added. "I shop thrift stores for unique titles. I usually toss the paper cover and then group books with similar colored spines together."
Maximalists get down with pattern
Every interior designer has a favorite design tactic, and Jennifer Burt is someone who likes to achieve a maximalistic look with beautiful visuals. "My favorite aspect of maximalism is pattern," Burt revealed. "Animal prints are considered a neutral, so always be sure to include a leopard, tiger, or cheetah print. Floral chintz fabrics are also a staple in a maximalist's home." 
However, if you're worried about a pattern overload, how does one create a cohesive look? "Combine and layer these with other patterns like stripes, checks, and textured woven fabrics," she explains. "An easy way to mix patterns is to use fabrics that have a similar color scheme."
It can be fun playing with different patterns, but Burt adds that your furniture should be just as riveting. "As far as furniture styles, traditional mixed with chinoiserie styles are my favorite," she said. "I shop local estate sales here in Mississippi for my business, and I get most excited when the homeowner has Asian-inspired pieces like black lacquered furniture and anything made of bamboo."
Dramatize your bathroom
Introducing maximalism into your home is sure to add some drama to your life, and Jennifer Burt is all for it. "Maximalists love a bold wallpaper and the bathroom is a perfect space for this," Burt revealed. "Dark florals are popular for creating a jewel box atmosphere in a powder room." She also dives into what kind of lighting can complete the look, as light fixtures can really make or break an overall design. "Make your light fixture a focal point in the bathroom by choosing either a chandelier or a piece that has a sculptural feel," she added.
To Burt, accessories are a must, and she offers some advice on the type of decor you can add to almost any bathroom. "You can never go wrong with a gold ornate mirror over the vanity," she explains. "For the sink, use a decorative soap dish that has some personality. I find marble ones all the time at estate sales and always pick them up to use in clients' bathrooms."
Give your kitchen a whole different feel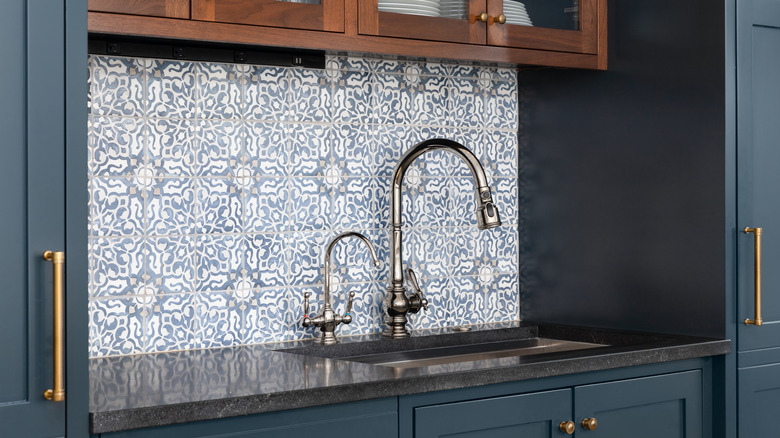 Hendrickson Photography/Shutterstock
It may be overwhelming to think about introducing maximalism into every room of the house, but to Jennifer Burt, each room is a new chance to turn it into something special. "To bring the maximalism trend into your kitchen, think of it more as another living space and opportunity to display your collections," Burt explained. "I love the look of copper pieces hanging from a pot rack. You can also have stacks of china and other tableware on display. Hide anything that looks too functional though."
This aesthetic can also offer an opportunity to pull away from the typical white cabinetry style, and into something more befitting of your personality. "The cabinets are a great place to bring in some maximalist drama," she noted. "Try painting them a jewel tone, like sapphire blue or emerald green, and then update the hardware on the doors and drawers with a pop of gold."
With maximalism, there is also a new artistic display waiting to happen when you have empty space. "If you have wall space around a breakfast nook, create a gallery wall and cover with artwork and unique plates hung from plate hangers," Burt said.