How To Integrate Speakers Seamlessly In Your Home Decor, According To An Expert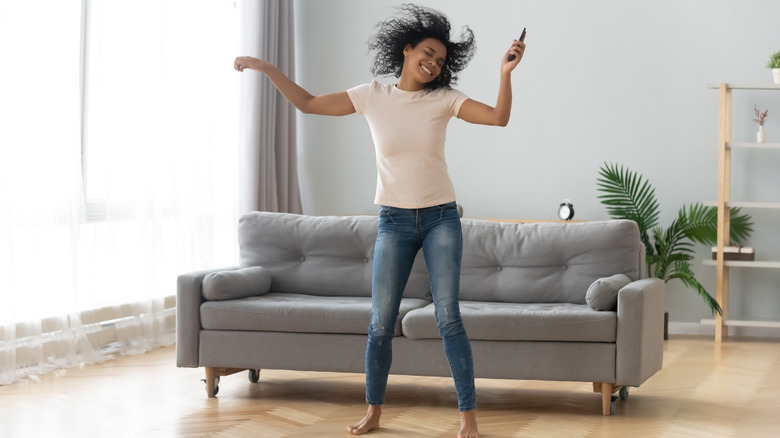 fizkes/Shutterstock
If you are the type of person who loves to entertain by hosting lavish events for the big game or special screenings of the latest movie, or if you love to have music playing throughout your home then you know the importance of a quality entertainment system. Just as it's important to have a TV screen that is suitable for showcasing what you want, it is also vital to have speakers that can drive home the true spirit of what you're listening to — nothing puts a damper on the mood of a good movie or amazing song faster than lackluster sound quality. However, even if you want the most expensive, top-of-the-line speakers for your home, there's no reason for them to stick out like a sore thumb.
In order to properly balance quality visual and audio equipment into your already existing decor, or to redesign an area of your home perfect for entertaining, it helps to have the guidance of a professional. In an exclusive interview with House Digest, Janna Robinson, Techorator and founder of JannaRobinson.com, gave us her advice on how to expertly incorporate speakers into your home decor.
Consider your options first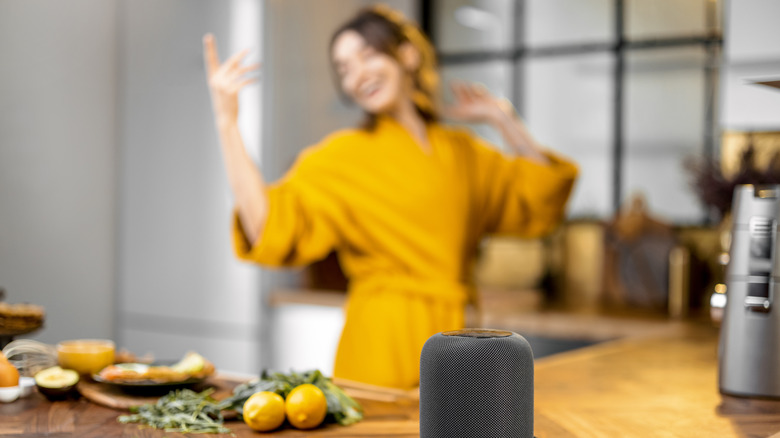 RossHelen/Shutterstock
There are several important factors to consider when choosing speakers, so don't be tempted to go out and buy the first sound system that catches your eye. "The speaker market is saturated with options in different shapes, sizes, types, and colors, so before you start purchasing stop and think of the purpose, placement, and wiring," Janna Robinson advises, "this will better help you make informed decisions on the type of speakers you want for each room."
Each area of your house serves a specific purpose, from your kitchen to your bedroom, and so should the type of sound you want for these spaces. Robinson wants you to consider a few things while you make your search for the ideal sound system. "Do you want to immerse yourself in the home theater experience? Or are you a music lover and want to sit in the den and enjoy relaxing tunes?" If so, she recommends that you "seek a dedicated and sleek soundbar with wireless multi-room audio." These smaller options can give you the big sound you need but not take up a whole lot of real estate in the room that it's in. "Perhaps you love to cook and need a single speaker to listen to music and stream recipes," she says, "whatever your needs, there is a speaker that can accommodate them."
To install or to go free-standing?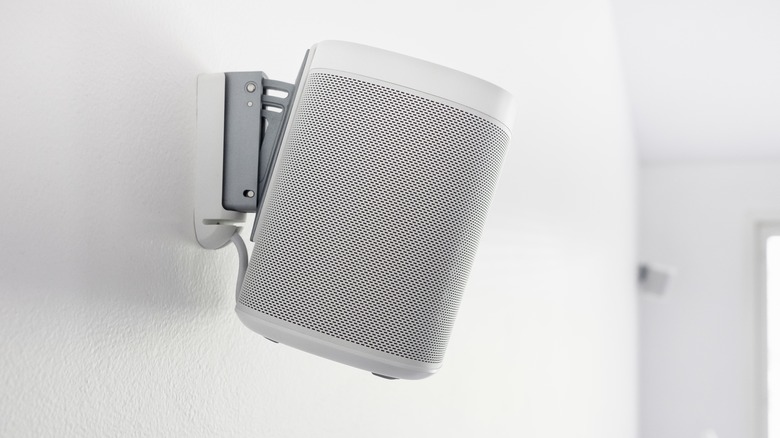 Finmiki/Shutterstock
Depending on whether you own your property or live in a rental unit, could further impact how permanent you want your home audio system to be. This gives you the option of either having speakers installed into the room of your choice, or choosing a portable free-standing fixture that can move where you please. "Some product choices will require a professional installer, like in-wall, in-ceiling, architectural, or invisible speakers," Janna Robinson tells us. "The latter is best for new builds or renos where you are going down to the studs, as the speakers are designed to disappear." Installed speakers can be the ideal sound choice for those who own their home because you can customize the look you want while being creative with placement and how to incorporate it into your overall design. With plenty of smart technology available, you can access the speakers and control the volume as well as what you're listening to all through your personal device.
If you want to incorporate larger speakers, Robinson notes "audiophiles love free-standing speakers and some look like works of art. The most popular of the options are the compact and ubiquitously-used bookshelf speakers." These speakers can have a good quality sound without having to resort to permanent placement. A small, sleek, and stylish speaker can move with you from room to room and fit seamlessly into whatever space you are in.
How to integrate speakers into your decor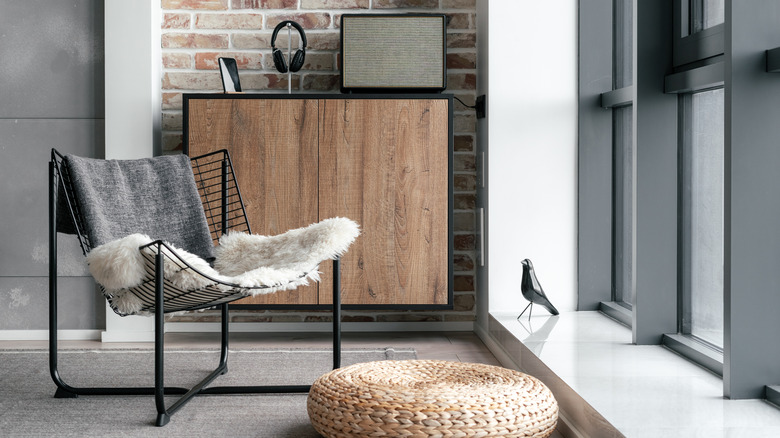 brizmaker/Shutterstock
Luckily, with so much variety when it comes to home sound systems, you can be free to be creative with your layout. No matter whether you have a bohemian-style home or an ultra-modern abode, there is a speaker system waiting for you. Janna Robinson has a great list of ways you can incorporate speakers into your own home design:
"Decorative speaker grille fabrics: There is a variety of elegant fabrics for any speaker or soundbar. My suggestion is acoustically-treated material, but if you choose to use something else, make sure the sound can pass through the material.

Paint match your speaker grille covers: Many companies will offer to match your wall paint color.

Place speakers behind a large accessory, vase, or a stack of books, or grouped together with other objects so they blend into the background and your eye is distracted by the cluster and not a single item.

Specialized custom speaker boxes for speakers and soundbars, which come in a variety of options.

Hide in unused cabinet space: If covering the speaker, make sure your surface is perforated so the sound comes through.

Use plants: I suggest larger than your speakers. This is right on trend with bringing a little green and biophilia into your space.

Put behind furniture, especially subwoofers; some occasional chairs can be helpful with this."
Don't forget to balance your sound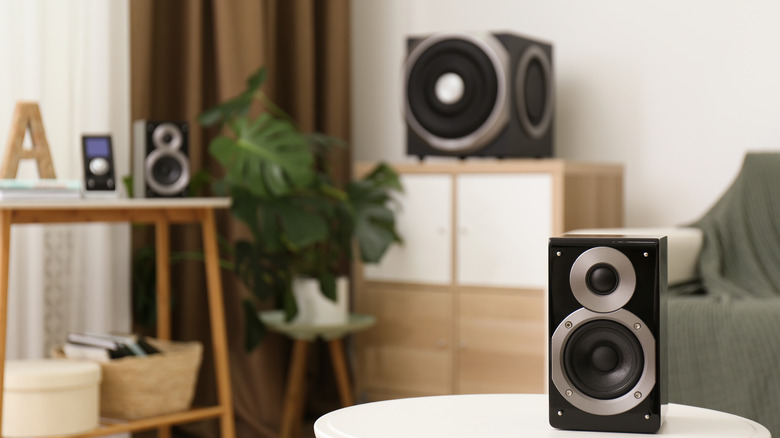 New Africa/Shutterstock
There are many elements in your home that can affect the quality of sound you are able to produce. "Something else to consider which is not often talked about is the balance of sound in your room," Janna Robinson explains. "If the space has a lot of furniture, heavy curtains, rugs, and other plush surfaces, your sound could be dark and dampened." To stop the sound from getting muddled in your home, Robinson suggests that "adding some reflective surfaces like framed artwork, books, or picture frames can all help to brighten the sound." This type of set-up would best fit a more intimate listening area, such as a study, cozy library, or comfy corner of your home.
For more modern homes, it might be that the opposite is true. "If your room has a lot of reflective surfaces like windows, exposed floors, an open floor plan, framed artwork, or a glass or wood coffee table you want to add in items," Robinson tells us. "Upholstered pieces, soft window coverings, acoustic panels, an area rug, throw pillows, and even throws can help absorb sound." Creating the right environment through intentional furniture choices will ensure that your speakers and setup carry the best possible sound.