Chinoiserie Wallpaper Is Having A Comeback. Here's How To Pull It Off In Your Home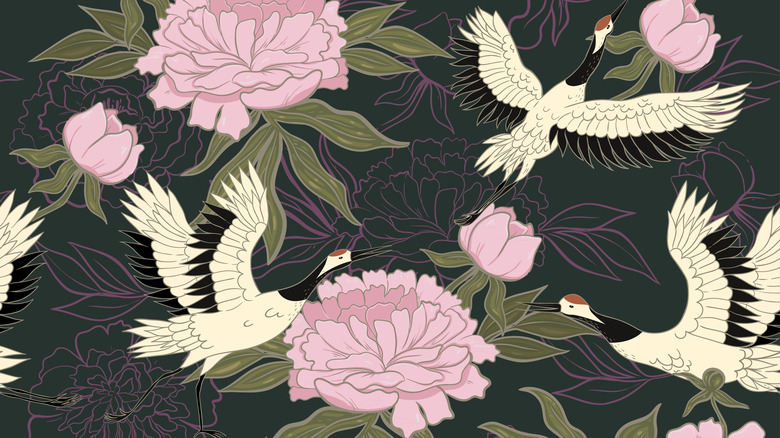 Ekaterina Zirina/Getty Images
Many of us remember the dingy, beady floral prints that probably covered our grandmother's kitchen. But, wallpaper has crept back up on the trends chart as people start to realize that it doesn't have to look old and outdated — and chinoiserie wallpaper is among those catching people's eye. The European 17th-century designs encapsulate bold patterns that speak a melody into the room. With themes often influenced by East Asia, chinoiserie designs feature nature motifs of birds, flowers, and landscapes in saturated colors and large-scale designs.
One thing that significantly separates chinoiserie wallpaper from others is that while you can get these designs hand painted, block printed, and digitally printed, their patterns never repeat. It is more like a giant mural than a repetitive construction stamped onto the walls. Because of this intricate composition, it can be hard to incorporate into the home without it overwhelming a room. But like any aspect of design, there are certainly ways to pull it off.
Accent walls and sectional molding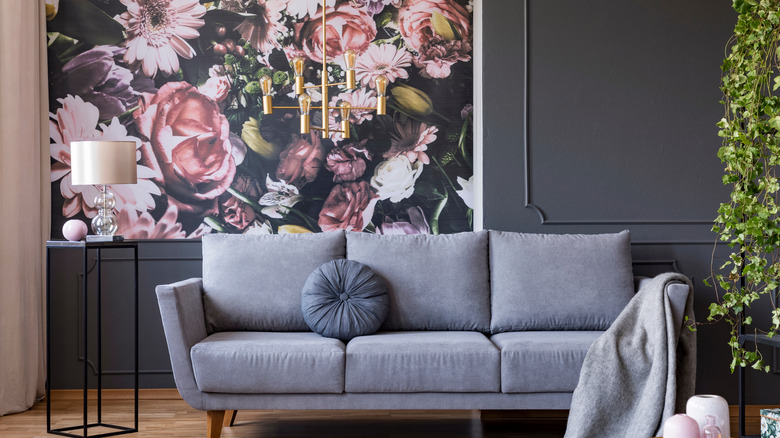 Ground Picture/Shutterstock
One of the most common ways to use wallpaper nowadays is by creating accent walls. These give homeowners flexibility with bright colors and bold designs without burdening the room. That said, some good rules to follow for accent walls are keeping things symmetrical, using a space with natural light, and remembering this will likely be the first place someone looks at as they enter the room. Light fixtures and sculptures are great to pair with your accent walls to give them more dimension if it ever feels too flat for your taste.
Additionally, incorporating sectional wall molding and filling those with beautiful chinoiserie wallpaper will give a whimsical elegance to any space. Sectional wall molding creates three-dimensional edges on your wall, much like wall trimming, but not necessarily on the perimeter. And essentially, what you end up with is the perfect frame for some peel-and-stick chinoiserie wallpaper. If you are considering installing wall trim, there are several types to choose from, including chair rails, crown molding, baseboards, picture framing, and picture rails.
Paneling and artwork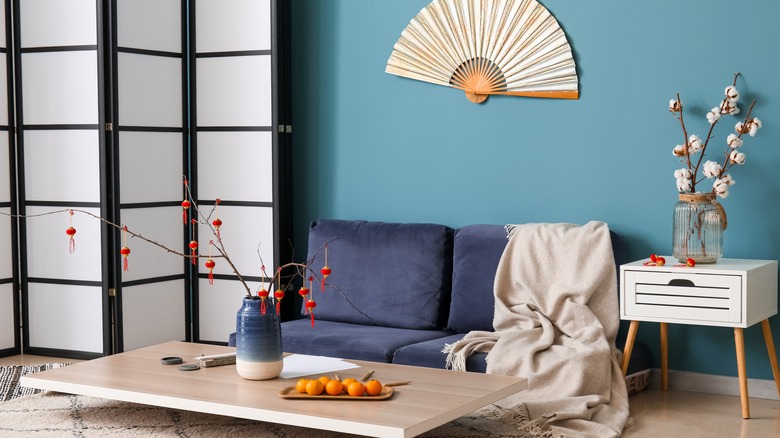 Pixel-Shot/Shutterstock
Removable paneling is an alternative option if you like the idea of sectional wall molding, but it feels too permanent or is too much work to install. Panels can typically be found at your local hardware stores, or you can DIY one with some plywood. Panels can easily be hung with nails, but poster hanging strips are a good solution if you are looking not to poke holes into the wall. The great part about using panels is that the design choices are endless. They can be layered and moved around, allowing you to continuously create a new effect in the room. And, because chinoiserie doesn't repeat its patterns, every arrangement will be different.
Folding screens are another type of paneling to take advantage of. While the panel can be considered artwork in itself, utilizing canvases and frames for chinoiserie design is another perfect way to incorporate the European style into your home. Moreover, hand-painted pieces may be hard to feature on your walls, but they will be protected if framed on canvases and used as a screen.