Does Amazon's Top-Rated Wood Polish And Cleaner Deliver The Shine?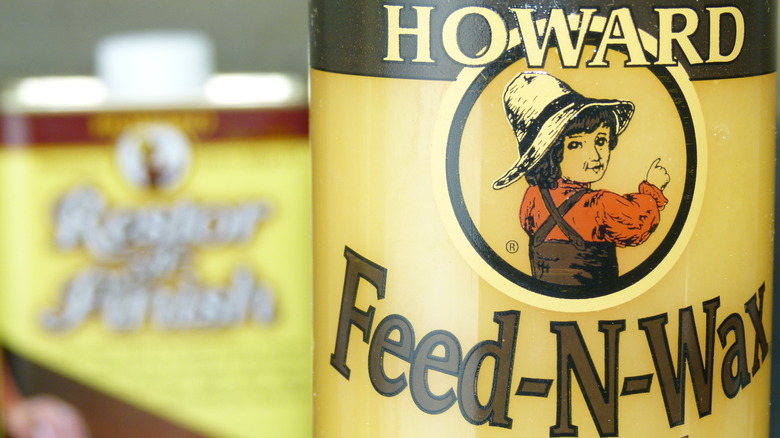 Ron Baker/House Digest
We may receive a commission on purchases made from links.
Howard's Feed-N-Wax managed to become a best-selling Amazon product (with over 35,000 reviews and an impressive 4.6-star rating) without becoming a viral social media sensation, the way such products often do. This $9.98 concoction of carnauba wax, beeswax, orange oil, "conditioning oils," and solvents is meant to keep both finished and unfinished furniture from drying out, in addition to being a standard wax and polish. Even Amazon's top influencer video for Feed-N-Wax has only 12 "useful" votes. However, TikTokker Tracy Autem did get 180,000 views on her demonstration of the wax (anything below 250,000 is sub-viral, according to Hootsuite), and she scored some pretty impressive results for her oak kitchen cabinets.
Another Amazon influencer shows himself using the stuff to repair the finish on an office door, which had either become worn or experienced overspray of whatever was used to clean the handle. The lighter damaged area completely disappears after Feed-N-Wax is applied. That ability to be used on finished and unfinished furniture seems to be one of this product's claims to fame. However, we'd rather test it out ourselves to see if this popular polish really provides the luster.
Getting a handle on Feed-N-Wax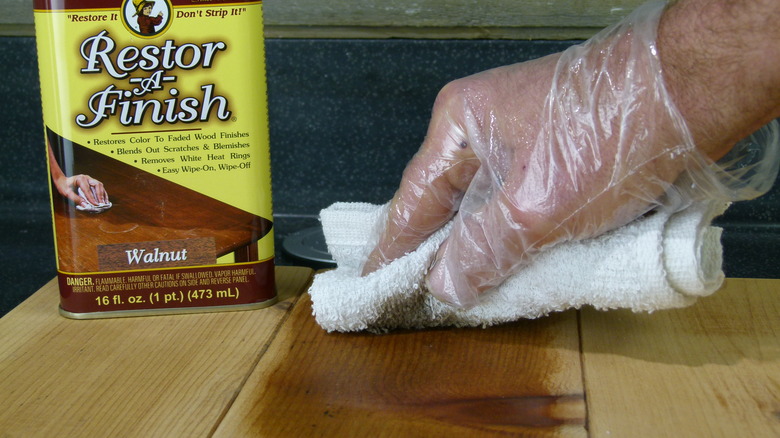 Ron Baker/House Digest
Let's go back to that Amazon influencer. She didn't pick Feed-N-Wax as her favorite of the three products tested, complaining that it didn't "saturate" as well as the others and seemed to penetrate unevenly. (Any genuinely substantial conclusions are difficult to reach in a quick test of furniture wax, but we'll return to that.) A couple of negative reviews also mentioned the inconsistency, and we couldn't help but wonder if it was related to the texture of the wax, which is reminiscent of chunky lemon curd.
But there are precious few negative reviews overall ... so few, in fact, that we became naturally suspicious of the scores and ran the product through Fakespot and ReviewMeta. Fake reviews are a serious problem on Amazon (and just about everywhere else), and these services use different approaches to detect suspicious reviews. Fakespot rated the product as poor, claiming that the reviewer patterns involved "high deception" and that only 45.2% are reliable. However, ReviewMeta turned up no such problems. When we looked at the positive reviews, we did notice a few oddities. For example, two nearly adjacent reviews claimed that Feed-N-Wax brought their floors "back to life." But overall, the product's buzz seems reasonably legitimate at a glance.
Testing Howard Feed-N-Wax
Ron Baker/House Digest
We had two identical pine platforms (possibly shelves in some previous life) with an aged, battered finish that looked just right for testing out Howard's claims. So we left the finish on one, just giving it a light cleaning. The other we quickly sanded with coarse grit sandpaper, removing most or all of the finish.
On the unfinished shelf, we left half untouched. A quarter of the shelf was stained with Howard Restor-A-Finish, which the company recommends in conjunction with Feed-N-Wax, possibly in a bid to improve the return on their substantial investment in hyphens. After it dried, we coated it thickly with Feed-N-Wax. The remaining quarter we gave a thick coating of only Feed-N-Wax, following the package directions in all cases. The unfinished shelf was handled identically: half untouched, a quarter stained then waxed, and a quarter only waxed.
The Feed-N-Wax seemed to do a creditable job. Certainly, the difference between the waxed and untreated wood was dramatic. (Combined with Howard's stain, the effect was not much different.) When applied over an existing finish, the wax did an excellent job of covering and improving. Still, it was substantially darker than the original light pine, leaving some darker spots instead of an even finish. However, it was an improvement nonetheless. We did notice some unevenness in the wax applied to the sanded boards, but some of the patterns suggested this could result from uneven or incomplete sanding.
Feed-N-Wax? Wait-And-See.
Ron Baker/House Digest
Feed-N-Wax was a little annoying to get out of the bottle, suddenly spurting globs in a manner that made nearby spouses nervous and control of the application a little challenging. Spreading it was also slightly tricky because of the aforementioned chunkiness. The instructions recommend soaking a cloth pad with the wax rather than applying it directly to wood, and so do we.
The results were about on par with our expectations, and since about a zillion five-star reviews informed those expectations, that's pretty good. As far as one can tell, the stuff seems to penetrate unfinished wood and still sit on the top enough to give off a bit of luster.
The trouble with quick wood conditioner tests is that it's difficult to tell exactly what's happening below the surface. For instance, you might get the impression of unevenness without being able to see that the old finish was unevenly removed. Likewise, it might appear to penetrate by virtue of not coating the surface like an oil slick, but you can't be sure. It might even seem oily based on factors like the temperature and humidity in the room. Ultimately, you have to live with a product like this for a while, and your evaluation becomes more complete over time. That said, we think it's a safe bet to use Feed-N-Wax for a while to see if its long-term performance is as good as its immediate results.