15 Colors That Will Upgrade Your Porch's Curb Appeal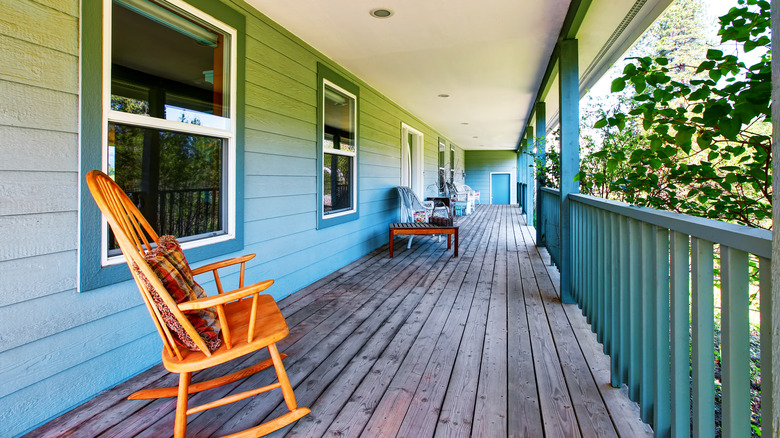 Artazum/Shutterstock
Whether you're eager to sell your home as soon as possible or simply want to show it some TLC in order to increase its value, there are various things you can do to make your residence irresistible to anyone who might see it. That might include doing whatever you can to increase your home's curb appeal. For instance, when it comes to the exterior of your abode, you can fix up any wood sections that might be broken, chipped, or split, while also power-washing areas that have become a little grimy. On top of that, you may want to give your fence a fresh coat of stain and do the same to your deck while also painting your shutters, front door, and porch.
Frankly, as Sharper Impressions Painting notes, plenty of people neglect to remodel their front porch despite the fact that it's such a key area. Fortunately, all you need to do in order to achieve a new look is add some paint. While you could always opt for a classic pristine white shade, you could also choose something that's more eye-catching. For instance, a hue that's darker, brighter, or perhaps somewhat unusual can make your home stand out while also looking more contemporary and inviting.
If that has piqued your interest, then we can suggest a range of vibrant and alluring colors for your porch that will definitely upgrade the overall curb appeal of your home.
1. Icy blue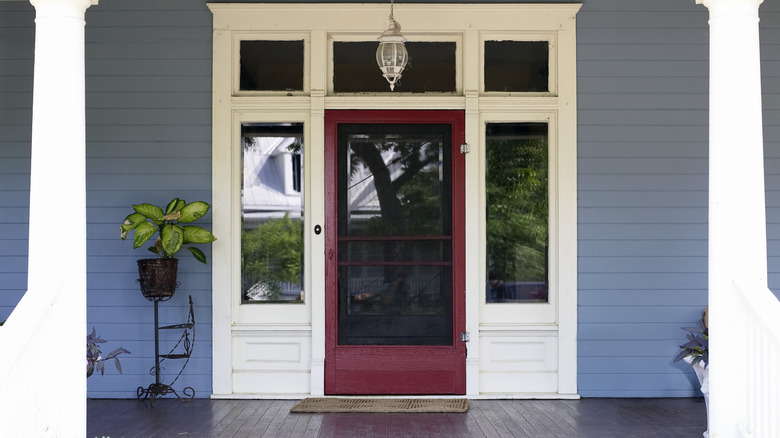 Ryan Mcvay/Getty Images
Whether you live at the beach or are settled in the middle of the suburbs, you can't go wrong with a posh icy blue porch. A color that would look just as good in the shade or the sun, it would also continue to look just as lovely over the years as it ages.
2. Light greige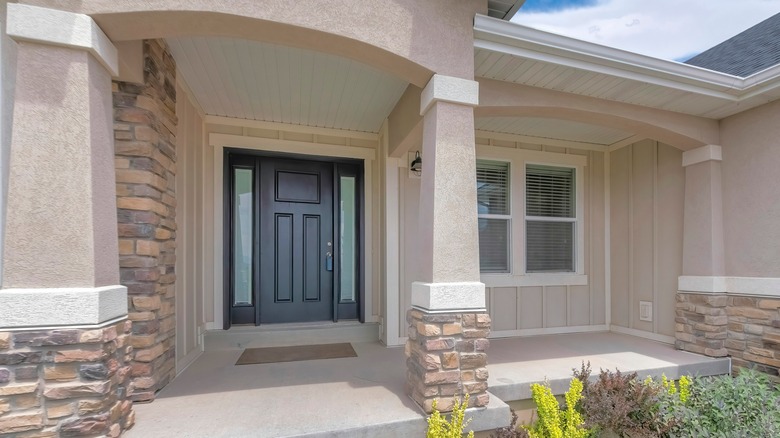 Jason Finn/Shutterstock
You don't have to choose a paint color that's incredibly bright and wildly bold in order to give your front porch a fresh look. Instead, opt for a shade like a light greige. Both modern and chic, it's also calming and grounding while acting almost like a blank slate for others to imagine how they might personalize it.
3. Burnt orange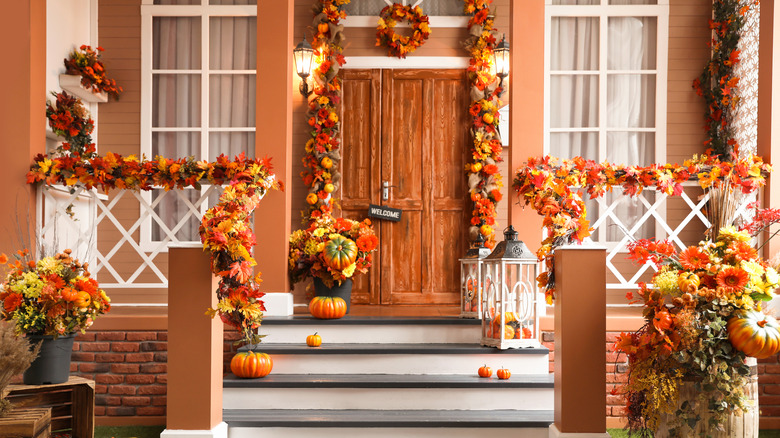 New Africa/Shutterstock
Whether you want a color that adds a vibrant touch to your home's exterior or are interested in something earthy, this burnt orange shade may have caught your eye. As luscious as a natural clay yet boasting a bright tinge that's almost fiery, this color would suit a residence that's smoothly sophisticated or features a bohemian vibe.
4. Cool minty green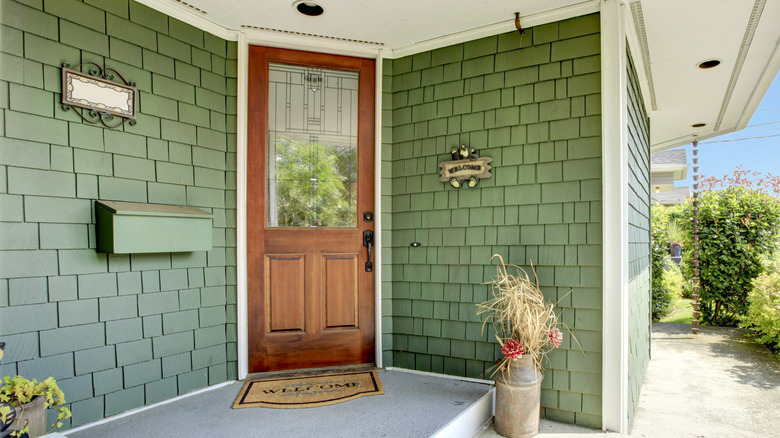 Irina88w/Getty Images
When you think of a refreshingly chill color, you likely imagine a charming blue. However, green can be just as enticingly cool. Just take a peek at the minty green that's been used on this porch, which isn't at all intense but is instead as elegant and stylish as it is charming and comforting.
5. Pale yellow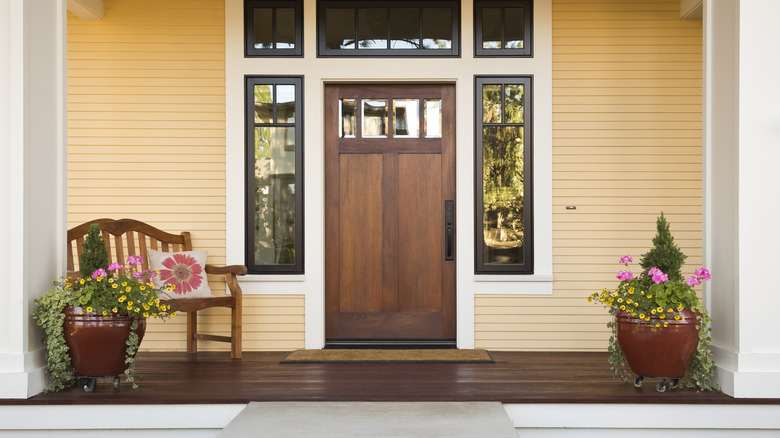 David Papazian/Shutterstock
Make your porch as welcoming as the warm morning sun by painting it pale yellow. This color is surprisingly subtle while also being peppy in a soothing kind of way, which is why it's ideal for a front porch. It creates a space that makes you want to sit down to enjoy a chat with loved ones.
6. Radiant red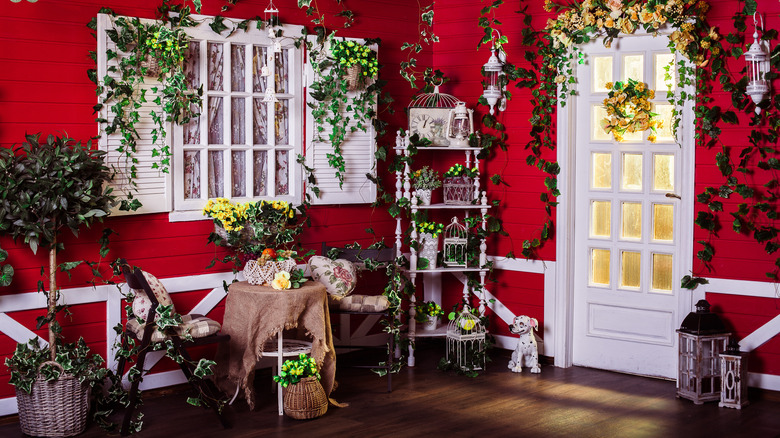 Favore Studio/Shutterstock
If you love the idea of painting your home red but don't want it to look like a barn, then you can transform your porch with the radiant hue while using another color elsewhere on the exterior. Enhance the classic tone even further by painting your door, shutters, and trim a snowy white.
7. Smoky teal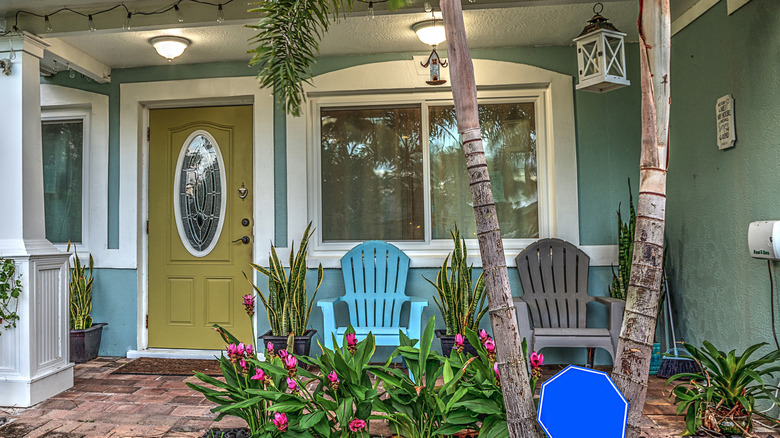 SunflowerMomma/Shutterstock
Teal may not be a color that immediately pops into your mind when you're thinking about possible paint for your porch, but perhaps it should be. An option that can offer you a range of specific shades, you could choose a light teal, a dark teal, or something in between like this lovely smoky teal.
8. Dark Blue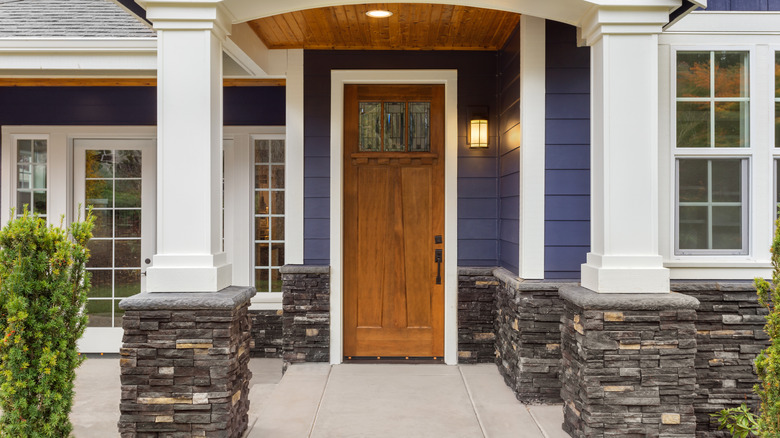 Hikesterson/Getty Images
Give your front porch an enviable makeover with the help of dark blue paint. A color that can easily anchor a space, it can also complement other details such as columns and trim that are pure white, a door and porch ceiling that are natural wood, and stone accents in a deep gray.
9. Light lime green
Opting to paint your porch a bright lime green would certainly add a vibrant touch. Of course, you can enjoy the same kind of shade without having to choose a neon or fluorescent version, which might be fun inside but may not look as good on your home's exterior. Instead, try a light lime green.
10. Deep tan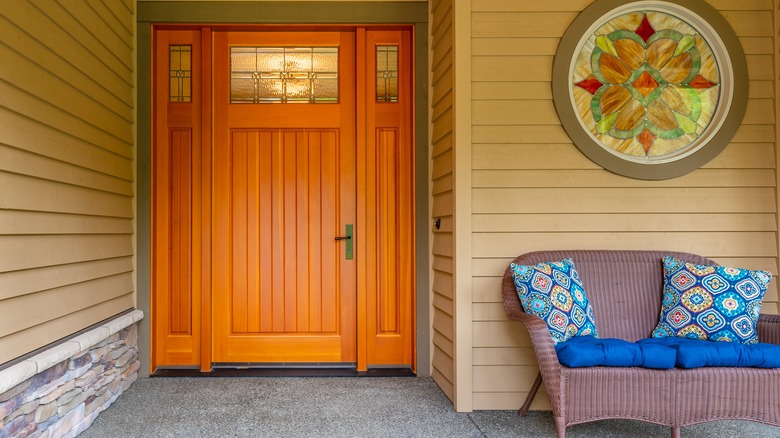 Sheila Say/Shutterstock
A relatively neutral color, tan porch paint can do wonders when it comes to adding a warm touch to the outside of your abode. While a light sandy shade would look incredible, so would a deep tan that will take on a warm woody hue in the shade and appear to have a golden undertone in the sun.
11. Light gray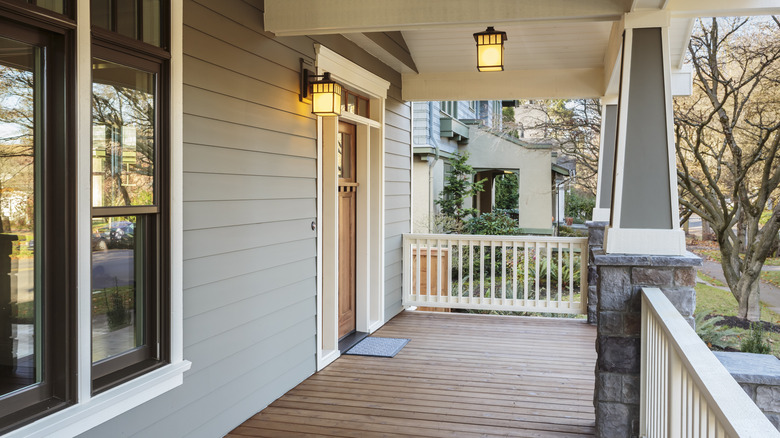 David Papazian/Shutterstock
Stylish and sophisticated, light gray is a color that will appeal to a wide range of people. That's why it's such an ideal choice for a front porch. Giving you the opportunity to accent the space with other chic shades, it can also stand alone when used on walls, floors, and even columns or railings.
12. Deep turquoise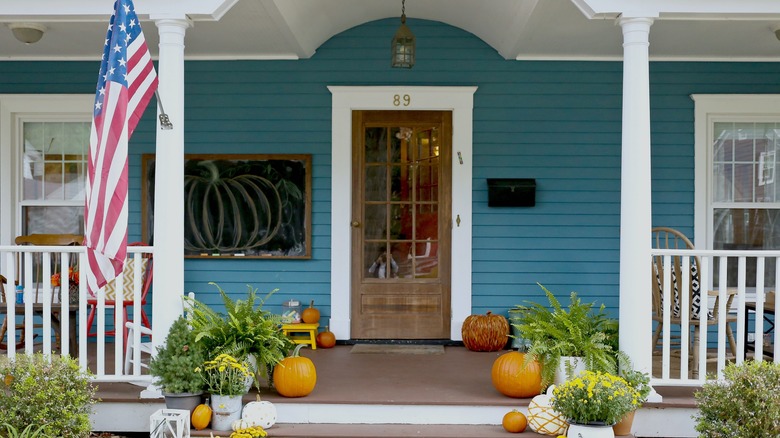 Michelle Gurner/Shutterstock
If you have a few favorite pieces of turquoise jewelry, then you know how beautiful it can be. That's also why it shouldn't be limited to accessories. It can certainly be a captivating color of paint for your front porch. Perfect for a modern home, it would also suit something with a chic cottage or country vibe.
13. Rich purple
Purple is a color that can be rich and regal or creative and playful. You can decide which version suits your residence best and use it to truly make your porch a highlight of your home. A fabulous option if you want to use other posh colors alongside it, purple will also make any greenery pop.
14. Pretty pink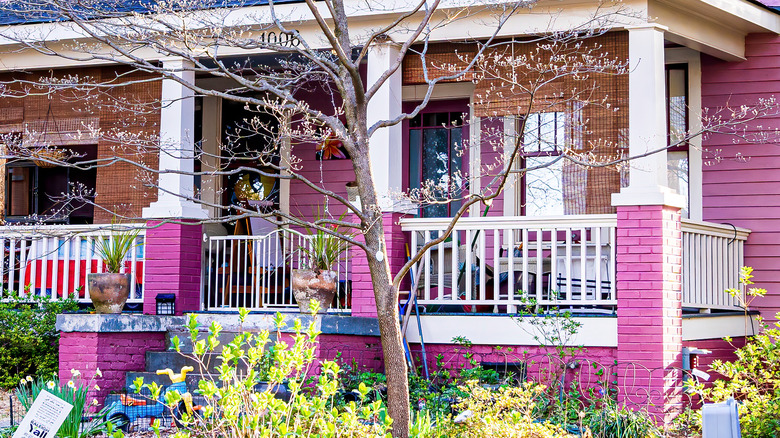 Wileydoc/Shutterstock
Although you might be hesitant to paint brick, it can sometimes be the only reasonable choice when the surface is too damaged. At the same time, this pretty pink, which is wonderfully cheerful and delightfully uplifting, definitely makes a case for grabbing a bucket of paint and getting right to work.
15. Bright blue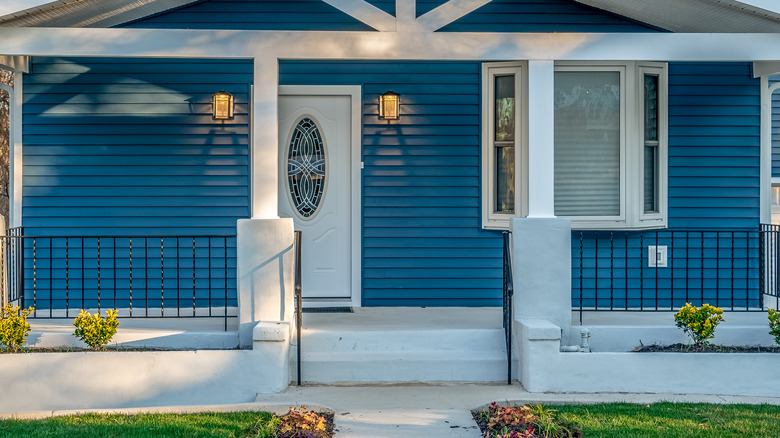 tokar/Shutterstock
As calming as a clear sky and yet as lively as the ocean, this bright blue is certainly stunning. A color that you could use in any room in your home, it also suits the exterior, which is why it works so well on a porch. Take things up a notch with white columns and black railings.