The Best Type Of Lighting For A Small Porch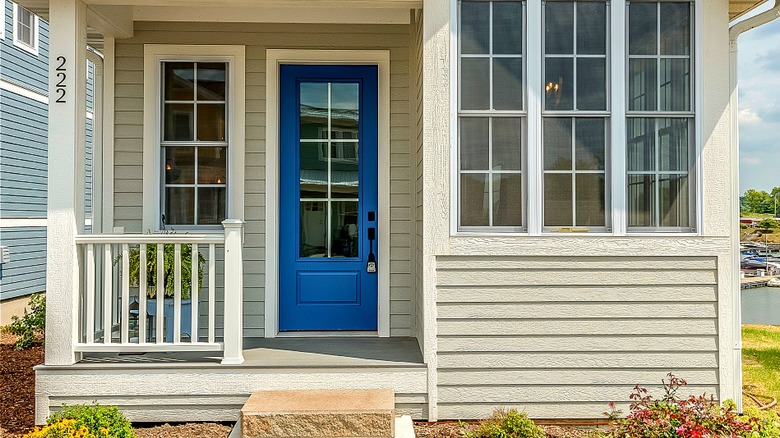 Pc Photography/Getty Images
Spring is just around the corner and we're ready for more sunshine and warmer days! But, are you? Nicer weather means more time spent outdoors, so it's important to have a spot where you can sit and relax as you watch the sunset. For many of us, we can be spotted reading a book or scrolling through our devices on our front porches. This area of the home is probably the most fun to style because of the different types of décor used to create a cozy yet elevated design. You can easily incorporate an area rug, different types of seating, artwork, and most important of all, lighting.
Once the sun sets, though, you don't want to be left alone in the dark. Lighting is a crucial interior design component that can not only complement your aesthetic but also improve functionalities. However, there are countless lighting choices to choose from, and each one works best in different spaces. Here, we'll take a look specifically at lighting for small spaces, revealing which light fixtures are the best choice to brighten up the beauty of your small porch.
Best options to accommodate a small space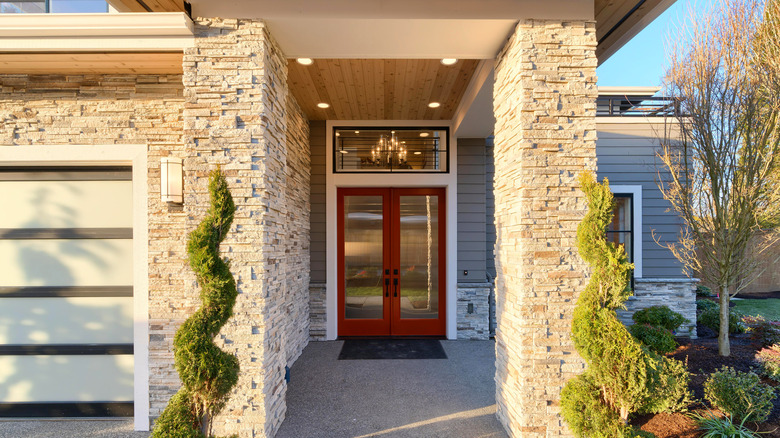 Artazum/Shutterstock
Wall sconces present a great lighting choice if you're working with a small front porch. They can also easily be attached to most materials, such as brick, aluminum, and wood. Additionally, when dealing with a small space, you may not want to overwhelm it with too much lighting, and wall sconces are a great option if you'd like to create a calm atmosphere. This light fixture is also available in many different styles. If you're working with a modern aesthetic, we suggest using something spherical. However, those who desire something more traditional may be happy with a lantern design.
However, if you have minimal wall space, recessed lighting may be your best choice. This is a flat light fixture that's installed into the ceiling and you don't need that many to brighten up a space, especially one with smaller square footage. Recessed lighting also comes in a variety of finishes to complement different wood tones and paint colors.
Best types of light bulbs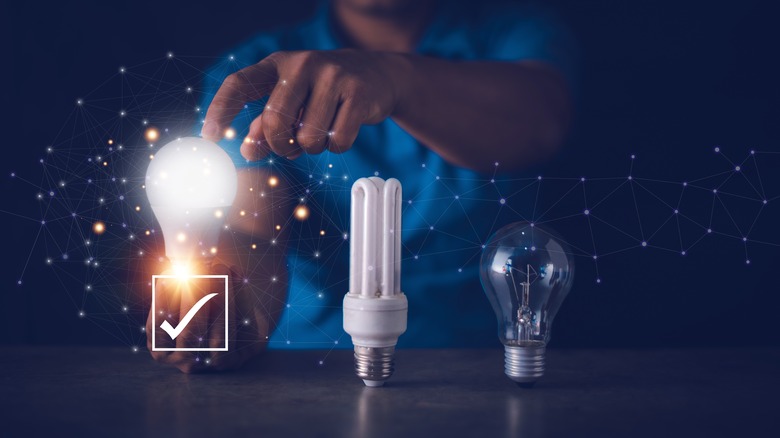 krungchingpixs/Shutterstock
With this said, it won't matter how stunning your fixtures are if you don't use the appropriate light bulbs. A popular option amongst consumers is LEDs, which are considered one of the best light bulbs for outdoor use. This is due to a variety of reasons, including its longevity. These bulbs typically don't need replacing for 50,000 hours, which equates to about 25 years. LEDs are also much brighter, which can be a helpful feature for those who live in a secluded, dark area. However, an LED bulb at full strength may be too bright for a small porch, so we suggest choosing a dimmable option. Not all LED options have this feature, so be sure to read the product description before purchasing.
LEDs are also known for their durability and resistance to different weather conditions, and they can be installed in most types of fixtures. However, if you're unable to get ahold of LED light bulbs, compact fluorescent and halogen bulbs are also commonly used options. We do suggest staying away from incandescent bulbs because they're typically unable to handle different weather elements unless installed inside a fixture encased with heavy glass.