Blue Vanities Are The Latest Bathroom Trend, But Experts Warn Against Buying Into The Hype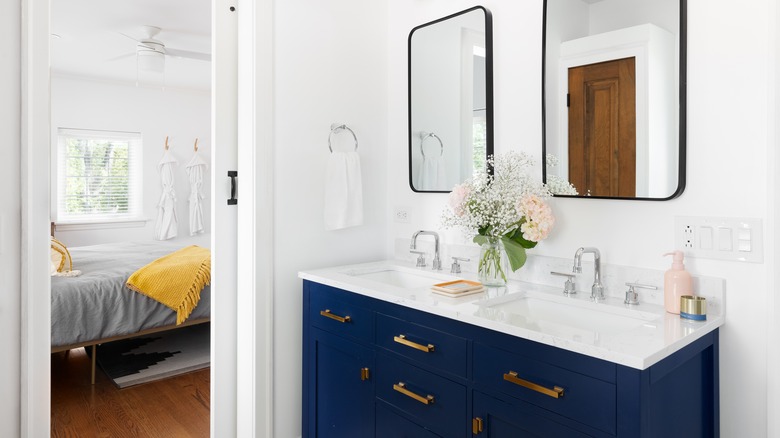 Hendrickson Photography/Shutterstock
Vanities that provide a strong pop of color have become popular in home decor for the personality they add to the space. People want to be bolder in their home design and bright colors on statement furniture pieces are an easy way to achieve that. Since Classic Blue was the color of the year in 2020 (per Pantone), blue vanities have been an example of this trend with people wanting to do something different by stepping out of the traditional colors.
This trend can be done in various ways, from navy blue for an elegant look to a very light blue that blends into a white background, but bright blues are the most common to achieve that bold pop. While such shades can add cheer and life to a space, you might want to think first before hopping on the bandwagon when it comes to your bathroom vanity. Here's what you need to know about the blue vanity trend and why experts are warning against it.
Expert insights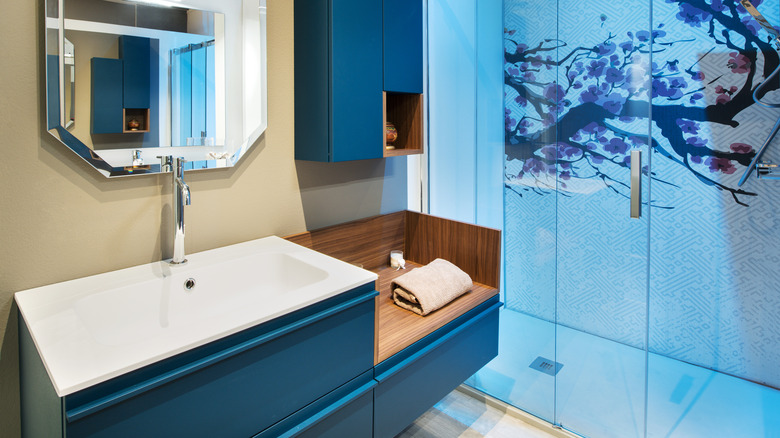 Photology1971/Shutterstock
The downside of a blue vanity is that it can overpower the rest of your bathroom. This trend features solid bold hues, which can be great for making a statement, but difficult to merge with the other aspects of the space. You might not be able to match things like counters, tiles, and other accessories to that blue vanity and find yourself limited to muted colors for virtually everything else.
Another reason to be careful with this trend is its longevity. Bold colors tend to get old fast in terms of style, so opt for colors that are more timeless. They may also bring down the value of your home if the color isn't appealing to those looking to buy. For the same reason that bold paint colors need to be avoided in a home that's being shown — neutral colors make it easier for buyers to visualize themselves in a new space.
Alternatives to this trend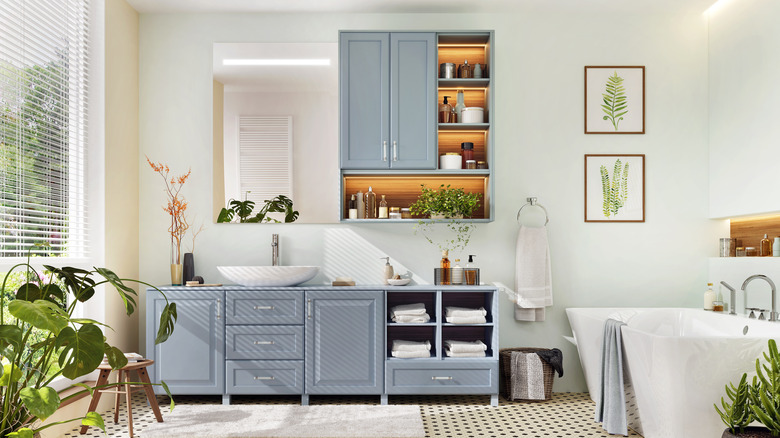 Sl-f/Getty Images
Instead of a statement blue vanity, try softer colors like white and gray. These neutral classics are safe choices that you can trust to last longer and fit with other aspects of the decor. If you really want blue, you can work with softer shades that won't overwhelm a space. You can also use blue as an accent wall behind the vanity instead. Paintable wallpaper is another great option for bathrooms that allows you to change the color scheme if you decide it no longer suits your decor.
Another alternative to a blue bathroom vanity is to find more flexible ways to add color and personality to the room. Floor mats, shower curtains, plants, and other bathroom accessories are some examples. They can be picked in whatever theme and color you want, but more importantly, they can be switched out whenever you get tired and want a change.