What Is Paintable Wallpaper And How Can You Use It In Your Home?
Crafting a personalized home full of unique details that are not overwhelming can be a challenge. Although it's advisable to incorporate different types of decor and break certain design rules, you may want to avoid introducing too many contrasting colors, shapes, and patterns, as this can lead to an overstimulating effect. So, what's the best way to add visual interest to a room while still allowing its furniture and other decorative elements to shine? Wallpaper has become a rising trend, especially mural designs used in kitchens or dining rooms. However, paintable wallpaper has also caught traction and has made its way into countless homes.
For those who may not know, paintable wallpaper usually depicts a raised pattern that can be painted over. This product can simultaneously introduce texture, color, and pattern, allowing homeowners to elevate their space without breaking the bank. However, you must first understand which installation and painting methods are best suited to secure a successful application and what patterns will work best in your home.
Material and patterns available
Most paintable wallpaper is made of vinyl. This material is very durable and can withstand the rigors of a bathroom, children's room, and kitchen environment. Paintable wallpaper is also pretty thick, so it can hide cracks and other flaws that make you dread gazing at your walls. Luckily, this versatile decorative tool can be used in many areas in your residence, such as in a hallway, on the ceiling, in a mudroom, or even covering your whole bedroom — if done correctly. Some homeowners find just a little bit goes a long way when crafting an eye-catching accent wall.
Paintable wallpaper offers plenty of options for homeowners looking to implement elegant patterns in their homes. There are sweet floral patterns perfect for a nursery, geometric styles for modern homes, wainscoting designs suited for a farmhouse aesthetic, and more. Although paintable wallpaper tends to be white, you get to decide which paint color you'll use to transform your home; dark or bold colors are best for dramatic designs, while subdued neutral hues will work better for those seeking a calming space.
How to install and paint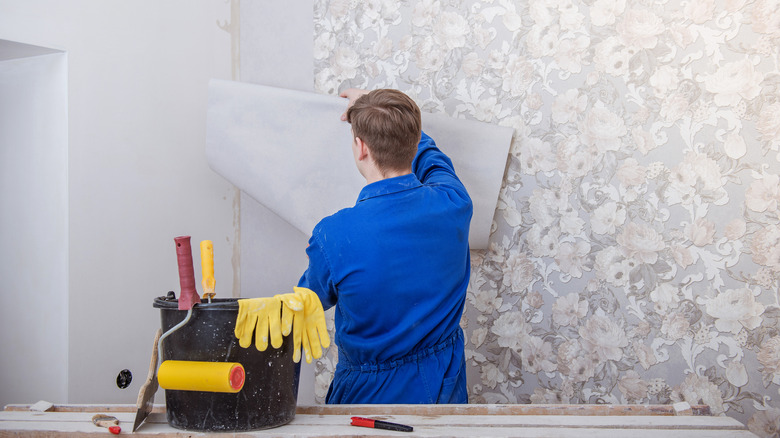 nata-lunata/Shutterstock
The prep work required when hanging printable wallpaper doesn't differ much from traditional wallpaper. However, it's important to note that different varieties are available with unique hanging instructions. For instance, the peel-and-stick option is a temporary version great for those renting a home. On the other hand, the "paste the wall" and "paste the paper" options are the most popular among consumers, especially those doing the project themselves. After prepping the wall, you only need to paste the paper or wall, put up your wallpaper, and smooth it out.
When painting this type of wallpaper, the process is just as simple, and you don't even need a coat of primer. After hanging it up, brush along the now beautifully textured wall with the paint color of your choice. While you can use any paint you'd like, it's advisable to go with a flat or eggshell finish to create a charming appearance that's not too overpowering.