Is Wicker Furniture Durable Enough To Last?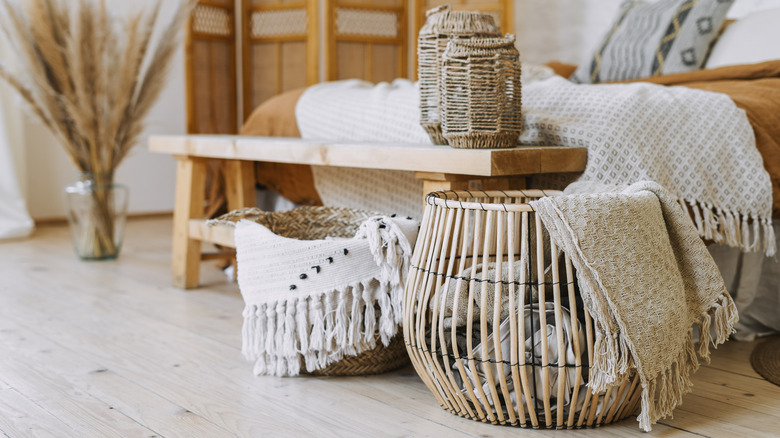 brizmaker/Shutterstock
Wicker furniture refers to furniture that is weaved from natural or synthetic versions of materials like bamboo, willow, rattan, reed, or cane. It is appealing in the world of home decor for its natural look and feel. It creates a connection to the environment because it can blend in, especially in the outdoors. Another advantage of wicker furniture is that it is light and easy to move around.
The right type of wicker is a great choice to hold up to harsh weather environments, unlike other materials like wood and iron. Materials that have coats of paint can also fade and peel, which you won't have to worry about with wicker furniture. The same goes for its durability. While wicker is generally known to be hardwearing, it actually depends on the material it's woven from and the method of construction. Here are some of the things you need to look for to determine how durable a piece of wicker furniture is.
Check the material type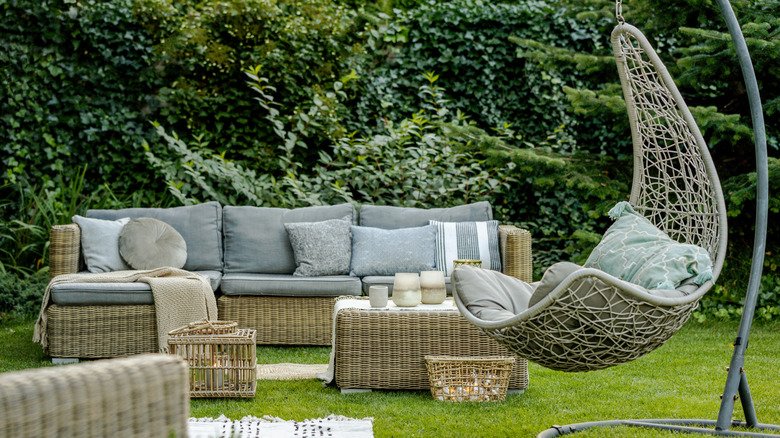 Ground Picture/Shutterstock
The first thing to determine the durability of a piece of wicker furniture is its construction material. Natural wicker furniture may be attractive and comfortable, but it isn't built with a lot of added materials. This makes it more susceptible to breaking down when exposed to elements like heat, sun, rain, and moisture. Natural wicker isn't durable enough to be kept outside and is better used as indoor furniture. If you really want to have it outside, ensure it's covered properly when not in use.
Synthetic wicker furniture, on the other hand, is perfect for outdoor use since it is made to withstand fading, peeling, and discoloration. Materials such as high-density polyethylene (HDPE) and low-density polyethylene (LDPE) are impervious to moisture and the sun's powerful UV rays. However, synthetic wicker can still be affected by dirt, dust, and other debris, so it should be regularly dusted and cleaned.
Check how it's made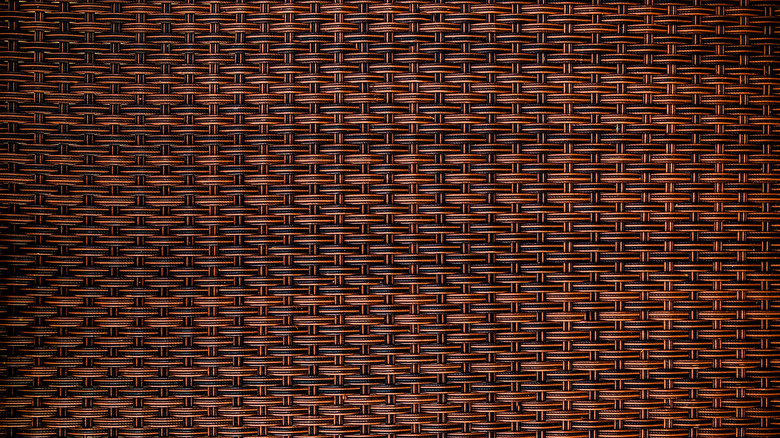 Nadtochiy/Getty Images
Another thing that you need to consider is how the furniture is made. Before you make a purchase, inspect its appearance, weave pattern, and frame. If the weaves are uneven and the wicker looks shiny or thin, then the item was probably made of low-quality materials. Check the structure of the item as well. Is the frame thin or cheap-looking? Then the furniture is more likely to break quickly.
The price will also give you an insight into its quality. Wicker is typically on the expensive side in terms of furniture, due to the cost of the materials and the process of weaving and production. The frames are usually made from aluminum, which is also pricey because of how durable it is. Natural wicker will also be more expensive than synthetic. If you see a price of around $4,000 or more for a full set of wicker furniture, then it is a good indication of its quality.