Outdoor Wooden Furniture Fares Better With Protection From Humidity
Alessandro Cancian/Shutterstock
No matter what time of year it is, everyone aims to have a beautiful outdoor space that allows them to enjoy the season's true colors. Part of what makes up a comfortable and beautiful outdoor living area is well-placed and well-maintained outdoor furniture. If you're looking for a classic material that never really goes out of style, you can't go wrong with wooden patio furniture. Wood furniture provides a comfortable, adaptable, and reliable lounging experience without detracting from the beauty of nature in the way that plastic or metal furniture does.
Unfortunately, wood isn't the most durable material under the environmental pressures of sun, snow, wind, and rain. As a living material, it's practically designed to biodegrade over time. Humidity, in particular, can be detrimental to wood furniture, especially when it reaches above 60% and penetrates deep into wood fibers. High humidity causes wood to warp, crack, and even sprout mold and moss. Worst of all, damaged wood produces splinters, which can certainly ruin your whole outdoor experience. If you want to keep your outdoor wooden furniture looking and feeling fresh all season, follow these steps to protect it from humidity. 
Add a layer of protection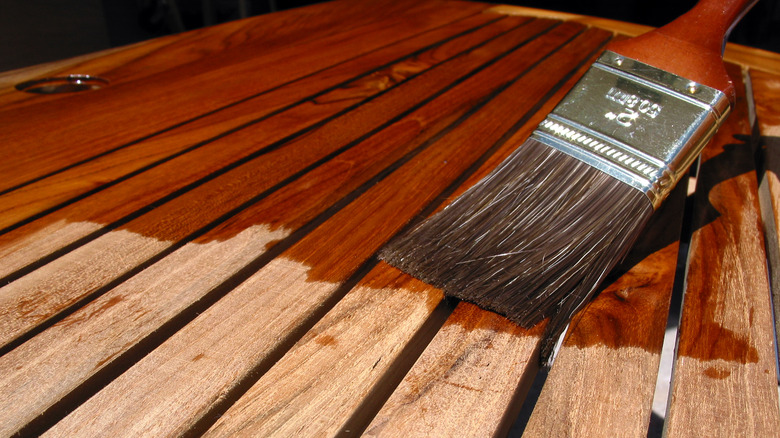 SmarterMedium/Shutterstock
There are a few ways to extend the life of your wooden furniture, but the first and most important step is to make sure the wood itself is protected. Never leave your outdoor furniture unfinished, as this is just asking for it to absorb water and rot quickly. Preventing mold and warping problems is much easier than trying to fix them! If your furniture doesn't already have a weatherproof coating, finish it with an outdoor-approved wood stain and seal it with a coat of polyurethane, lacquer, varnish, or tung oil. An exterior wood furniture paint can also work for this, but it may be more prone to chipping and peeling in the harsh summer sun. 
If you think about it, wood is designed to lock in moisture, ebbing and flowing with the life of the tree. As a result, your furniture will expand and contract with relative humidity, so the best time to refinish and coat your wood furniture is during the dry, sunny season. This will ensure that your wood is as dry as possible and you aren't sealing in too much moisture under the top coat. After applying your sealant or paint, allow the piece to dry completely indoors, in a garage, or under a covered area before placing it outside. 
Follow some helpful habits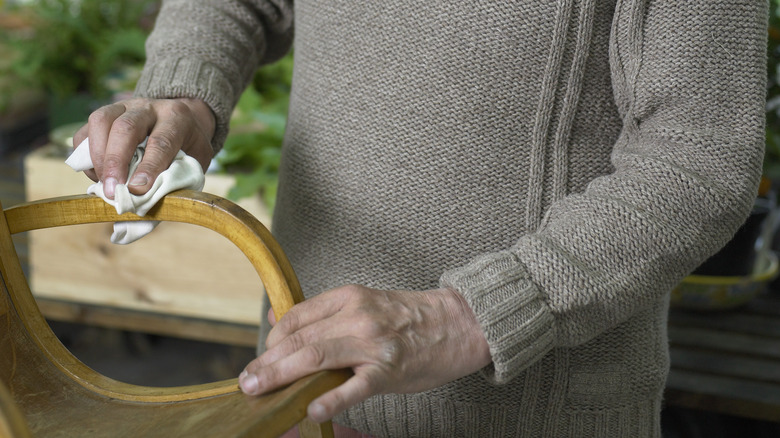 Michael Blann/Getty Images
You can't control the weather, but you can control your reaction to the weather. When rain and high humidity strike, store wooden furniture indoors or in a covered but sunny area, such as under a patio umbrella or awning. Check your wooden furniture frequently for any swelling, warping, or rotting spots. There isn't much you can do to repair warped and rotting wood, but you can be aware of potential safety issues and prevent the problem from getting any worse. If a single beam or support piece is rotten, replace it as soon as possible to avoid spreading mold and moss to other healthy beams. 
If you notice mold and moss forming on the surface of your furniture but feel like the inner wood is still very strong, you can remove the outer growth. To remove mold and mildew, wear gloves and a mask and spray the furniture liberally with a fungicide. You can also make your own solution with diluted soapy water, bleach, or white vinegar — just be sure never to mix bleach with vinegar! Gently soak the furniture for several minutes, then scrub with a toothbrush or soft-bristled brush. Wipe away loosened mold with a damp cloth and allow the furniture to dry in the sun before refinishing or placing outside. Eventually, you will probably need to sand and refinish or repaint the wood furniture pieces, but think of this as an opportunity to refresh your whole patio vibe!