20 Versatile Design Ideas To Brighten Up Your Basement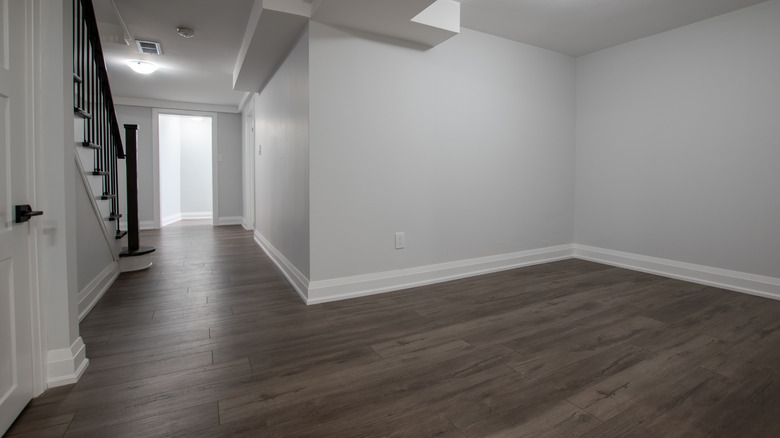 alexrusso_snaps/Shutterstock
From game rooms to kitchens to guest accommodations, basements have proven to be quite versatile. However, it can be a difficult space in which to get the design just right, especially if you have issues with climate control and natural lighting. When you look at an unfinished or partially finished basement, you might see a dark, cold, and scary habitat as opposed to an open blank canvas with unlimited potential. 
Luckily, we have done some digging for design ideas that'll brighten up even the most dismal basement. You might be surprised when you see how some minor changes can make a big difference in this space. So, once you have determined a purpose for your basement and have organized your budget, you can start making the necessary changes to wall color, flooring, lighting, and if possible adding a window or two if you don't already have a source of natural light.
1. Light up the corners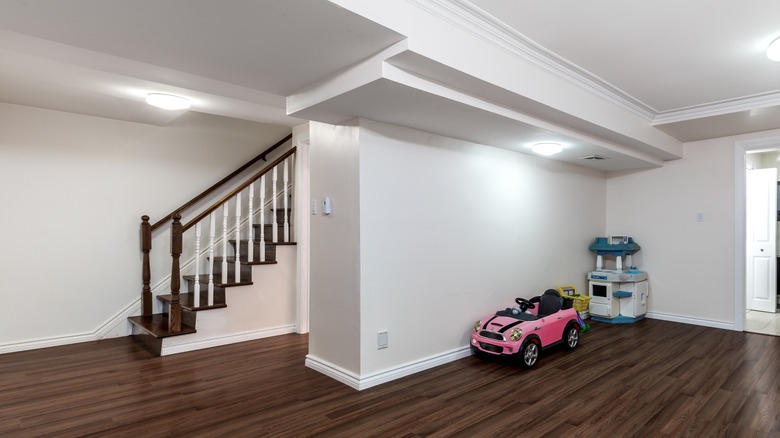 Anatoli Igolkin/Getty Images
Basement corners can be the most difficult to illuminate, but there are plenty of solutions. For instance, you can opt for fixtures that sit flush with the ceiling for wide spaces. Likewise, track lighting provides lighting for the outer edges of the basement and for stairways. Don't forget about decorative options like lamps and wall sconces.
2. Play with a variety of shades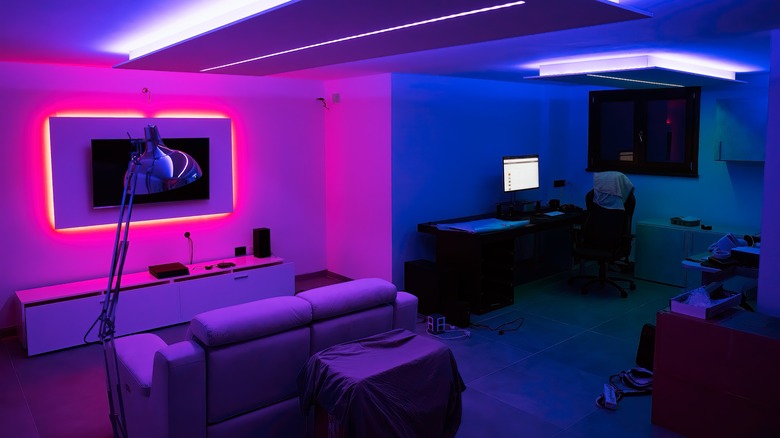 GagliardiPhotography/Shutterstock
Whether through paint colors or playing with lighting, you can brighten up the place by integrating various shades of the same color. One tip is to use lighter tones for smaller areas, especially if your basement doesn't have any natural light. For instance, light grays and off-whites work well in a semi-gloss. 
3. Go monochromatic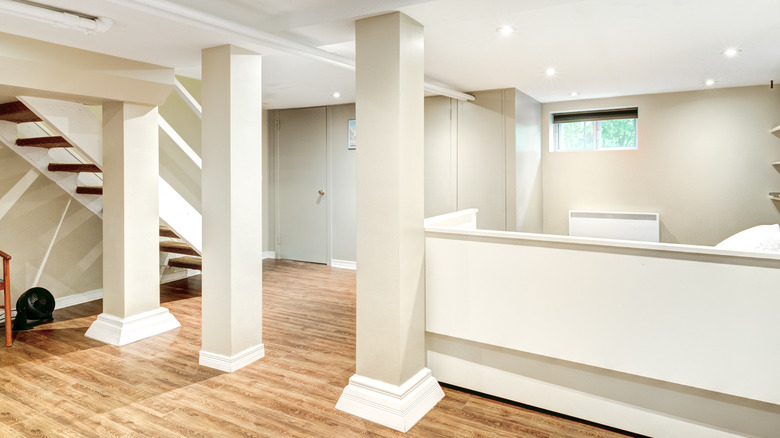 Anatoli Igolkin/Shutterstock
Nothing adds to the brightness of a room like monochromatic white or light gray. Or you can try light colors with yellow undertones for a brighter look. This design choice also carries over to the choice of furniture, an having a uniform look makes the area feel more open and spacious. 
4. Style the walls with artwork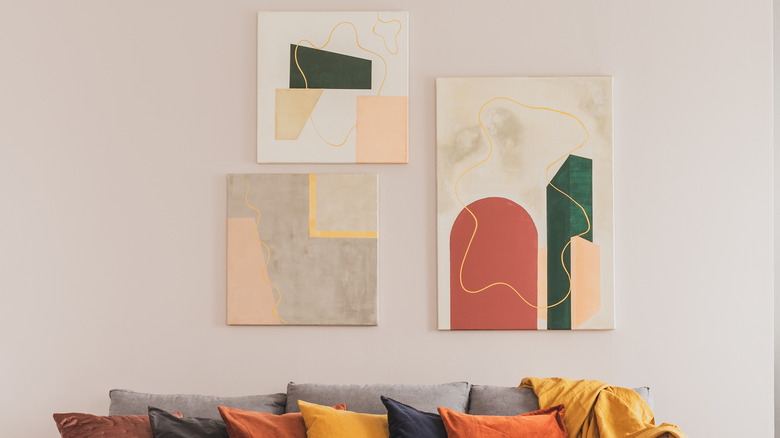 Katarzynabialasiewicz/Getty Images
Adding bright paintings or photographs offers more cheer and warmth to the basement. Moreover, when you hang landscapes on the walls, you're bringing a sense of the outdoors, which works well for basements that have no windows. Also, consider adding light fixtures to further illuminate the pictures.  
5. Blend in some luster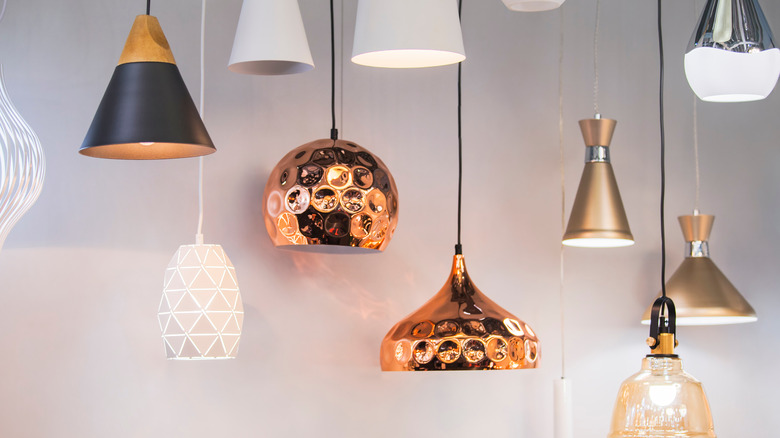 Olga Prava/Shutterstock
Another brightening solution is to install a lovely set of light fixtures with metallic finishes. When they are strategically placed, they not only add to the brightness of the room, but they also reflect off of each other. From nickel to copper, metallic accents make the area feel more open.
6. Keep window areas clear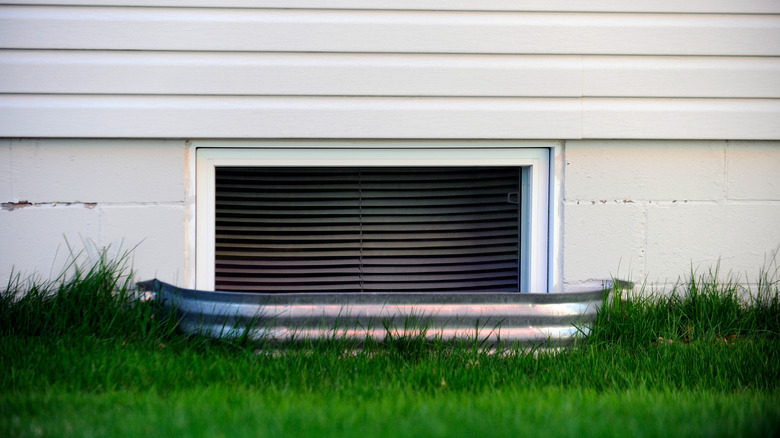 Pascal Huot/Shutterstock
If you're fortunate enough to have windows in your basement, you'll need to ensure that these outdoor spots stay clear of vegetation and debris. Overgrown grass can block out valuable, natural light along with fallen branches and thick shrubs. So keeping a well-manicured garden plays a big role in brightening up the basement.
7. Enlarge or install windows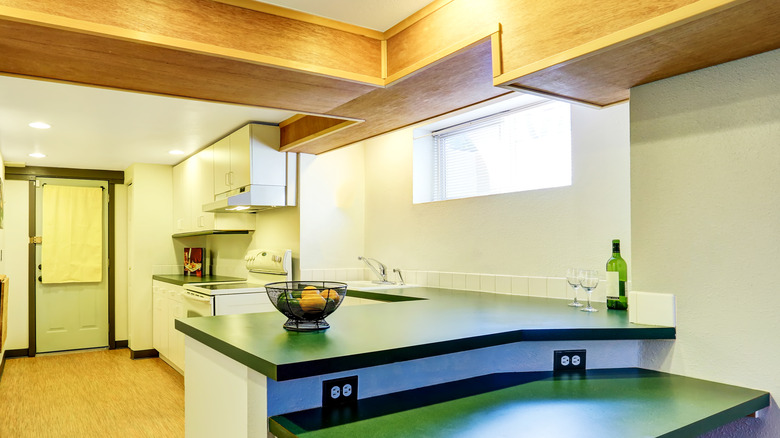 Artazum/Shutterstock
If your home's structure allows for it, consider enlarging your basement windows or installing windows where there are none. Artificial light works wonders for a dark space, but natural light adds a certain cheeriness while saving on electricity. Plus, windows give you more decorative options with sheer curtains or shades.  
8. Add a bright accent wall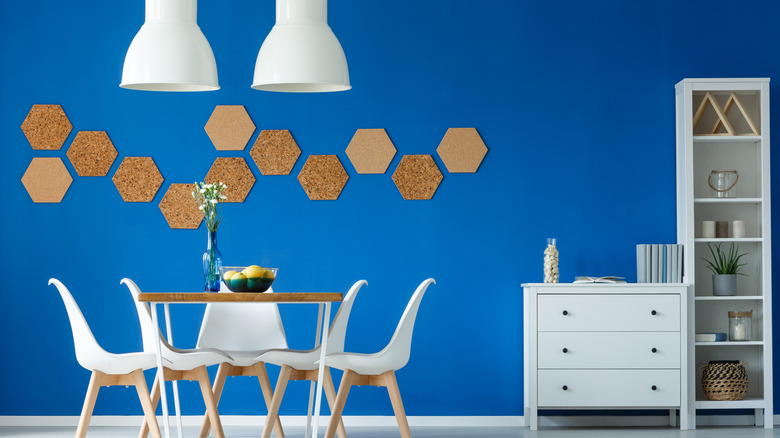 Ground Picture/Shutterstock
Accent walls aren't just for the upstairs. If you want a backdrop for your artwork or shelving, then paint an accent wall in a bright hue. Likewise, keep your basement's purpose in mind. For instance, purple or indigo work well for a home theater. For craft or playrooms, try a bright green or yellow. 
9. Change your flooring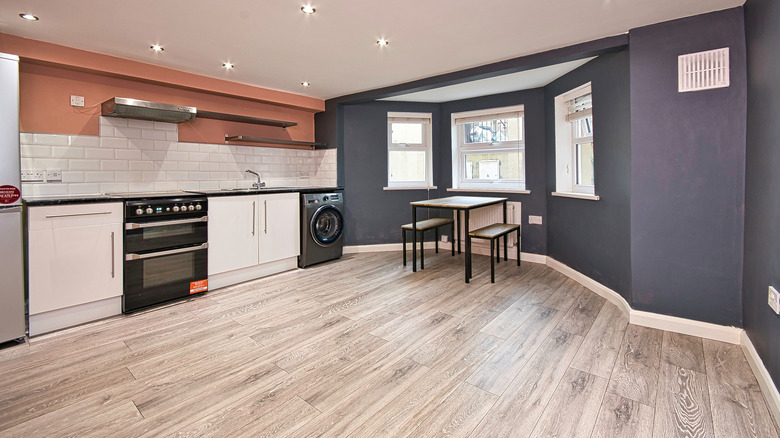 property-exposure/Shutterstock
You can also go for a lighter shade in flooring, like off-white laminates or tile. If you opt for keeping the concrete floor, add a bright-colored area rug with a whimsical pattern. Or if you're going for warmth, a carpet in sky blue opens up the space.
10. Integrate whimsical colors
You can integrate all your favorite colors in a pattern on a backsplash or on an accent wall. A combination of coordinating hues adds brightness to an otherwise dull room. If you don't want to commit to anything permenant, you use throw cushions, rugs, and other accessories to incorporate brighter colors.
11. Create a statement ceiling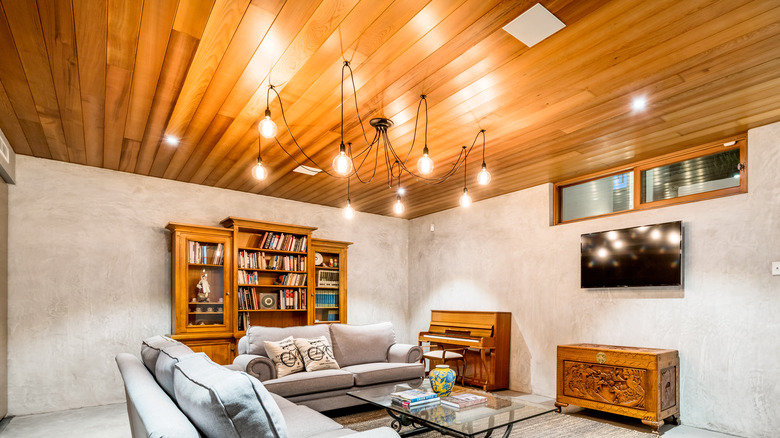 bmphotographer/Shutterstock
Because our eyes venture upward when we enter a room, the ceiling makes an impression, especially for a basement. Try creating a ceiling that adds brightness to this space. Purpose also comes into play and wood panels or beams can enhance a bar or billiards room, whereas a white ceiling works well for a home office.
12. Go semi-industrial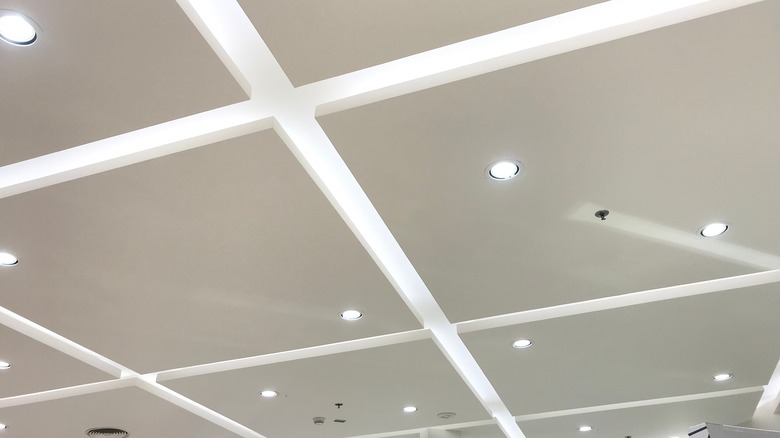 Murugesan Sundaram/Shutterstock
If your basement's ceiling is not quite finished, why not embrace this look? The contrasting textures in a light tone would make the ceiling look taller and brighter. Another consideration is the faux ceiling which comes in more versatile designs and shapes. Paired with the right lighting, ceiling panels can brighten up a room.
13. Declutter the entire space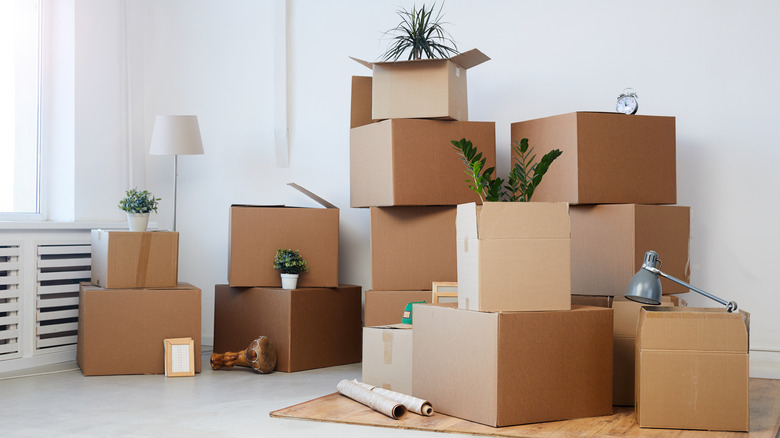 SeventyFour/Shutterstock
If you've been using your basement primarily for storage, you might have noticed how closed-in the space feels. With that in mind, it's time to clear out the clutter or at least reorganize it to help spruce up the room and prepare it for more changes if necessary.
14. And add some storage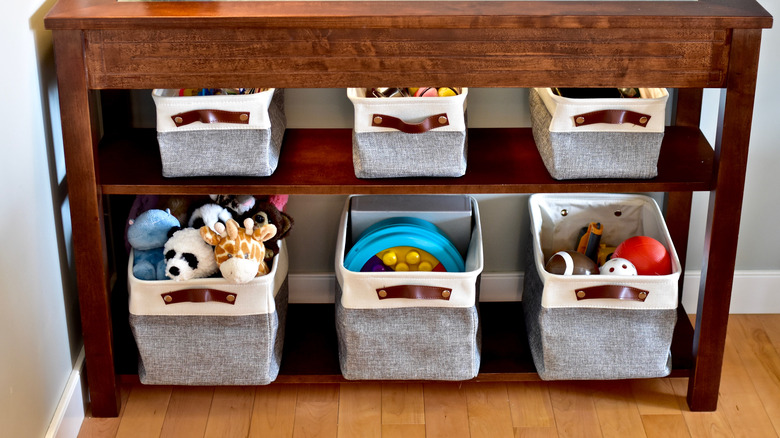 Klem Mitch/Shutterstock
Once you've decluttered the basement, then you can find creative storage solutions that are not only practical but also aesthetically appealing. Shelving units with wicker or canvas containers make for a decorative catch-all for toys. Alternatively, you can use curtains or screens to hide items in a corner or unused area.
15. Make the staircase stand out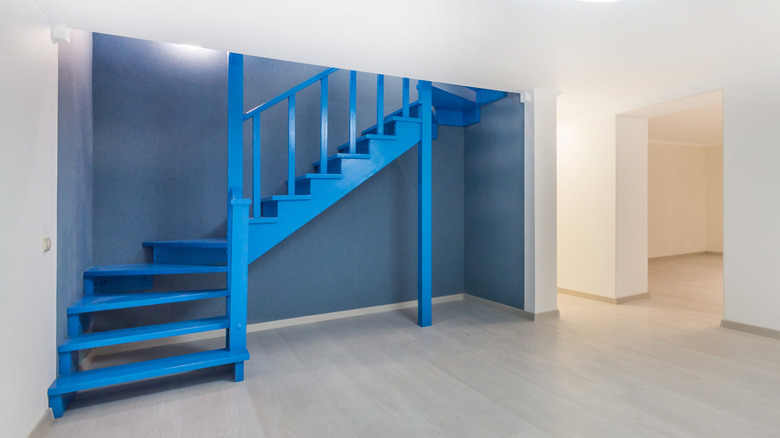 Alhim/Shutterstock
A substitute for the accent wall is the conspicuous staircase. The stairs provide another opportunity to brighten up your basement once it's painted with an electric blue or a cheerful orange. Either way, finding a fun hue to coordinate with the rest of the space can add new life to a once dark basement. 
16. Get reflective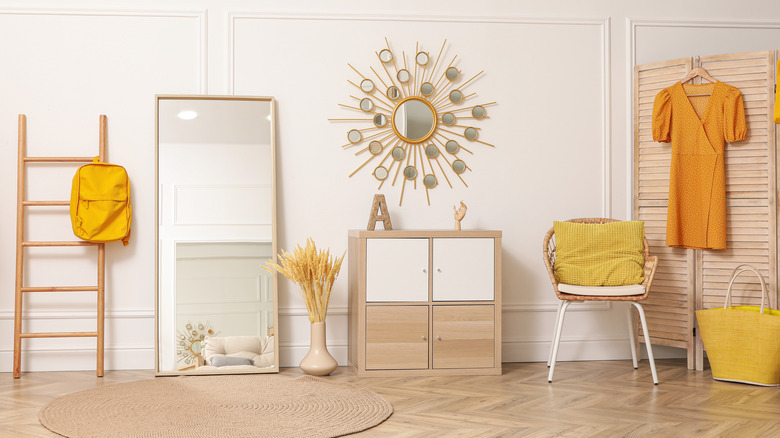 New Africa/Shutterstock
Along with glossy and metallic accents, you can include mirrors in your decorative scheme. Mirrors give a small space the optical illusion of being bigger. Plus they reflect light to where your basement would be further illuminated. With so many decorative shapes, sizes, and frames, you're bound to find mirrors to enhance your basement's visual appeal.
17. Strategically arrange furniture
Another tip is to furnish your basement in proportion to the space's size. If the furniture is bulky, then the basement might feel closed in. Moreover, if you make use of its natural dividers, like posts and walls, you can space out chairs, tables, and loveseats to where the area feels more open.
18. Cue in the contrast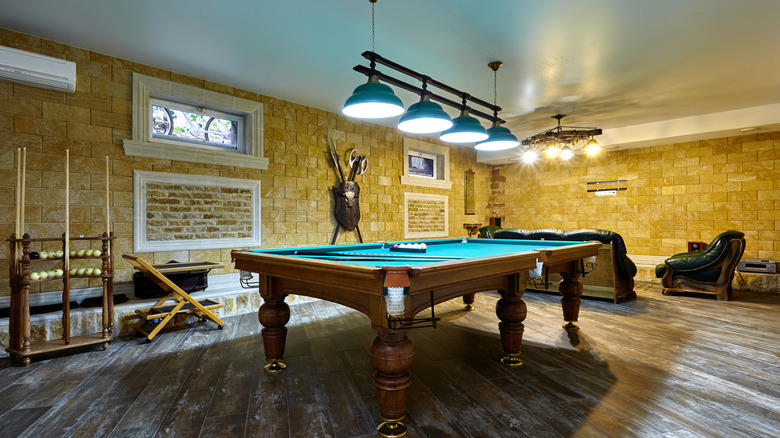 Stelmakh Oxana/Shutterstock
Aside from pairing dark shades with lighter ones, you can emphasize the contrast in texture and finish if your basement has brick walls and smooth flooring. Additionally, if you decide to use contrasting colors, these can serve to bring out the differences in the surface texture and brighten up stone or concrete walls. 
19. Decorate it like the rest of the house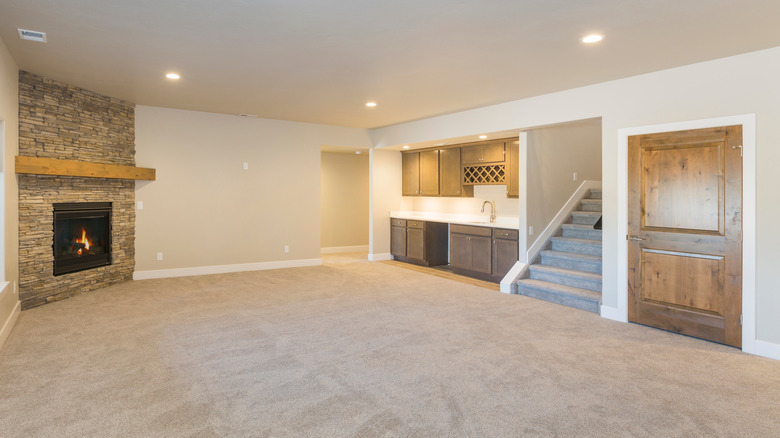 Neil Podoll/Shutterstock
Your basement doesn't have to feel disjointed from the rest of the house. You can keep the same color and design motif as the other rooms. When you walk down the stairs to enter the basement, you'll feel more of a continuous flow if this space matches the upper levels. 
20. Select a fun theme
You can also try incorporating some fun themes into the décor if you wish for a separate space. If you're a traveler, for instance, style the walls with photos of your favorite destinations. For a home theater, you can go cinematic with movie posters, which still brighten things up.