The Common Mistake You're Making When Choosing A Paint Shade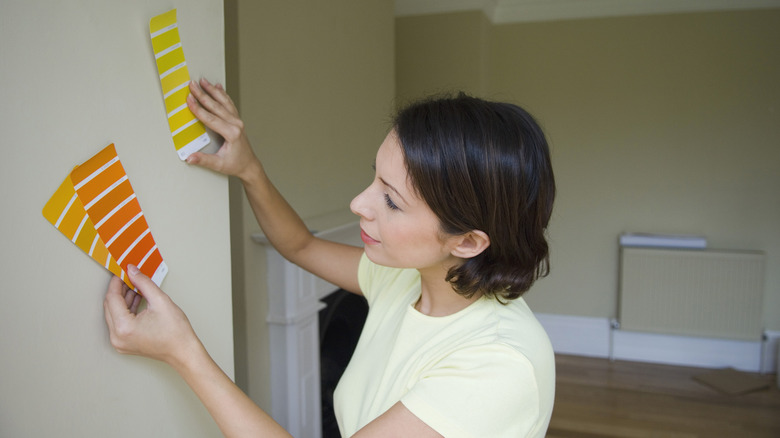 Simon Potter/Getty Images
Having a blank canvas to fill can be a daunting but also exciting home décor project. Perhaps you want to try out the latest paint trend, or you're finally in the last stages of a renovation. Either way, there are many mistakes to avoid during the painting process, from selection to execution. Two common ones are not having a general color palette for your home and no inspiration piece in the room.
A color theme for the entire aesthetic ties everything together and gives you a blueprint to go off of in the different rooms. No matter how close or far you end up to the palette, its guidance goes a long way when making specific choices. Having a key piece to center a room around also helps. A painting or a rug can start you off and keep you centered when choosing accessories and wall colors. As you search for the next paint color to liven up your space, here's another mistake to avoid so that it meets your expectations.
Stop using paint swatches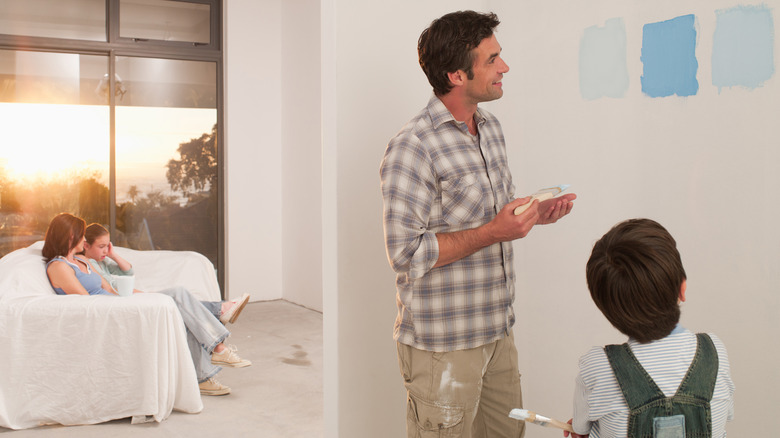 Martin Barraud/Getty Images
The common mistake you make when choosing a paint shade is how you test the colors. Everyone samples the colors in the space they want to paint, but they don't always do it efficiently. Instead of bringing in the paper strips with the paint color and holding them up against your wall, you should apply the paint and leave it for some time. Without having it directly on the wall, you won't be able to have an accurate image of how the paint color will look.
This helps you see how it looks with the wall's texture and in different lights and times. How you see the color during the day won't be the same at night or early in the morning. You should also test the paint in different areas if you're painting all the walls in a room because they will have different lighting. Try painting squares of about one square foot when testing out paint shades this way. Also, apply primer and how many coats you would use if you were doing the actual paint job to get the most accurate picture possible.
Additional tips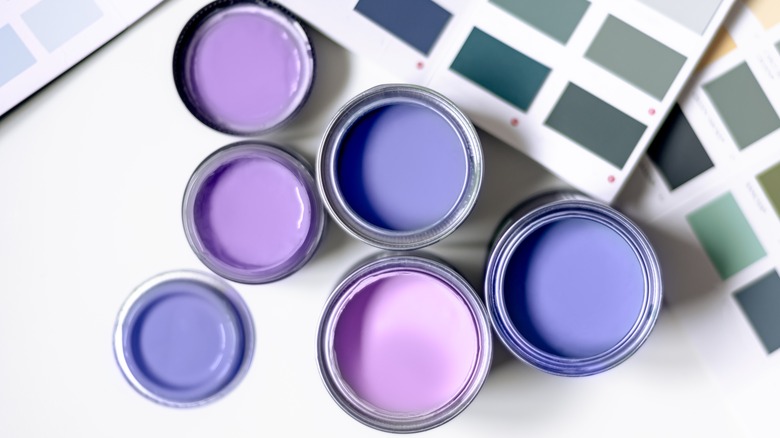 Anna Mente/Shutterstock
If you're working on the entire room, the flooring and lighting need to be finished before you test the paint on the wall because these three elements need to work together. Another reason to finalize those two before deciding on the paint is that wall colors are the easiest piece to adjust. Consider testing out finishes as well. You'll be able to see if you have the desired shine and how well it deals with dirt and scratches. Keep the paint squares up for a while to notice how the color makes the room feel. Does it have a cool or warm undertone? Does it fit the vibe you're trying to create in that room?
Even though paint swatch strips are complimentary, buying some paint for this purpose is worth the simple investment because it saves you the headache of needing to change your walls immediately after the paint goes up. Small paint cans usually cost around $10, but you might be able to get them included if you use a paint company.