Vessel Sinks: How To Know If They Are Right For Your Bathroom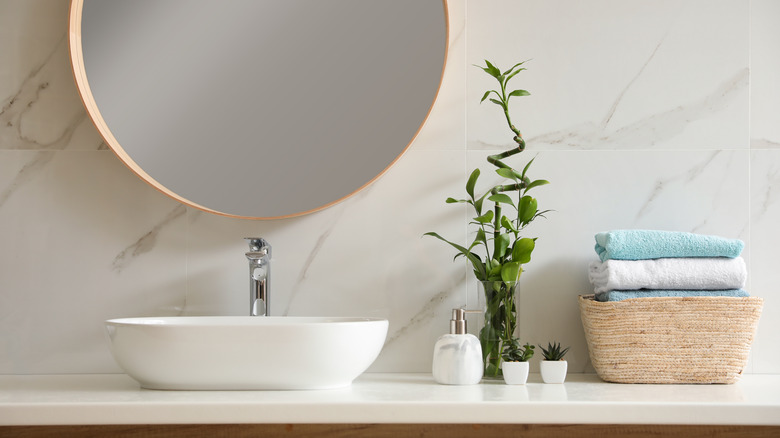 New Africa/Shutterstock
Unsure if your bathroom vanity is suited for a vessel sink? Well, there are a few things to consider before making your selection. First, who are you designing the bathroom for? If the answer is your child, you may want to reconsider. Unlike adults, children don't tend to be as cautious with fragile fixtures around the home. Because this one would be installed on top of a countertop, the edge is more susceptible to damage than a traditional sink. So, if the material you choose wasn't created with durability in mind, it can break when hit hard enough.
Additionally, since the outer surface of a vessel sink is more exposed than a drop-in sink, it tends to collect more grime, such as toothpaste, soap residue, and hair. So, a vessel sink may be something to avoid if you don't care to add another task to your long list of bathroom cleaning chores. However, this fixture may also be an ideal option for your bathroom, depending on various other functional and interior design needs. If you're unsure whether or not this type of sink is suitable for your space, we'll let you know home to avoid making the wrong choice for your home.
Countertop material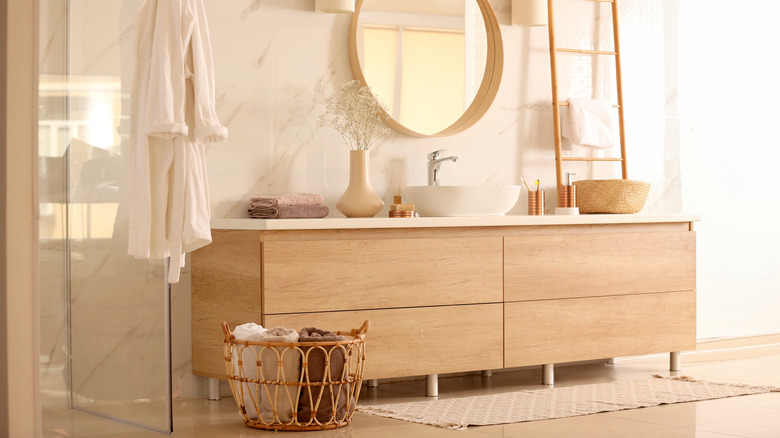 New Africa/Shutterstock
We mentioned before that a vessel sink typically needs to be cleaned more often than other options. In addition, it also tends to allow for more splashing, which can form puddles on your countertop. So, although you may not mind occasionally wiping water off your vanity, the type of material your countertop is made of may become a dealbreaker. 
Anything made of marble or granite will not be able to withstand constant exposure to moisture due to being very porous. To prevent damage, you must regularly maintain your countertop by resealing it every year or two and using cleaning products that prevent discoloration. However, if you are genuinely in love with the look of vessel sinks, we suggest combining it with a quartz countertop, which is water- and stain-resistant. Quartz also offers various styles that mimic marble and granite, so you can create a similar design that is durable enough to withstand daily use in a high-traffic bathroom.
Consider size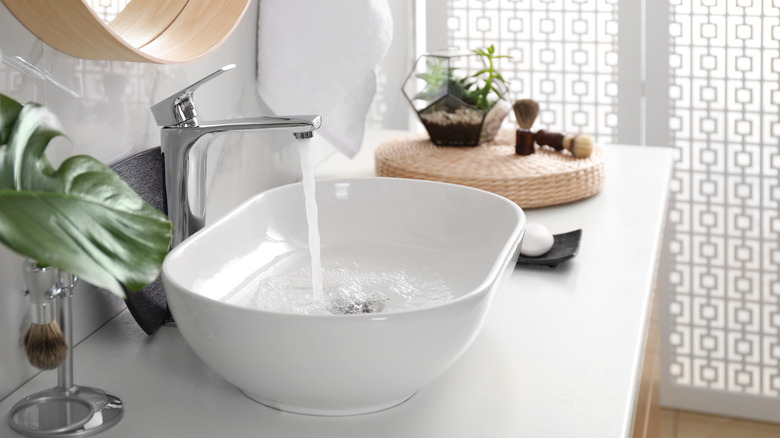 New Africa/Shutterstock
It's also important to consider the size of your space. It may seem irrelevant when dealing with a sink installation, but since a vessel sink is more dimensional than other options, it could end up hindering the functionality of your bathroom. Typically, a vanity with an under-mount sink is a total height of 36 inches. So, if your vanity is already about 33 to 34 inches high, a vessel sink may make routine actions more difficult if you are of average height.
The typical vessel sink usually rises about 5 to 6 inches above the vanity's surface. So, if your vanity is about 29 to 30 inches tall, this type of fixture may be the best option to improve your space's performance. Additionally, adding fixtures and decor of differing heights can help create interest in a room and a sense of layering. So, a vessel sink may be a good solution if your bathroom looks bland and lacks dynamic scale.