Should Your Kitchen Island Match Your Other Countertops?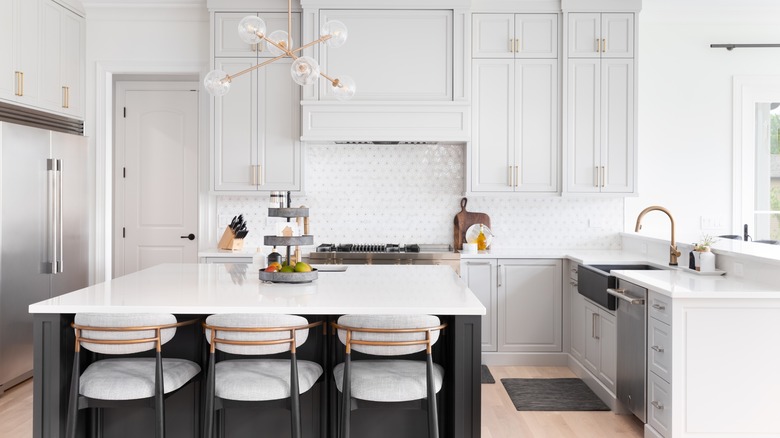 Hendrickson Photography/Shutterstock
If you're looking to install or upgrade a kitchen island, you'll likely try to find a design that complements your existing countertops. However, while most spaces employ matching surfaces, your kitchen island can be used to create a unique contrast. While using a different material can be pivotal in elevating a mundane space, incorporating congruent surfaces can lead to a more cohesive design. So, how do you pick the best option? Whether your kitchen features an open concept, galley, or u-shape floor plan, define the essential functions of the structure. The material and color scheme can then be determined based on how the island is utilized.
Do you have kids or do a lot of food prep on your island? If so, a porous, less durable surface is not recommended. "Low-maintenance materials like quartz, quartzite, and granite are ideal for kids, cooks, and rental properties alike," says designer Erika Jayne (via Homes and Gardens). Other materials like marble, wood, concrete, and stainless steel are also great options for those with durability and practicality in mind. However, aesthetics are another compelling piece of the puzzle. As such, a compact kitchen may benefit from a charming pop of contrast in terms of countertop materials, whereas larger rooms may benefit from matching surfaces that ground the space.
Choose hardwearing surfaces for a distinct island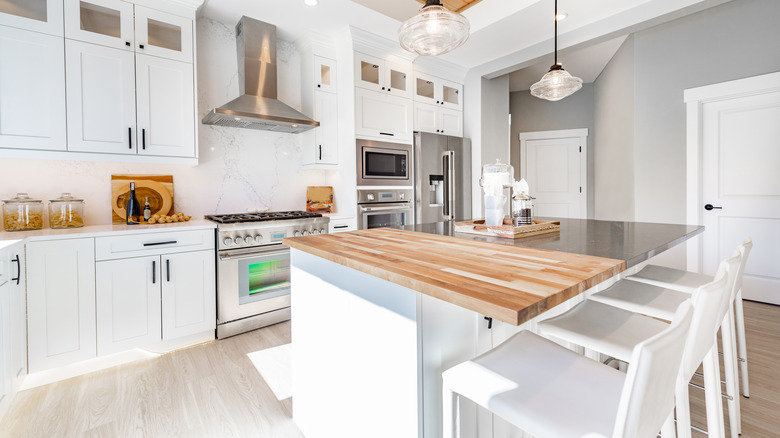 Sheila Say/Shutterstock
Incorporating a durable, heavy-duty countertop makes sense if you frequently use your kitchen island like you're on a competitive cooking show. Stainless steel, concrete, or butcher block are all stellar options for those with longevity in mind. The latter material is a warm, captivating option made for everyday food prep while significantly more durable than granite. Resilient and easy to maintain, butcher blocks come in a variety of shades and designs to choose from while providing a characteristic contrast if your other countertops sport another material. You might showcase one whole block or juxtapose a portion alongside a smooth black or gray quartz top, as pictured above.
If you don't wish to match your island with your countertops, you can make your kitchen's centerpiece stand out. Displaying dark and light contrast is a classic way to enhance the visual presence of your island. If opting for a stainless steel surface, you might employ opposing hues like white, gray, blue, or black for surrounding surfaces. Consider a gray concrete island for a rustic vibe, as this would sit well against other neutral tones like white, brown, tan, and black.
Create symmetry with low maintenance materials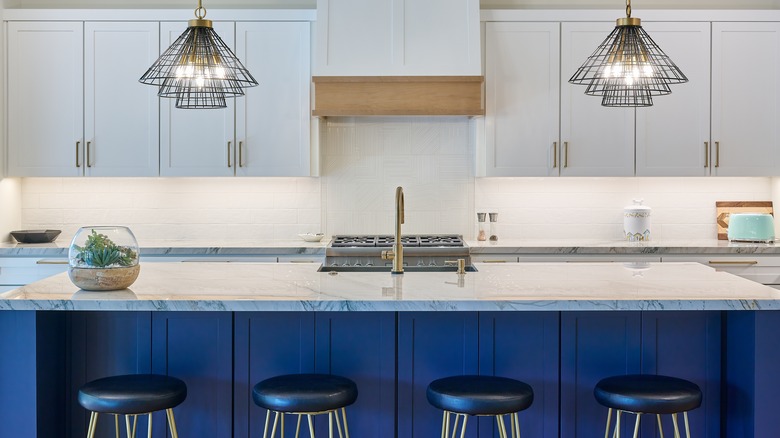 Blue Lemon Photo/Shutterstock
With all the benefits of having a contrasting island, you may prefer the design and layout of your kitchen to be less complicated. When deciding on materials for a matching design, you might opt for granite or quartz, which are both easy to maintain, not to mention bacteria and stain resistant. For a standard, unified feel, solid or composite stone designs in white, black, brown, tan, or gray will keep things symmetrical. Although, a luxurious blue Bahia granite would dazzle as your island countertop while contrasting against the remaining surfaces in brilliant white quartz.
While not matching your kitchen island offers a unique presentation, a cohesive design institutes a clear boundary for your kitchen, especially in larger spaces. However, while keeping things the same is satisfying to the eye, a suitable place for subtle contrast might be within your island cabinetry. For instance, a dark or muted blue cabinet with white marble counterparts can appear rustic, modern, or traditional and would nicely complement blue counters of a differing hue. While mixing and matching your kitchen countertops offer different advantages, you'll find balance can be created in either direction.