15 Ways To Update Your Staircase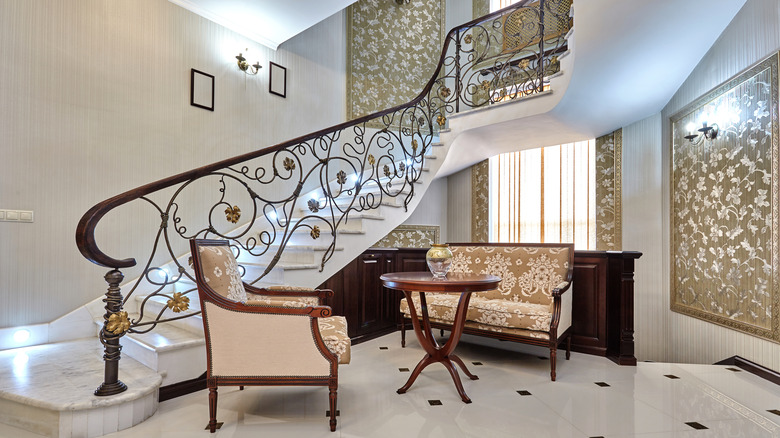 Stelmakh Oxana/Shutterstock
In most multi-story homes, the staircase dominates the main entryway. The traditional first-floor-to-second-floor staircase of most homes is a common — yet lovely — focal point as guests enter the abode. Lovely though the staircase may be, changing something about it can help to bring a fresh new look or ambiance to the space. From risers to treads to railings, updating your staircase is a great way to brighten and refresh a foyer or entryway.
First, however, it helps to understand the various parts of a staircase. For example, the railing is called a banister, the part of the stair that you put your foot upon is the tread, and the part your toe kicks on the way up is the riser. Thankfully, updating your staircase doesn't require a major remodeling. From paint to stain, wood to carpeting, there are countless ways to make changes to your staircase to give it a new look, a glamorous mood, or a quirky style all its own.
Tread and riser resurfacing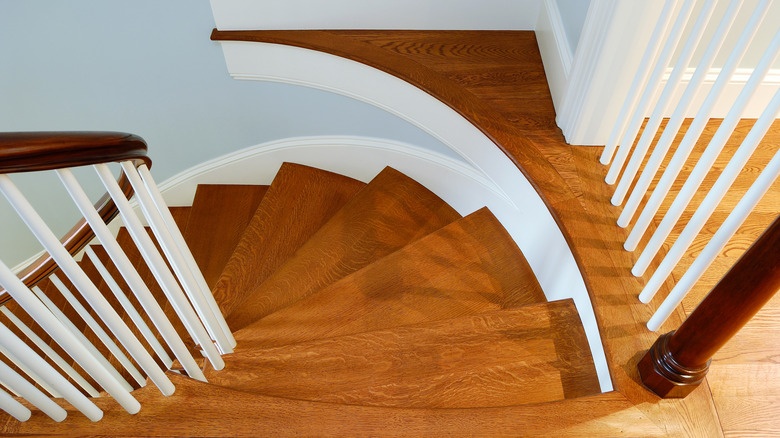 Jorge Salcedo/Shutterstock
Your staircase very likely needs to be updated in the areas that get stepped on, kicked, and scuffed the most — the treads and risers. If you opt for real hardwood, oak, and hickory are known to have long-lasting durability while walnut has warm and vivid grain patterns.
Two-tone staircase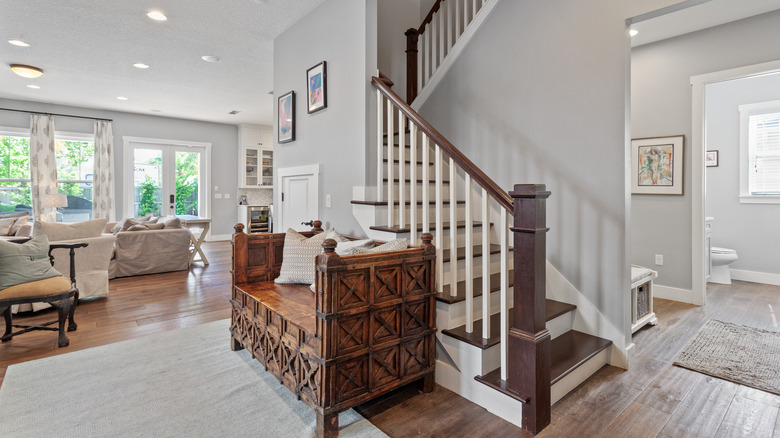 Pipas Imagery/Shutterstock
For a contemporary look, update your staircase with a two-tone style. Homeowners often use paint or stain to accomplish the dual look, but another option is to employ mixed mediums by working with contrasting woods. This two-tone style has the added benefit of making treads easier to see and thus safer to use.
Carpeting your stairs in three ways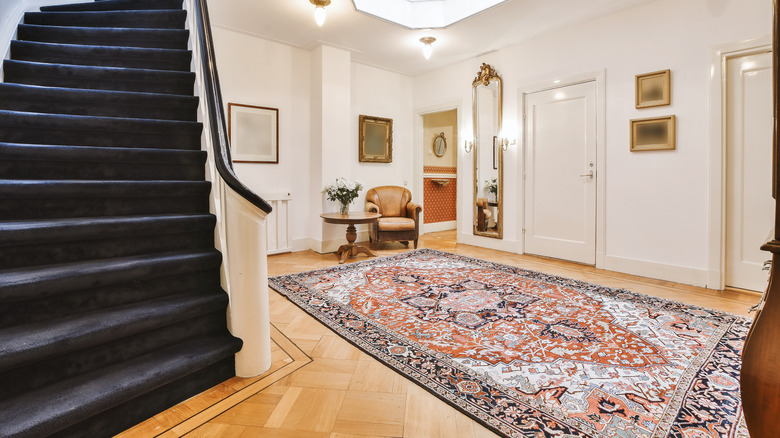 Procreators/Shutterstock
Three basic stair carpeting options are wall-to-wall, stair runners, and stair treads, with treads the least expensive, while wall-to-wall offers the advantage of sound absorption. Designers, however, are seeing a resurgence in stair runners, which tickle the aesthetic dreams of eclectic and traditional homeowners alike.
Tiles on risers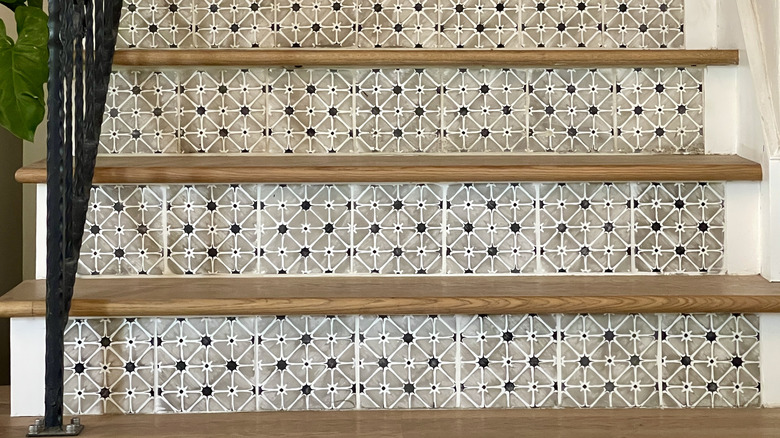 Heidi Patricola/Getty Images
Tiles provide almost limitless design choices for homeowners wanting to spruce up the look of their stairs. When used just on the risers, and not on the part of the stairs that is stepped upon, it eliminates the risk of the tile being slippery while providing an interesting dimension.
Painted stair treads and risers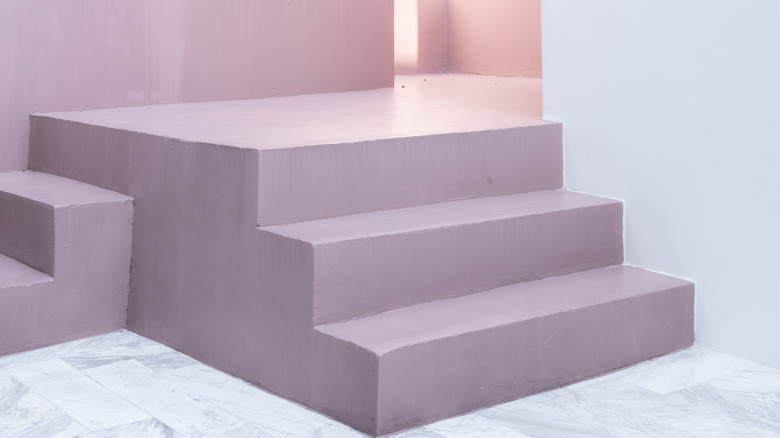 NMC2S/Shutterstock
Economical and easily changed, painting a staircase opens up nearly limitless possibilities. You can choose to paint just the railings for a burst of color or use paint on stair treads and risers to tie together the look of a room or entryway.
Stair brackets add sophistication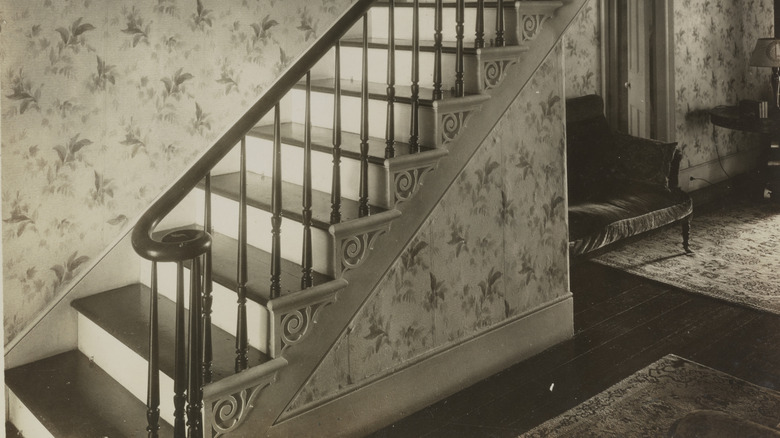 Heritage Images/Getty Images
Stair brackets are one of the easiest ways to update a staircase, providing a creative and sophisticated look with very little work or cost. Installation is easy and only requires glue and finishing nails, just remember that stair brackets will be left- or right-oriented, depending on the installation side.
Railings for every home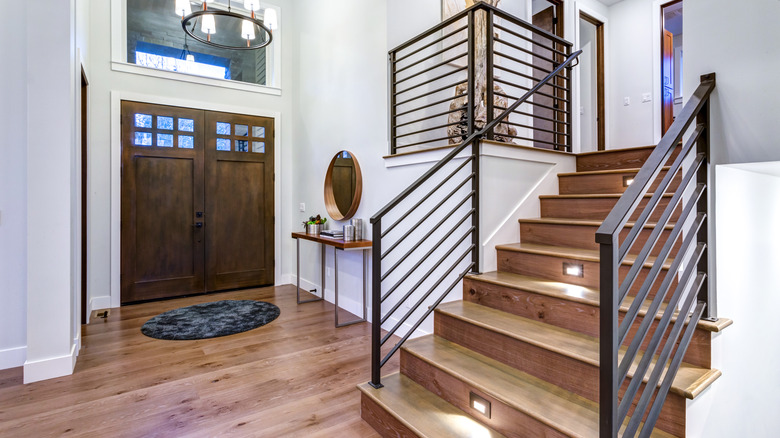 Alabn/Getty Images
You probably touch the handrail almost every time you traverse a staircase, and most of the time, you may not think too much about the look of the railing, but it is a great place for an update. Metal or wood, there are many styles of railings that work with contemporary, modern, or traditional staircases.
Custom balustrades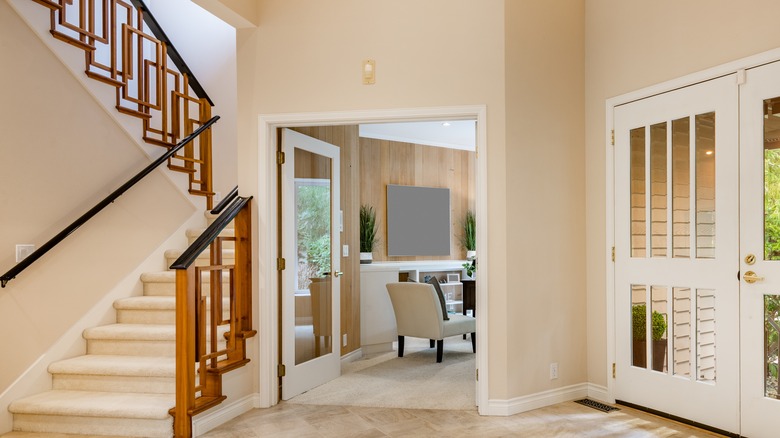 Sheila Say/Shutterstock
The area of a staircase holding up the railing — often comprised of posts (balusters) — is called the balustrade and can be made of wood, metal, glass, or other material. Intricate designs can be forged from iron, while local millwork shops can custom-build wooden ones for a more modern aesthetic.
Painted balusters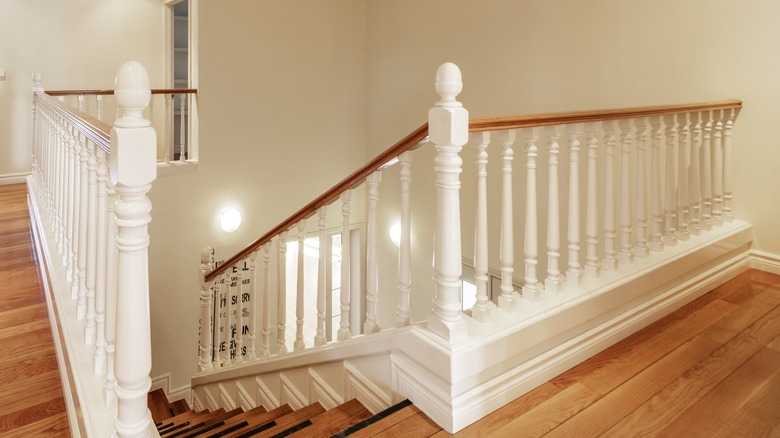 Toyakisphoto/Shutterstock
Updating your staircase sometimes can be as simple as painting your balusters. You could go with a contemporary look, such as a bright, reflective white or a rich, vibrant hue to make your staircase pop. 
Changing newel caps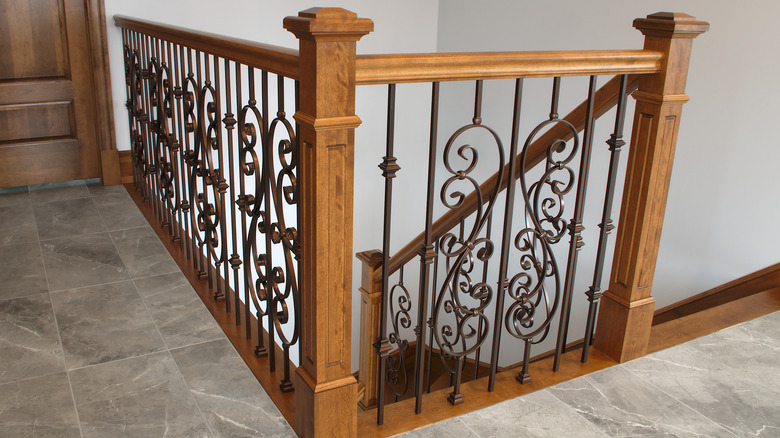 Jacques Durocher Photo/Shutterstock
Changing the toppers on newel posts not only can freshen up the look of your staircase, but also can make a difference in your overall staircase aesthetic. Your existing newel cap will be screwed or glued on — remove it carefully, then adding a new one is a cinch.
Perfect nooks under the stairs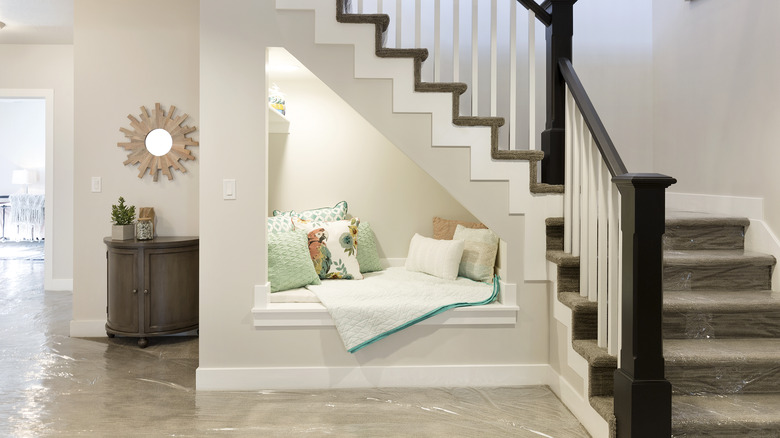 Pc Photography/Getty Images
Everyone is likely to fight over who gets to cozy up in the reading nook under the stairs! The oft-unused space is ideal for updating into a seating area or if you prefer, a cute little playhouse for young children or pet area for furry family members.
Updates below the stairs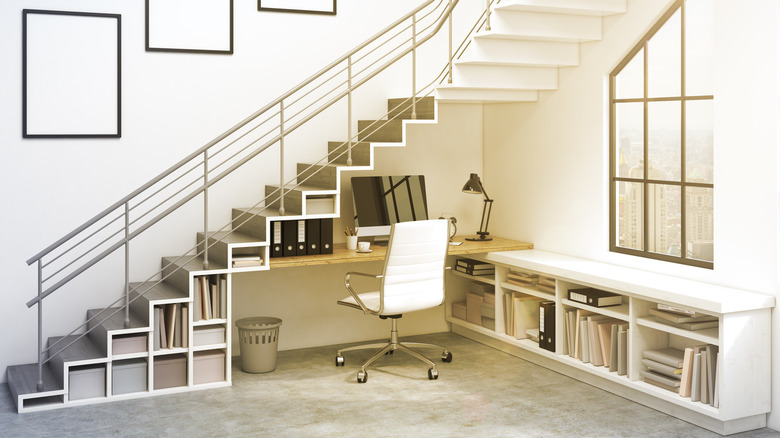 Ismagilov/Getty Images
In smaller homes, every square foot is often needed, so the space under a staircase is an ideal place to repurpose into a utility closet, custom drawer base, or even a half bathroom or study area. All these options add home value, too.
Up the staircase elegance with wainscoting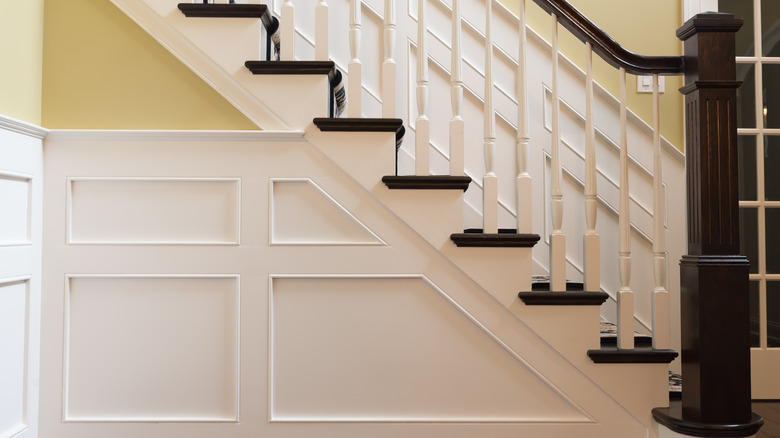 victory.dv/Shutterstock
The beautiful wood trim of wainscoting creates elegance on any wall, but when it is going up the wall of a staircase, it is especially chic. Adding the wainscoting yourself involves some math and careful measurement, but the outcome is worth the effort.
Add texture with brick or stone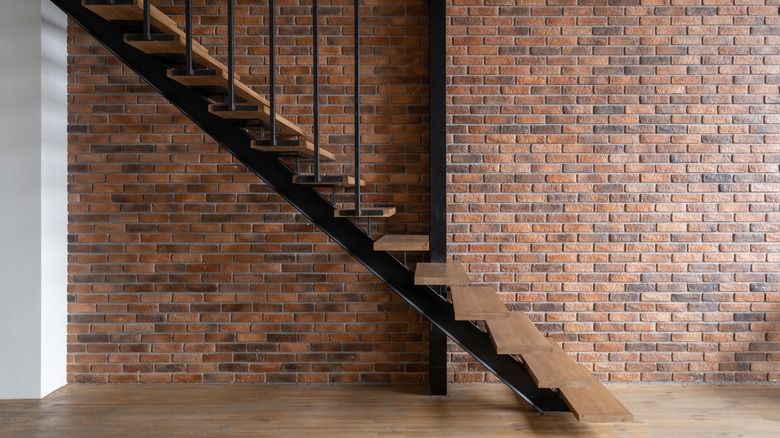 brizmaker/Shutterstock
Installing a thin veneer of brick or stone to an existing staircase wall will create texture and interest. Brick will often add warm tones to a space while stone has a tendency to create cooler vibes. No matter the style, always be sure to install it on a strong wall.
Lighting your stairs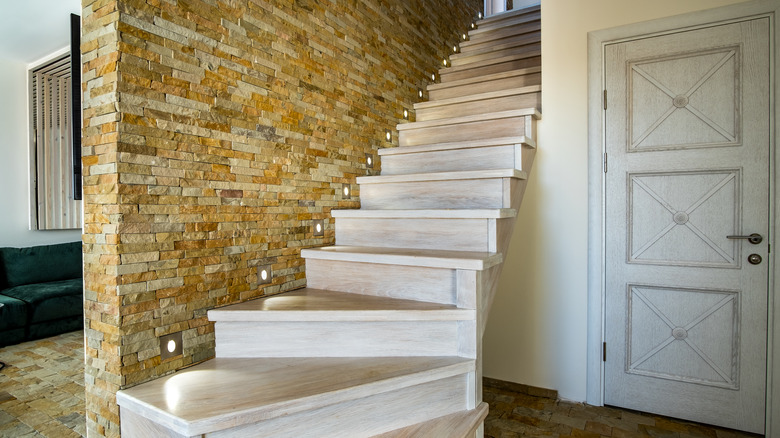 Bilanol/Shutterstock
Lighting a staircase is a wonderful idea for safety, but with so many options available, it's easy to choose lighting that enhances your staircase as well. Decide whether you want to light the stairs or the wall as well, and also what type of lighting, such as dimmable or color-changing LED lights.