This Bathroom Trend Will Bring The Feel Of A Hotel To Your Home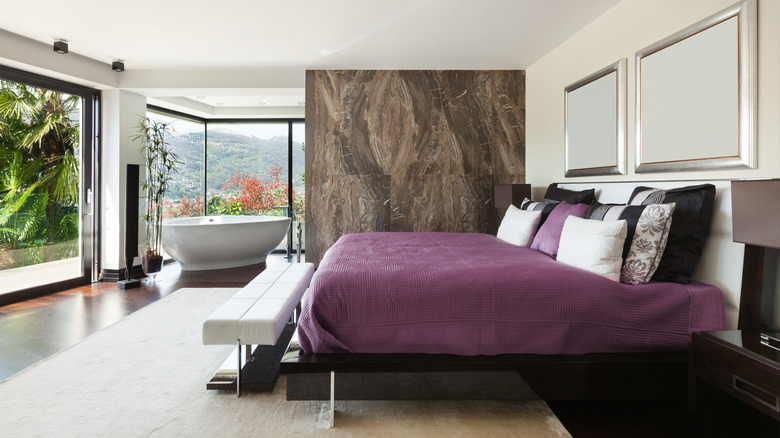 alexandre zveiger/Shutterstock
Have you ever felt sad while leaving a beautiful hotel, wishing your bedroom could be just as relaxing and luxurious? This new, open-concept bathroom trend could be precisely what you're looking for. Although some may see it as a bit extreme, others are astonished by the impactful beauty created simply by removing the wall between the bedroom and ensuite bathroom. This tactic is especially useful in small rooms that would benefit from creating a sense of openness. However, the arrangement creates plenty of other compelling conveniences. 
"One of the biggest benefits of an open concept bathroom is the increased natural light and improved ventilation," Chad Falkenberg, co-founder of interior design studio Falken Reynolds, told Livingetc. "Without walls and doors blocking the way, sunlight can easily flow into the space, making it feel brighter and more refreshing with a large bedroom window." Of course, there's much more to learn about this innovative bathroom trend, so we'll let you know how designers have been utilizing it to give modern homes a spa-like renovation.
Addressing privacy concerns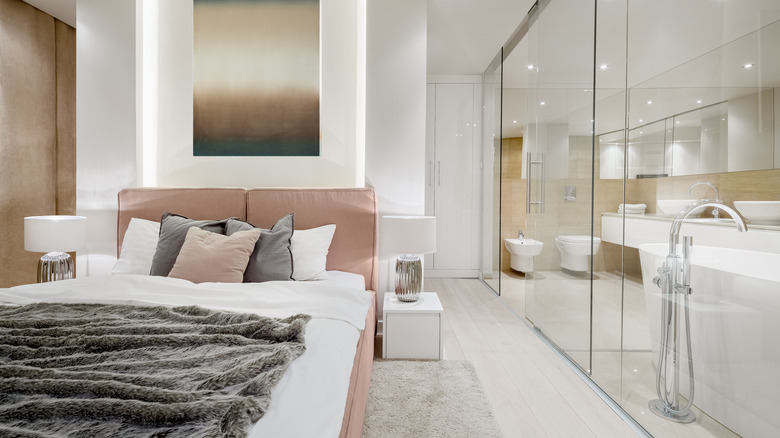 In4mal/Getty Images
One concern some homeowners have regarding the open-concept bathroom trend is the lack of privacy. However, there are ways to tactfully design a connected space where certain areas provide seclusion when necessary. For instance, a rustic bathroom featuring a large copper tub was beautifully arranged by interior designer Lisa Staton, who curated the space with functionality in mind. "The sink and vanity area sits open as well with a closed-off shower and toilet room divided by a wall of custom steel and glass doors,' she told Livingetc.
However, it's also possible to create the illusion of a completely open concept space by installing a glass wall between the bathroom and bedroom with one additional feature. "A gap between the ceiling hung mirrors and the backs of the bathroom vanities and the glass wall allows for a concealed motorized shade to drop down when full privacy is called for," architect Greg Howe explains.
Creating a blended space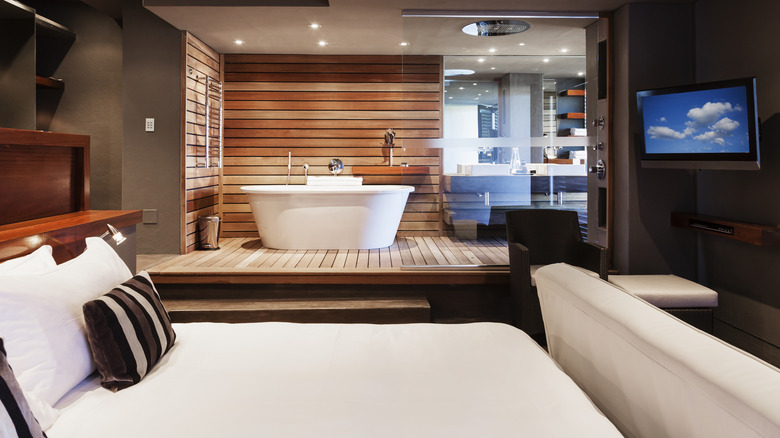 Astronaut Images/Getty Images
To create a stunning space where the bathroom and bedroom are connected, you must successfully blend the two areas. A simple way to achieve this is by using similar but distinct finishes in both spaces. For example, if your shower features brass hardware, it'd be wise to introduce a brass light fixture and dresser handles in the bedroom. Another similar tactic is to play with the room's color scheme and create contrast between the two areas, furthering their connection. To do this, you could combine dark furniture with light wall and shower tiles, or vice versa.
However, you'll need a proper storage system to create a truly open space. No matter how beautiful the design is, any clutter will immediately reduce the room's openness. For this reason, it's suggested to dedicate a wall for all your storage needs. One way to do this is by creating built-in cabinets hiding different items or installing open shelves and filling them with stylish baskets.