Upgrade Your Bathroom By Installing A Floating Vanity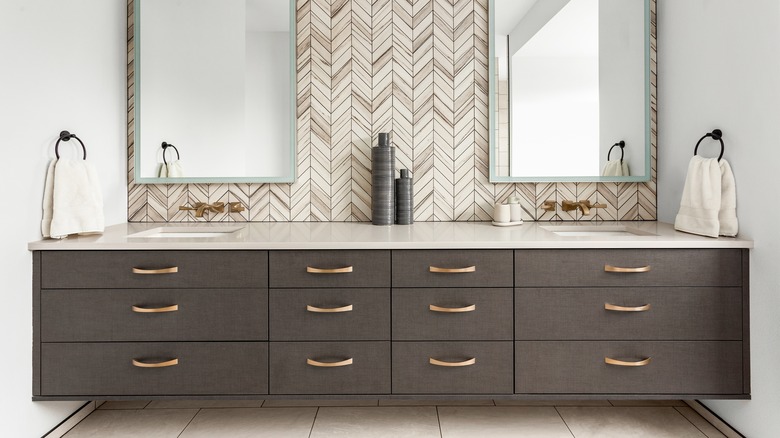 Justin_Krug/Shutterstock
Vanities have been around for centuries but have made something of a comeback in the last few years. As more people seek vintage decor items, vanities are a popular upgrade in bathrooms and even bedrooms. A vanity typically includes a cabinet, mirror, and counter space. In a bathroom vanity, there is also a sink and sometimes additional features like hanging hooks.
Floating vanities are the latest trend in the world of vanities and have become the focal point in modern bathrooms. While bedroom vanities provide a space to get ready and store things like makeup and jewelry, bathroom vanities offer the same in addition to accessorizing the sink and hiding the plumbing system. They are an attractive addition that can be used in a bathroom of any size. Here's all you need to know about floating vanities and how they can be the key piece you need to upgrade your bathroom.
What is a floating vanity?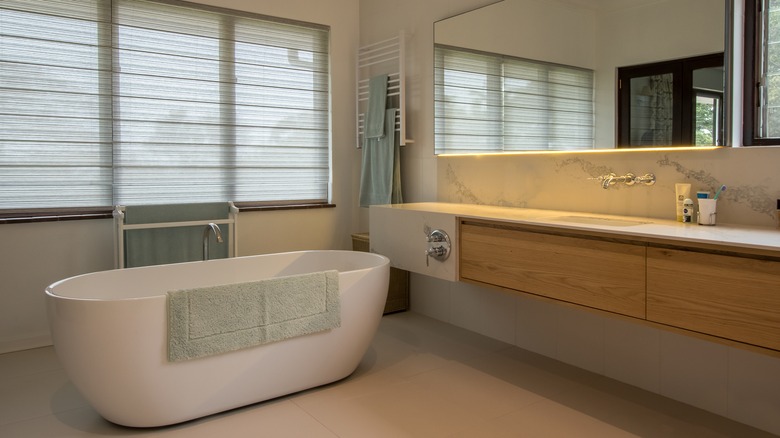 Ant Haynes/Shutterstock
A floating vanity is a more modern take on the traditional vanity. However, instead of sitting on the floor, the cabinet is mounted on the wall and floats above the ground. The sink can either be recessed into the counter or can be an elegant vessel that sits on top, which is more trendy. Floating vanities are typically found in homes designed with modern, minimalist, contemporary, or luxury themes.
Because of how compact they are, they are also chosen for bathrooms with limited space. Since floating vanities put their entire weight on the wall, they need adequate support to keep them in place. Typically, the wall has to be opened up so that some additional framing can be added for this purpose. The water supply and waste pipe also need to be installed inside the wall instead of the floor, so this type of vanity is usually best left to the experts.
How it upgrades your bathroom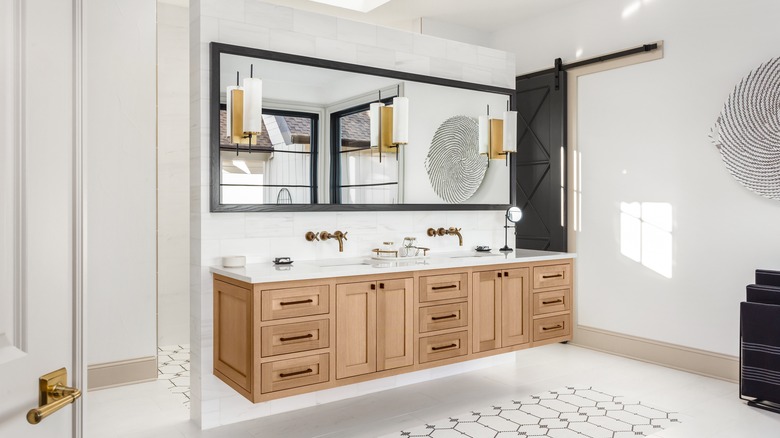 Justin_Krug/Shutterstock
Floating bathroom vanities typically have heights between 32 and 36 inches from the floor, but can be customized beyond this range to suit the individual needs of the people using them. During the installation, consider how the positioning of both the vanity and mirror will feel when doing basic activities like washing your hands, brushing your teeth, and doing your makeup. 
Because it frees up some space under the sink, a floating vanity upgrades your bathroom storage, making it feel bigger. There are several cabinet designs to choose from, with some reaching almost to the floor, and others being very compact, which also gives you the opportunity to display your flooring. Another way that installing a floating vanity upgrades your bathroom is it allows you to clean better. With open space under the sink, you're able to clean those corners that are usually closed off.