This Vintage Bedroom Amenity Is Making A Surprising Comeback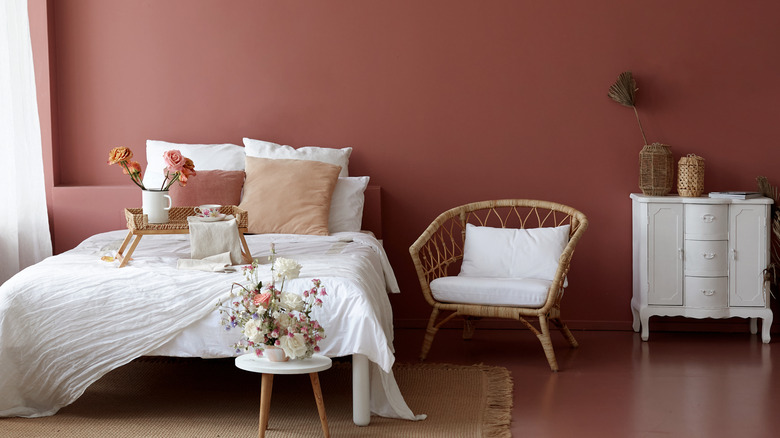 Reviaka Ina/Shutterstock
Whether you've always been inspired by vintage design trends or your interest was sparked by the current grandmillennial style, there's no denying that many people are looking to the past for design inspiration. As MyDomaine reports, in some cases, you might be inspired by certain vintage features, such as wood paneling. Or perhaps you're particularly taken by specific textures, like wicker (via HGTV). Or, maybe you dream of scoring a particular vintage piece, like the iconic Eames chair (via Vogue). But if you're thinking of refreshing your bedroom, there's one vintage-inspired piece of furniture that you may want to consider adding, as it's making a surprising comeback — the vanity.
As Style by Emily Henderson reports, the vanity is becoming a must-have piece in modern bedrooms. According to Flourishmentary, the first vanities (called "toilette tables") started popping up in the 1700s and evolved throughout the centuries. While the specific styles varied from decade to decade to align with the overall design aesthetic of that time, the result was the same — a chic spot to get ready to face the day.
Why you need a vanity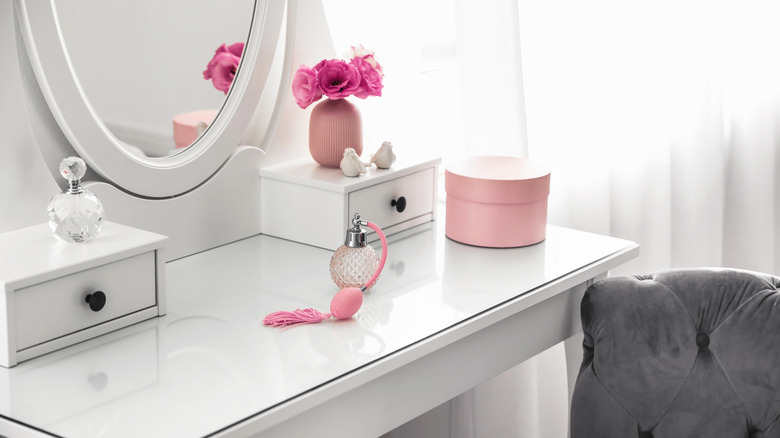 New Africa/Shutterstock
According to Style by Emily Henderson, a new vanity doesn't have to break the bank. There are options for all budgets. And if you don't think you need a vanity, you may want to consider a few of its perks. First of all, don't discount the benefits of a morning routine. According to Rosé & Chambray, a vanity can help you cultivate a peaceful, purposeful morning routine and prioritize self-care.
Additionally, even if you think a vanity would take up too much space in your bedroom, it can be a great multi-purpose piece of furniture. After all, your vanity doesn't necessarily need to be a vanity 100% of the time. When you don't need it to get ready, you could use it as an impromptu desk to send a few quick e-mails, a place to journal as part of your morning routine, or a handy place to take Zoom meetings. And as an added bonus, your bathroom will likely be more organized and gain more space since you'll move a lot of your toiletries to your vanity. Whether you've always dreamed of channeling your inner old Hollywood starlet or want to try something new in your room, it may be time to find the perfect vanity for your space.